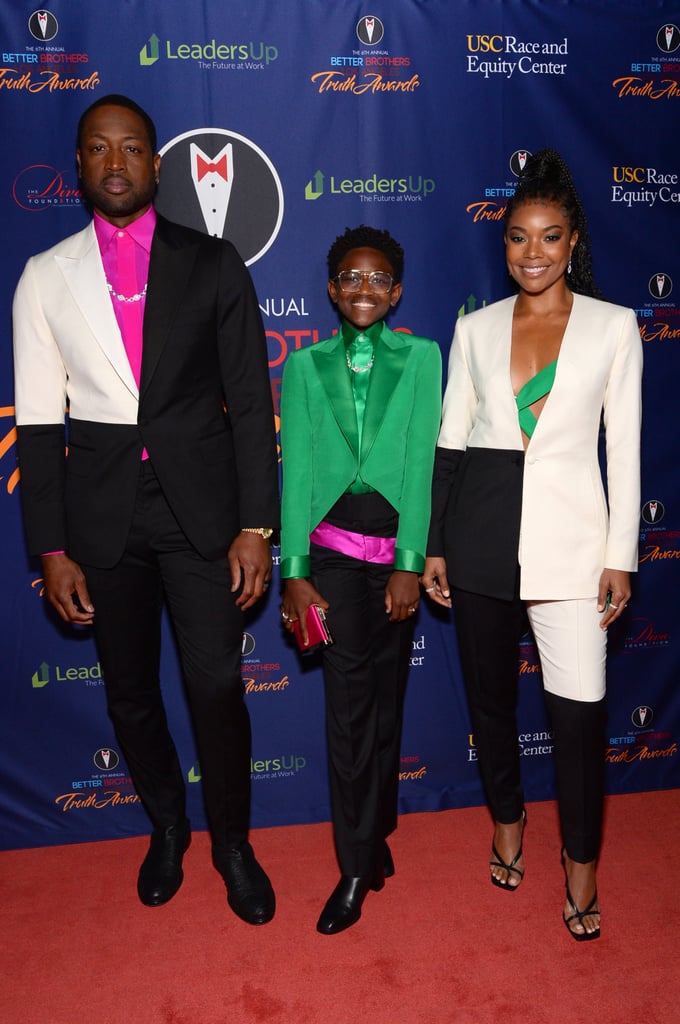 Zaya Wade made her red carpet debut alongside Dwyane Wade and Gabrielle Union on Saturday at the 2020 Truth Awards in Los Angeles, and the family's color-coordinated outfits were more than just stylish. All three of their bespoke Richfresh suits incorporated the colors of the genderqueer and nonbinary pride flag — lavender, white, and green — in support of 12-year-old Zaya's recent decision to publicly come out as transgender.
"Everyone allow her to re-introduce herself — her name is Zaya Wade!" Dwyane captioned an Instagram post sharing photos from the night. "Last night was Zaya's first red carpet and we couldn't have been prouder of how she handled the questions that were asked of her. She has emerged as one of the young faces and voices for the LGBTQ+ community . . . The Truth Awards was created to recognize and highlight the accomplishments of the Black LGBTQ+ community and its allies. In doing so, they increase the awareness of their contributions to Society, Popular Culture and the Arts, and help refocus the lens through which they are seen."
Zaya paired her emerald suit jacket and black pants with a bright lavender clutch and a silver chain-link necklace to match her dad's. Meanwhile, Dwyane and Gabrielle complemented Zaya's look with black and white suit jackets and a few pops of color underneath. In February, Zaya opened up about her identity and why it's important to her to be herself completely. "What's the point of being on this earth if you're gonna try to be someone you're not?" Zaya said in a video shared to her dad's Instagram account. "It's like you're not even living as yourself. Just be true and don't care what the stereotypical way of being you is."
According to Dwyane on Twitter, Zaya came up with the meaningful theme all on her own, and her involvement in choosing their outfits for the evening only made the event even more special. "It was important for Zaya to be a part of such a beautiful night and reminding her of all the love and support she has," Gabrielle wrote on Instagram. "We were moved to tears so many times throughout the night. So much gratitude." See more pictures of Dwyane, Zaya, and Gabrielle's powerful fashion statement ahead.
Source: Read Full Article