Kelly Ripa dazzled at the Oscars on Sunday night in a gorgeous black dress as she hosted her final post-Oscars show with Ryan Seacrest.
The Live with Kelly and Ryan star wore a glittery body-hugging gown which highlighted her beautiful curves. The 52-year-old's dress was a backless Jason Wu gown, which she paired with Stephen Russell jewelry.
This was Ryan's final post-Oscars show with Kelly as the American Idol host announced he would be leaving Live with Kelly and Ryan in February 2023. Relive the moment he revealed his departure in the video below.
WATCH: Ryan announces he will be leaving Live with Kelly and Ryan
Kelly's husband Mark Consuelos is set to be taking over hosting duties in just over a month's time. Fittingly, the 51-year-old joined his wife of 26 years and her current cohost Ryan on the Oscars' champagne carpet in a wonderfully tailored suit which he paired with a dark grey shirt and black bowtie.
DISCOVER: 12 most stylish celebrity couples at the 2023 Oscars: Nicole Kidman & Keith Urban, Idris & Sabrina Elba, more
Speaking with ABC on Sunday night, the trio opened up about their feelings regarding the popular morning show. Asked by Ashley Graham, whose awkward interview with Hugh Grant went viral on Sunday night: "How do you feel now that [Live with Kelly and Ryan] is coming to an end?"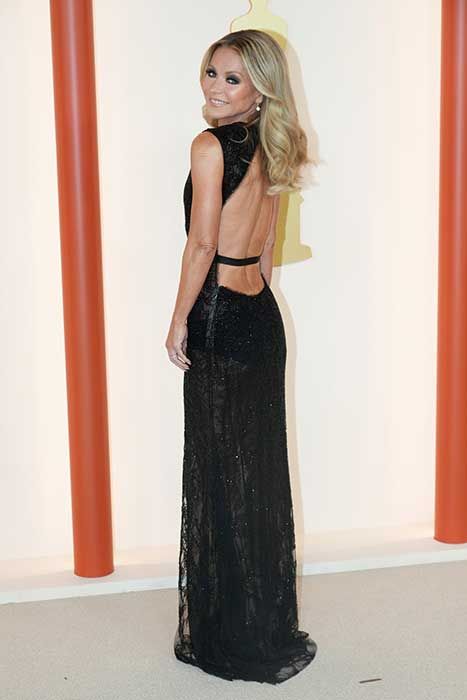 Kelly wowed in her backless black dress
Ryan replied: "It's bittersweet. [Kelly and I] have such a great relationship and friendship and working relationship, and Mark is going to take over and he and I have the same kind of relationship, so it's going to be an exciting last few weeks."
SEE: Oscars 2023's full winner's list: Everything Everywhere All At Once wins big
"You're not done yet!" Mark sweetly cut in, and Ryan graciously agreed.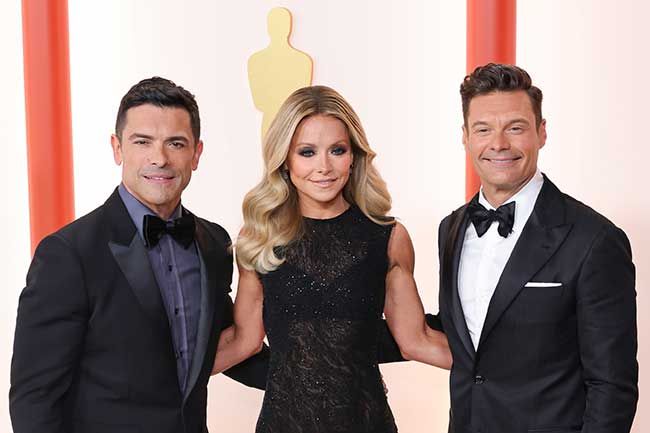 Kelly with her cohost Ryan and husband Mark
Kelly then added lightheartedly: "Nothing will really change between the three of us, it's just Ryan will be able to get his coffee later!"
MORE: Oscars 2023 red carpet fashion: Rihanna, Kate Hudson, Salma Hayek, more
Mark then went on to remind fans that he would be starting his presenting duties on April 17, after Ryan finishes his almost six year stint on the famous show on April 14.
Read more HELLO! US stories here
Source: Read Full Article