London-based concept store LN-CC continues its "Archive Series" with Stone Island, this time around offering the ARCHIVE 03: Stone Island 40534 Polypropylene Tela Down Parka Jacket in white. The drop follows a successful run of archival Walter Van Beirendonck looks and a small selection of Jil Sander pieces, and now LN-CC offers its most focused drop yet, centering in on one standout piece from the Stone Island archives.
The jacket originally dropped back in Fall/Winter 2015 and, as per Stone Island's boundary-pushing approach, features a number of standout elements. It's a highly prized piece, and one that is made from a technical fabrication in a close weave, featuring down and feather-filled padding alongside an attached hood and concealed zip-fastening closure.
In honor of the Stone Island archive collaboration, LN-CC enlisted the best man for the job to spotlight the jacket: Archie Maher, aka, @arco_maher. The London-based Stone Island collector is an encyclopedic source on all things Stone Island, Massimo Osti, and more, and has been interview by LN-CC about the brand below:
LN-CC: Archie, can you remember what first sparked your interest in Stone Island?

Archie Maher: It was the military and workwear references I saw in the pieces. I used to buy vintage army and worker jackets in my mid-teens so I soon clocked the similar characteristics in some of Stone Island's most desirable models, like mid 90s Formula Steel jackets. Multiple pockets and durability are always winners for me!

Are we right in saying your obsession started at the end of 2011?

Yes! I grabbed my first piece aged 16-ish! It was a pretty slick vintage find which I didn't really appreciate at the time. This was long before my advanced Stone Island knowledge kicked in.

What can you remember about that slick vintage find?

It was a 1988 striped Marina T-shirt with the stamped stencil logo across the chest and a lively speckled wash throughout. A year or two later I bought a late 90s Micro Light Puffa Jacket and then the jacket infatuation began.

How did this infatuation develop into Arco Maher, the business of reselling and rental?

When I started buying pieces that weren't my size, purely for the fascination of design and materials used. I just knew it was something I had to pursue and find a way to make it profitable. I studied Art History at university but constantly missed deadlines due to hours spent in the library learning all things Massimo Osti and Carlo Rivetti, sportswear design and generally embracing my love for Italian culture! I began to frequently buy and sell pieces and then steadily built up the "Arco Maher Archive". As the archive grew, musicians and designers alike became interested, so the opportunity soon arose to rent pieces for editorials, shows and general research. The archive now spans a healthy 300-350 pieces and it's ever-growing.
1 of 2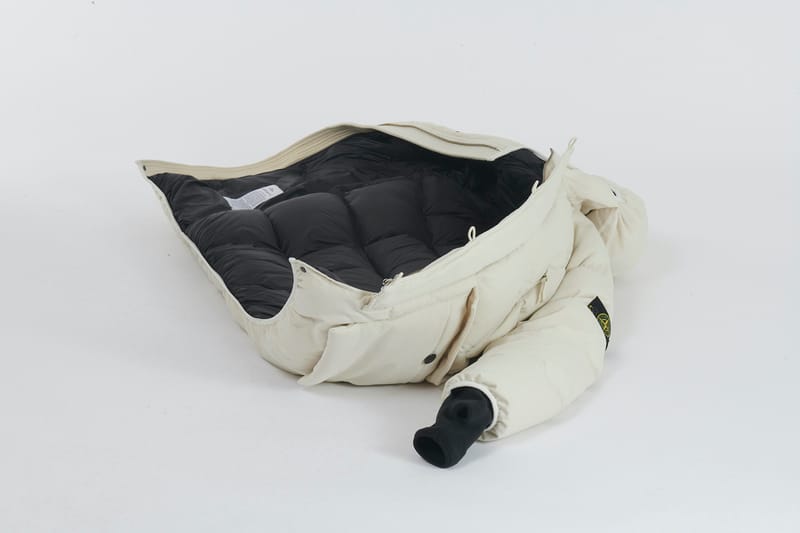 2 of 2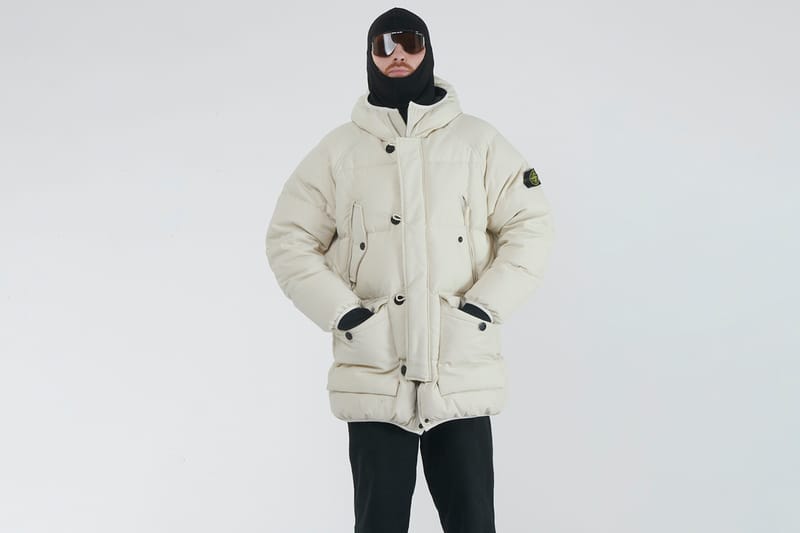 What would you say is the strongest truth about Stone Island?

Quality and functionality. Osti's obsession with function and small details in his work snowballed into a brand where this concept was at the forefront of his design. Whether that is a wool balaclava addition to a winter jacket or a slim pen pocket to the leg of a cargo pant, you can always be sure there is some hidden detail or unique design to the product. The quality of Stone Island pieces is always heavily praised, generally built with a tough and long-lasting structure.

What can you tell us about the Polypropylene Tela Down Filled Parka from Fall 2015?

It embodies everything you'd seek in a winter jacket and has a long list of impressive qualities! The jacket is down filled and the longer parka model is ideal for increased warmth. The polypropylene material has antibacterial properties and is coated in a skillful anti-drop agent. It's a very light fiber product but maintains a bulky and heavier feel. There's a multitude of zips and hidden pockets throughout too. The black fleece fingerless gloves at the cuffs and balaclava inside the hood, which are both detachable are the most notable and unique details on the jacket.

How familiar were you to this iconic, quickly sold out piece?

I remember this jacket being released back in 2015 but sadly wasn't quick off the mark and it ended selling out pretty speedily. I hadn't seen this jacket for real until we shot the editorial but I'm now eager to add it to the archive. I was taken aback by its sturdy shell and insane warmth. Definitely one not to be missed!
The innovative Stone Island Polypropylene Tela Down Parka Jacket in white from FW15 can be seen in LN-CC's editorial shoot above, and can be purchased in sizes ranging from small to XXL on LN-CC's website now. The jacket retails for $1,340 USD.
In other news, Kim Jones' Dior Men has reinvented "Modern Tailoring."
Source: Read Full Article