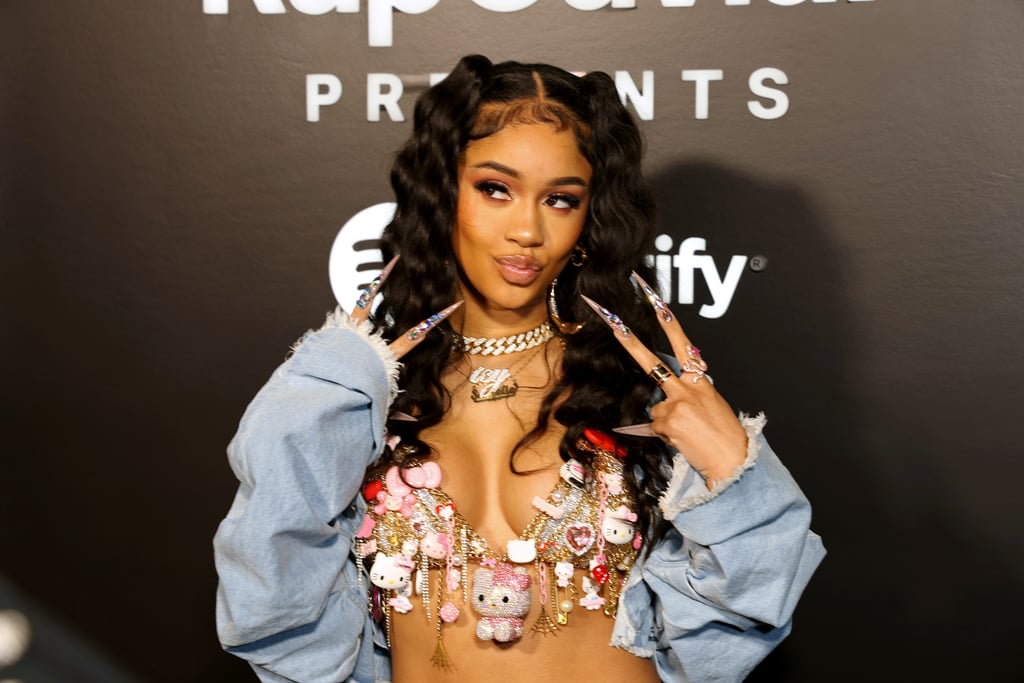 Saweetie is such a charmer. On March 23, the rapper showed off her icy girl style at the "RapCaviar Presents" premiere, wearing a Laser Kitten bralette held together by gold chains and bedazzled charms. The triangle bra top was completely covered in silver crystals, dripping with diamond strands and pink chain links. A sparkly Hello Kitty trinket served as the pièce de résistance, shining at the center of her chest. Other charms included pastel dice, bubblegum bows, tiny pearls, and a rosy heart gemstone. "I luv this top," she wrote on Instagram.
To complete the look, Saweetie opted for a pair of low-rise flare jeans with distressed detailing on the bottom. Her cropped denim jacket matched the light-wash of her pants, ensuring that she kept the spotlight on her bralette. Adding to the sweet aesthetic, she styled her hair into pigtails and wore long stiletto nails with iridescent embellishments.
Saweetie, who's previously worn a cutout dress held together by chains, isn't the only star putting her trust in delicate designs. Others to wear similarly precarious pieces include Rita Ora, whose naked top was held up by tiny beads, and Anne Hathaway, who relied on bows to keep her dress in one piece. Read on to see Saweetie's carefully constructed charm bralette in all its glory.
Source: Read Full Article