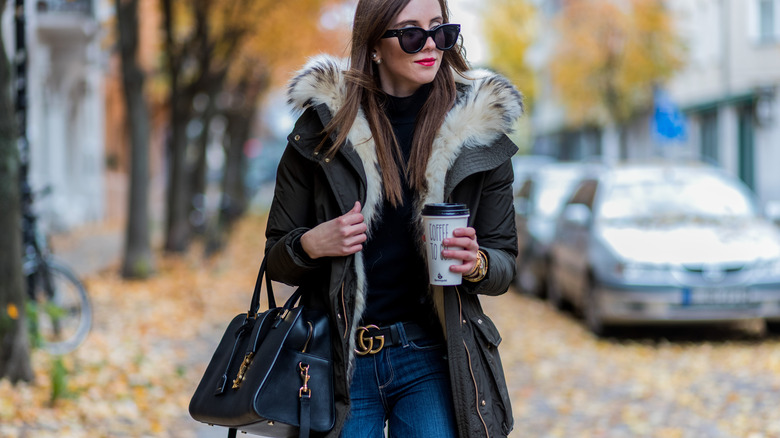 Ah, cheugy: the word that was heard around the world when TikToker Hallie Cain posted a video about it. She explains that "cheugy" means "the opposite of trendy," or someone who was "stylish in middle school or high school" but now wears "out of date trends." Think Gucci belts, knee-high boots, and even Viva La Juicy perfume (via L'Officiel). Now, many have begun to worry if the concept is just another way for Gen Z to roast millennials. As per Rolling Stone, cheugy is "another weapon in the ongoing culture wars between Millennials and Zoomers," starting with Gen Z making fun of millennials' skinny jeans and side parts (via Vox). Now, there's a whole list of "cheugy" things we're guilty of — and we're definitely keeping it handy.
As per The New York Times, cheugy isn't "basic" or "uncool." The term is simply about "being out of date or trying too hard," and although it's often aimed at millennial women with a "girlboss aesthetic," it can describe anyone. Moreover, this term isn't just applied to fashion: Chevron-print pillows, pumpkin spice lattes, and having "Live, Laugh, Love" signs in your home are all cheugy, too. Even captioning your Instagram photos with text like "Life's a beach" and "I did a thing" is cheugy. So what would be its opposite? Thrifting your clothing, anything handmade, Levi's, and even Birkenstocks. 
While you debate that for yourself, here are the top 10 cheugy trends to avoid you might have never thought about.
Cheugy sneakers and prints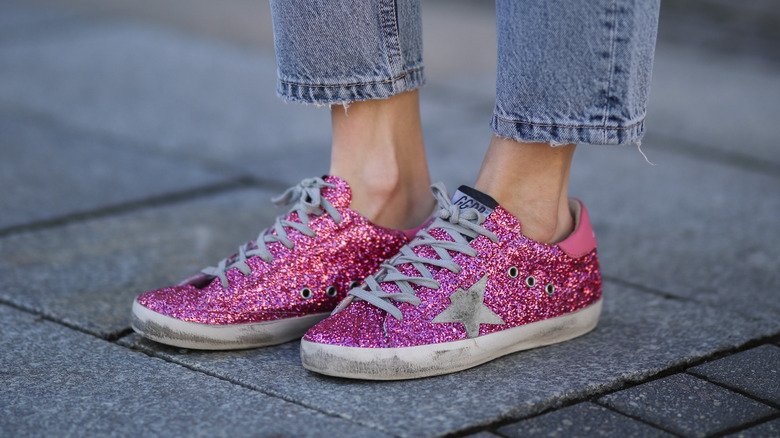 After seeing Hallie Cain's viral TikTok video, it's clear that anything under the sun can be cheugy: from baseball caps with words on them to Herbal Essences shampoo (yeah, we don't totally get that one either). 
So, when it comes to fashion, what are the major cheugy trends to avoid at all costs? For one, Golden Goose sneakers. Although you might be thinking, But they're so cute, according to many outlets, this shoe is seriously cheugy. The New York Times points to them as a tell-tale sign of cheuginess, while L'Officiel states that these sneakers "have been the butt of a well-intended joke within fashion circles as the expensive footwear that everyone wants but no one knows why." Since cheuginess is all about trying too hard, we can see why $400-plus sneakers that look worn can land under this TikTok label. Plus, the Gen Z aesthetic is more about keeping things low-key, evidenced by their very minimal makeup (via Kalista Beauty) — so sneakers with glitter all over them are a definite no.
The next cheugy trend might make you clear out a good chunk of your wardrobe: chevron print. How can a print be cheugy? It just can. The New York Times points to "anything chevron" as absolutely cheugy, and L'Officiel states that you know it falls under this label just by looking at it. Seen as the most "basic" print of all, Refinery29 deems chevron print as cheugy as obsessing over Minions, "wine mom script," and Starbucks. Noted!
Belts and T-shirts to ditch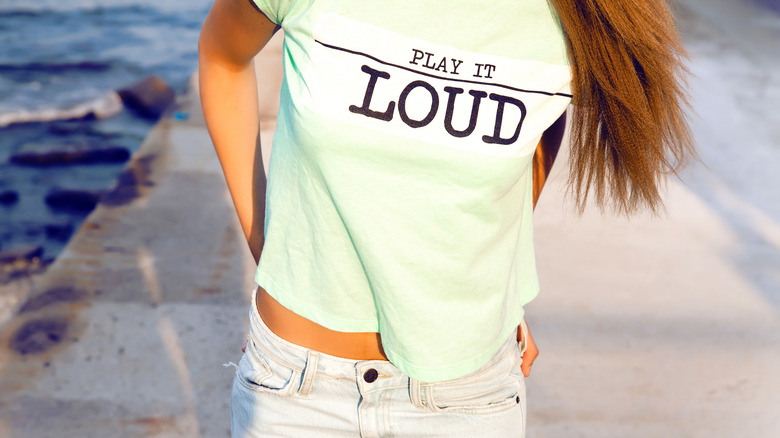 While you're clearing out all your chevron and tucking away your Golden Goose sneakers for another day, you might also want to reconsider your Gucci double "G" belt. While this one might hurt because of its hefty price tag, several outlets and TikTokers now regard this belt as totally cheugy. The New York Times says the large, gold "GG" logo has major cheug-factor, while a TikTok video by @glowupu says, "I don't know if the Gucci belt will ever be back in." An Instagram-mainstay for the past half-decade, Gucci belts were worn by the fashion "in crowd" throughout the 2010s. Paired with skinny jeans, white sneakers, and an intricate top or cozy sweater, these belts were everything cool a few years back. In fact, as per L'Officiel, "it was hard to find a celebrity or fashion fanatic who didn't own one." So what happened? Now, they're connected to "girlboss energy" and touting pumpkin spice lattes, so they're cheugy. We don't make the rules.
Okay, we can handle nixing the Gucci belt. But the next one might be more difficult: graphic tees with words on them — or just about any fashion item with text on it. TikToker Hallie Cain says "graphic tees and hats, phrases on clothing: cheugy," as she points to a tank top emblazoned with "Red, white, and booze" as well as a wide-brimmed sunhat with the phrase, "Sea you later." While we still love our "Wine o'clock" sweatshirt, it's good to know!
Other cheugy shoes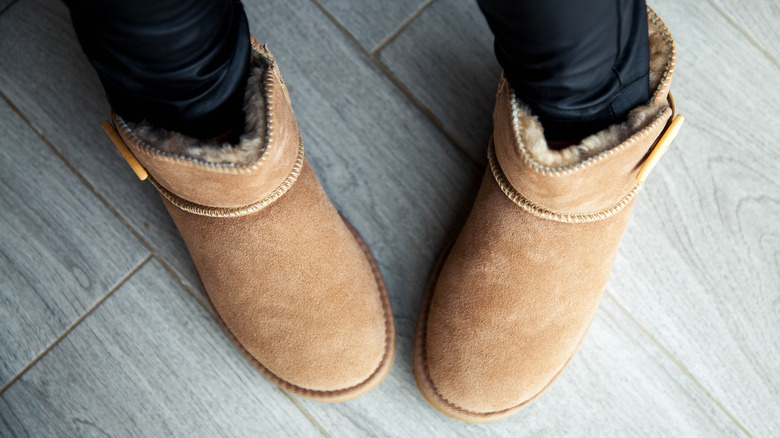 When it comes to shoes, we're kind of freaking out over what is considered cheugy nowadays. One millennial mainstay that's being sent over into cheug territory? Our beloved Ugg boots, much to our dismay. L'Officiel states that wearing Ugg boots today is proof of opting for trends that were cool in middle school or that you wore "throughout high school and into college." Cozy and comfy? One hundred percent — but also cheugy. The outlet explains that, while the Ugg brand has "no shortage of trendy styles to fit today's tastes," like these pink furry Oh Yeah sandals, classic Ugg boots are just "not it" anymore. TikToker @Rod says, "If you wear Ugg boots, you might be a cheug." So maybe only wear them when you really need the extra warmth and snow day vibes.
Another cheugy shoe culprit might send you in a tizzy this summer: Tory Burch logo sandals. Tons of outlets agree on this point, with L'Officiel explaining that the sandals were ubiquitous in the 2010s, and that "it's hard to remember a summer vacation where you couldn't find a pair sitting next to someone's poolside lounge chair." While that scene sounds idyllic enough, "that's exactly what makes them cheugy," with The Cut deeming them a "cheug's shoe of choice." In a sense, anything with in-your-face logos seems to slowly be fading away, so try opting for minimal sandals like Birkenstocks instead.
Cheugy denim trends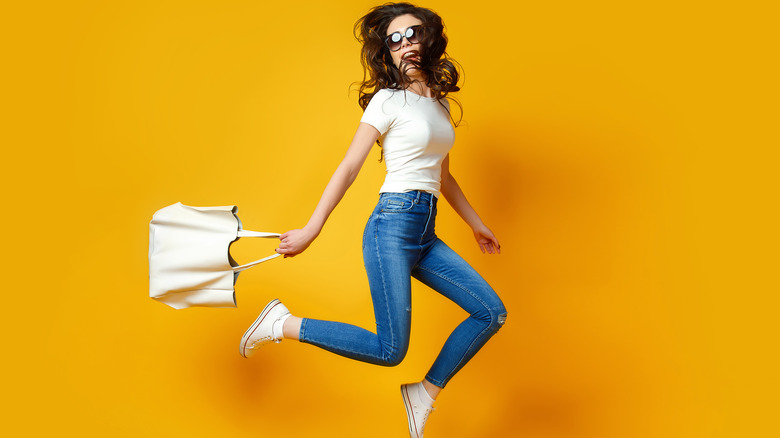 Denim is a "basic" in the best way possible: a material that can be mixed and matched with pretty much anything. The thing is, there are a few types of denim that have been deemed "cheugy" by Gen Z, and we're reconsidering our entire go-to jeans look.
Case in point? Unfortunately, your tried-and-true skinny jeans. L'Officiel explains that, if you're still wearing skinny denim, "consider yourself a cheug." Ouch! Gen Zers say skinny jeans are "a thing of the past," with TikToker @momohkd stating that the best way to style skinny jeans is to "throw them out, burn them" or "cut them up and make [something] else." While we don't think you have to go that far, and skinny jeans can still look amazing with simple sneakers on your day-to-day jaunts, you've been warned! And if you're going for a less cheugy look, ET advises opting for a straight or wide-leg style instead, especially in a flattering high waist. 
Skinny jeans aren't the only cheugy denim trend in the game: Jean jackets are now being seen as cheugy, too. A millennial fave that goes with absolutely everything, denim jackets are a seemingly timeless piece that strikes "a chord with the essence of a cheug" (via L'Officiel). Even TikTok teacher @anthajohnson shared a video about a student calling her denim jacket seriously cheugy — so be right back while we rethink our whole wardrobe!
Avoid these outdated accessories, too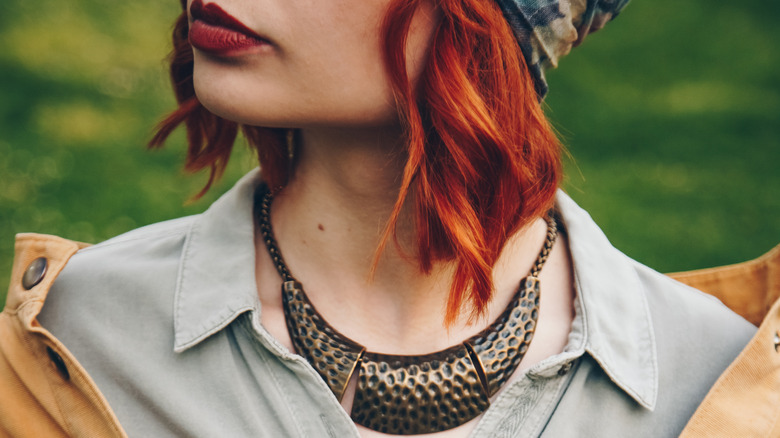 As we near the end of the cheugy train, we have to discuss the accessories that Gen Zers can't stop giving side-eye: namely, anything that can be given the label of "bohemian maximalist" and anything that involves chunky beads or embellishments. According to ET, "bright, colorful and chunky statement necklaces have been defined as cheugy among Gen Z." So don't mind us — we'll just be clearing out our whole necklace collection. When it comes to jewelry, cheugy necklaces range from boho stone necklaces to the Tiffany & Co. chains you might remember from the 2000s (via The Cut). Other jewelry styles to avoid? Delicate pendant necklaces with initial charms (via Film Daily) or anything that would be considered a "statement necklace." Instead, go for gold coin necklaces and anything that's simple yet elevated.
It's not just jewelry that can be cheugy: Tons of purse styles in your closet might be culprits, too. ET suggests saying "goodbye to your oversized hobo bags and totes," which are definitely seen as cheugy. These trends remind Gen Zers too much of the early 2010s, with even crossbody bags being considered pretty cheug-tastic (via The Every Girl). So what should you go for instead? Minimal shoulder bags and baguettes — a la Carrie from "Sex and the City" — or something Hailey Beiber would wear. 
Just remember: Cheugy is still pretty cute as long as you wear it with confidence, so don't go throwing everything out all at once!
Source: Read Full Article