The former 'Rob and Chyna' star reveals her next plans as part of her dramatic make-under after she went under the knife for butt implant removal and breast reduction.
AceShowbiz –Blac Chyna has promised to dissolve her face filler as part of her dramatic make-under. The 34-year-old model and reality TV star, who found fame as Nicki Minaj's stunt double in the music video for the rapper's "Monster" hit, also said she was going to stop using "long stiletto nails" after she shocked fans by last week toning down her trademark curves with breast and bum reductions.
"Please get some face filler dissolved too… you don't need it and would look 10x more beautiful without it," a fan commented on her most recent Instagram posts and she told of her intentions to make her beauty regime even plainer.
Blac – real name Angela White, who has son King, 10, with rapper Tyga, 33, and daughter Dream, six, with 35-year-old Rob Kardashian – replied it is "next on my list." And in an Instagram Story post in which she showed off her bare, natural nails, she added, "I feel so free without the long stiletto nails. Shoutout to all the women that wear them. They no longer serve my purpose."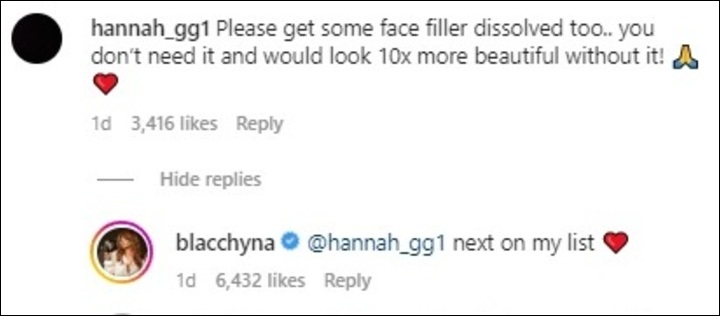 Blac Chyna plans to dissolve her face fillers as well
The socialite, who has had a huge range of cosmetic surgeries including four breast surgeries, liposuction, and a silicone backside enlargement when she was 19, posted a series of videos to Instagram documenting her surgeries.
She said, "I just want all the ladies out there to know, do not get silicone shots because you can get sick, you can die, have complications and all this other crazy stuff. I'm past that stage. Been there, done that. I'm passing the baton to the younger ladies."
She added she was heading into "a different way" in her life and captioned her post, "I want you all to be a part of my life changing journey. I reduced my breasts and gluteus maximus. You all have the power to heal your life, and you need to know that."
Her final video in the series about her surgeries showed her lying in bed in a darkened room covered in bandages, and said she was a few days into recovering from her make-under. Blac added about her latest procedures, "I must say I am very very very happy."
"I'm in recovery mode. I've got my bandages on… also I got the reduction in my butt. Normally my procedure would have taken four hours tops. My procedure took over eight and a half hours, y'all. Whatever that silicone mass in my buttocks kept clogging the machine and breaking the machine."
Blac recently said she was deactivating her OnlyFans account – said to have made her $240 million after she offered a subscription for $450 a year – because of her kids.
You can share this post!
Source: Read Full Article