Kate Middleton is filming her second Christmas special on December 15 (we'll get into that choice of date in a moment…) and just dropped a very festive announcement revealing that it's airing on Christmas Eve:
https://www.instagram.com/p/CmBtq1UtJm5/?utm_source=ig_embed&utm_campaign=loading
A post shared by The Prince and Princess of Wales (@princeandprincessofwales)
And in a rare move, the palace provided a behind-the-scenes look at the filming process, showing just how much set-up goes into a formal Insta announcement like this. Truly, your ring light could never.
TBD on exactly where Kate's announcement was filmed, but judging from the fact that there's a highly decorated ceiling in the BTS shot, it seems to be an actual room (presumably in the palace) versus a set. We can also see Kate standing on a taped marker on the floor, surrounded by a ton of professional lighting equipment to give her that perfect ~Christmassy glow~. But it also looks like some set pieces were moved around for the final shot, because that pile of presents ended up in a totally different location.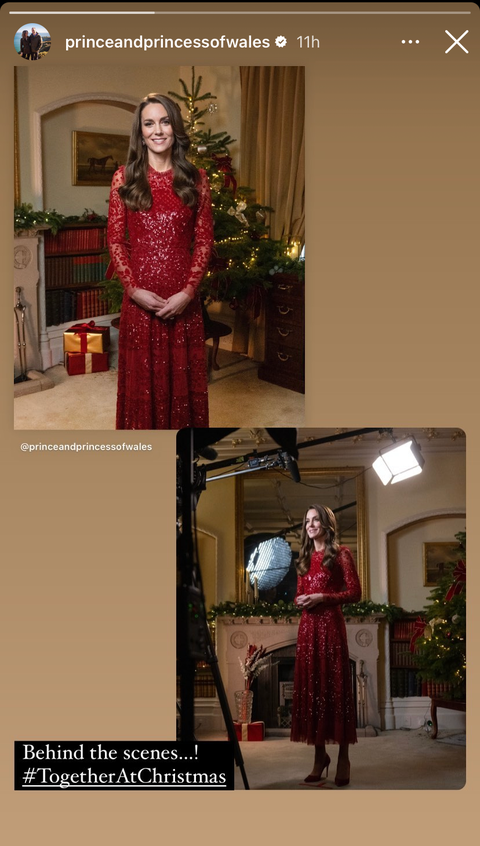 More details on this event (and why it's already causing controversy) incoming!
Royal Carols: Together At Christmas is airing on Christmas Eve, but it's been filmed on December 15 at Westminster Abbey. Which happens to be the same day that Volume II of Harry & Meghan airs on Netflix. Unclear if this was intentional, but timing is everything when it comes to the royal family so feel free to read into it.
Anyway! If you're into the idea of a royal Christmas extravaganza as a chaser to Volume II of the Sussexes' doc, here's the press release:
Source: Read Full Article