After breaking the exciting news at the Sunday, June 27 event, the 'Bodak Yellow' hitmaker takes to social media to share a picture of her flaunting her growing belly.
AceShowbiz –Cardi B has a special announcement to make at the BET Awards 2021. When taking the stage of the Sunday, June 27 event, the "WAP" hitmaker revealed that she is pregnant with her second child as she showed off her baby bump.
The 28-year-old femcee broke the exciting news when she was performing with Migos, her husband Offset's hip-hop trio. While rhyming "Type S**t", she exposed her growing belly in a black bodysuit.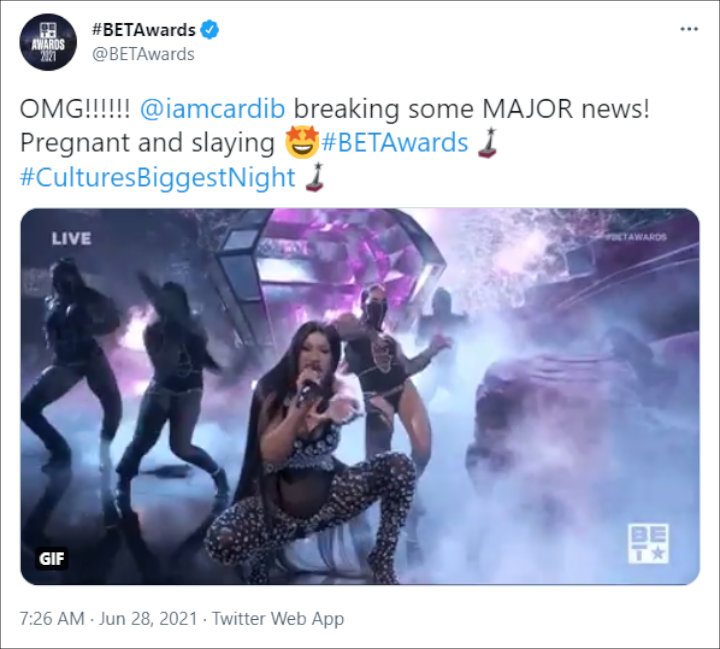 Cardi B debuted her baby bump at the BET Awards 2021.
Cardi also confirmed her second pregnancy on Instagram. Sharing a picture of her nude torso covered in white paint, she simply raved in the caption, "#2! [love] @offsetyrn."
The "Bodak Yellow" raptress' post has been flooded with positive comments by many of her famous pals. One in particular was Khloe Kardashian who gushed, "Congratulations!!!!!" Chloe Bailey exclaimed, "wow!!!! beautiful!!!!" YouTuber Nikita Dragun then chimed in, "congratulations miss cardi."
Cardi might want to keep the tradition going. Back when she was pregnant with now-two-year-old baby Kulture, she debuted her baby bump while performing on "Saturday Night Live" in August 2018.
Cardi and Offset tied the knot in September 2017. As for the 29-year-old rapper, he is also a father of daughter Kalea and sons Kody and Jordan from previous relationships.
Earlier this month, Offset showered Cardi with compliments for the way she treats his own kids with as much love and respect as their daughter. "She usually surprises me with an expensive gift, man," he said when speaking to Entertainment Tonight.
"That's how it usually goes. She always just give me love… My other kids who ain't hers… (she) gives them love the same way. It's a beautiful thing," he added, before gushing over his kids, "(I want) to be at home more than anything, just enjoying the kids… running around (and saying) 'Daddy! Daddy! Daddy! Daddy! Daddy!' "
"Being able to see them all at once just running around, it's beautiful. Just with the family (having) family time," the MC continued. "It's wild, man. It's non-stop. 'Daddy! Daddy! Daddy! I want to do this! If he's doing something, I want to do it! He ain't pass the controller! He's playing the game too long! He won't give me my iPad! He's watching the iPad too long!' But they love each other so much."
Source: Read Full Article