Professional soccer player Carli Lloyd is heading to the Olympics for the fourth time in her career. When Lloyd competes, she'll be 39, making her the oldest player the U.S. Women's National Team has ever sent to the Olympics. This comes two years after she won the World Cup in 2019 as part of that same team.
Due to her age, coach Vlatko Andonovski believes she'll be a valuable asset to the team. He told the Associated Press, "The fact that she is 39 … it's remarkable, it's incredible, and just speaks a lot about Carli and her determination and her mentality." Her determination and talent have paid off: Not only does the NJ/NY Gothan FC player already have two gold medals from scoring the game-winning goals in the finals of the 2008 and 2012 Olympics, she has also been named Best Women's Player in The World twice by FIFA, as well as the 2008 U.S. Soccer Athlete of the Year (per AP).
Lloyd told NPR how she remains successful, saying, "I think the biggest thing for me is just continuing to be the best version of myself." As for if she'll retire soon, Lloyd explained, "I simply want to put all my focus on this Olympics, finish out my season with Gotham, the rest of the year with the national team, and then just probably take some time to reflect and figure things out." If Lloyd does choose to retire, she has more than enough money to fall back on.
Carli Lloyd is the highest earner in women's soccer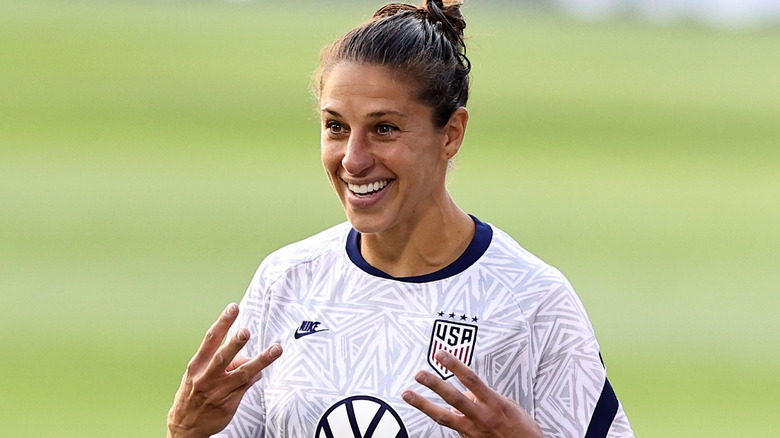 With a long and successful soccer career that shows no signs of slowing down, it appears Olympian Carli Lloyd is making bank doing what she loves. Per Celebrity Net Worth, the U.S. Women's National Team star is currently worth $2 million. Just from playing, Lloyd makes a salary of $518,000, which, according to 888 Sport, makes her the highest earner in women's soccer. While that's an impressive amount, the highest earner in men's soccer is reportedly Lionel Messi, who earns a salary of $92 million from the field alone.
Lloyd spoke about USWNT's legal fight for equal pay, telling NPR, "I mean, anything takes time when you have courts and lawyers involved." She continued, "I think that we all realize that it does take time, and it takes a lot of effort. But we're continuing to try to make this a much better environment than when we first came into it."
Like other popular athletes, a lot of Lloyd's earnings come from endorsements. The soccer star has been sponsored by Nike in particular for several years, and even appeared in their 2015 star-studded commercial alongside football star Rob Gronkowski. According to Lloyd's website, she also has partnerships with Volkswagen, Secret deodorant, CBDMedic, and more, all of which she says she's "honored to have the opportunity to work with." With that many brands behind her, it's clear that Lloyd has an impressive amount of paychecks coming in on and off the field. 
Source: Read Full Article