Shocking the sports world, Golden State Warriors NBA superstar Steph Curry's mother filed for divorce from father Dell Curry back in June, TMZ reported August 24. Though a court official only told the outlet at the time that the divorce process was still "ongoing," court documents obtained by TMZ later that day reveal she cited "marital misconduct" on Dell's part when she made the filing in North Carolina on June 14. With both their sons being high-profile NBA players (as Stephen's younger brother Seth Curry is the point guard for the Philadelphia 76ers), Sonya and Dell had staked a place in fans' hearts by constantly appearing courtside supporting both sons' games. 
Given the seeming stability of Steph's own charming relationship with wife Ayesha Curry ("I always had my eye on her, but I got a little shaken, for sure," Stephen gushed to Parents Magazine of initially asking Ayesha out), the news of his parents' romantic troubles rocked fans. The revelations in their divorce's court documents only served to heighten the drama — here is the truth behind the cheating rumors behind the two parties' separation. 
Accusations are flying amidst Sonya Curry and Dell Curry's divorce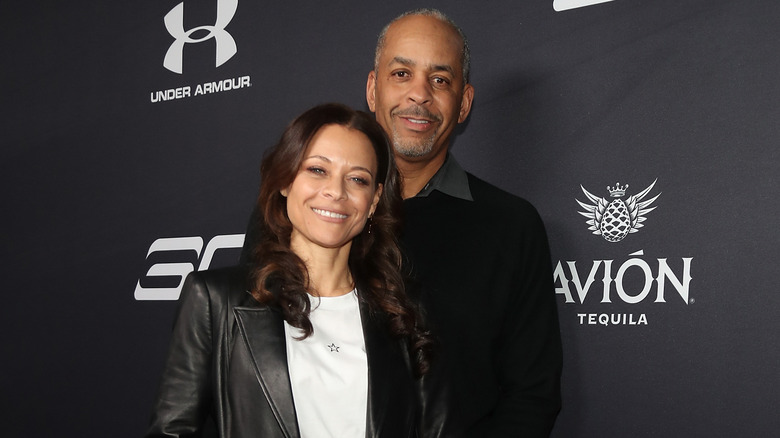 "This Sonya-Dell Curry divorce is getting messy," one fan tweeted on August 25. And boy, has it. Both Sonya Curry and Dell Curry have now accused the other of extramarital affairs in separate divorce filings, TMZ reported a day earlier. While, per the outlet, Sonya's initial June 14 filing only vaguely accused Dell of "marital misconduct," Dell's own filing in-kind painted a different narrative of where their union went wrong. Accusing Sonya of multiple "acts of illicit sexual misconduct," including cheating with ex-New England Patriots player Steven Johnson, per TMZ, Dell alleged that since Sonya was cohabitating with another man, he should be exempt from paying her alimony. 
Sonya didn't restrain herself in her comeback, now making explicit that Dell's previously alleged "marital misconduct" comprised of acts of infidelity with several women throughout the course of their marriage, which per TMZ, lasted from 1988 to, according to Sonya, March 2020. The former Mrs. Curry also maintained that although she was dating, she lived on her own due to Dell booting her from their house. 
Sonya claimed it was only out of "one final act of trying to protect [Dell] and family from possible public exposure and scrutiny" that she didn't open up more explicitly prior. However, Twitter seems heavily on Dell's side, with one Twitter user musing, "Poor Dell Curry. Sonya cheated on him & broke his heart," and another stating, "Sonya Curry got some nerve."
Source: Read Full Article