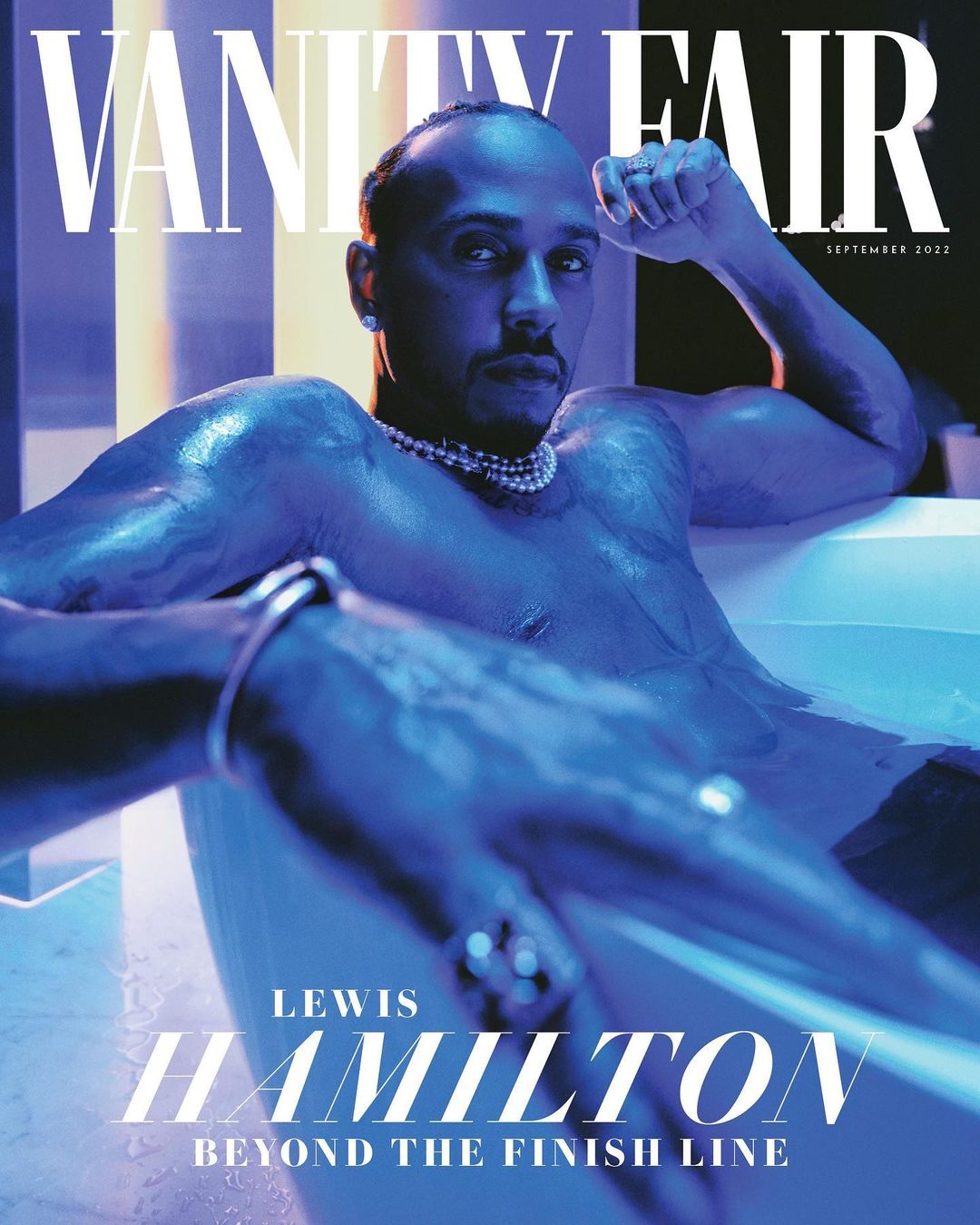 I'm still not sure if Americans really follow Formula 1, but I appreciate the fact that Vanity Fair is trying to make it happen. Lewis Hamilton covers the September issue of VF. Hamilton is arguably the most charismatic star of F1, and he's making tens of millions of dollars every year, mostly through sponsorships. He's arguably one of the most famous sports personalities in the world, and he's also the target of near-constant racism as the first Black driver in F1. He's branched out from F1 too – he's in the fashion world, the streaming world and Hollywood is calling. He's close friends with Tom Cruise, and he's helping out on a Hollywood movie about Formula 1. Some highlights from VF:
He never felt like he fit in with F1: "I didn't feel like I was welcome. I didn't feel like I was accepted. God knows how many of these drivers say: 'This is not what a Formula 1 driver is. That's not how you behave. This is not how you do it. Tattoos? No! A Formula 1 driver doesn't have tattoos! A Formula 1 driver doesn't have a personality—and piercings!' "

His chest tattoo 'Powerful Beyond Measure' comes from writer Marianne Williamson: "I read it, and I thought it was one of the greatest sayings ever. We limit ourselves the majority of the time. And where it really hit me hard is: We should never have to dim our light in order to make others feel…. If anything, we should shine as bright as we can to liberate others to do the same. I live my life by that quote. For so long in my life, I felt like I was dimming my light because I felt uncomfortable."

He's been vegan for five years: Hamilton, who's 37, tells me that veganism wasn't even on his radar when he was growing up just north of London. He's now been plant-based for about five years, a change triggered by a vegan friend he met in New York who opened his eyes to the realities of food production. The physical demands of elite racing are extreme, and doctors advised him that he would struggle to get enough protein. Instead he found his energy levels smoothing out and his skin clearing up. "I mean, I've won five world titles since then," he points out. "I've been more consistent than I ever was in the past. So it just takes proving people wrong. And that's what I did."

The racial justice movement in 2020 awakened him: "There's a lot of feelings that I suppressed at the time that I didn't even realize that I suppressed—emotions and feelings that I had when I was younger—and it all came up," he says. The casual racist abuse he would face, for instance, in his go-karting days, particularly when he'd travel to Italy and France. "There was a lot of the N-word going around," he says.

An attack in Newcastle: One day when he was 11 or 12, Hamilton was walking to the shops in Newcastle where his mother and stepfather then lived. He was daydreaming, singing under his breath, thinking about the Mr. Kipling chocolate cakes he wanted to buy. He didn't even really notice the two of them—a father and son—until they attacked. In a blink, they had him on the ground and were kicking him, shouting "Go back to your country." "Even today," he says, "I remember how terrifying it was. I really, really couldn't understand it. It was like, 'Are they talking to me? I'm from here. What do they mean?' I could never understand it. When you're being attacked, there's this fear—there's fear, and there's anger as well because you want to get them back for the pain that they're causing you."

He kept all of it to himself: "I never spoke about it to my parents/ I didn't speak about it to my mum—I didn't think she'd understand. And my dad, I was probably too scared to tell my dad, because I didn't want him to think I was a wuss. You know, I didn't want him to think I couldn't defend myself. I just remember a lot of times just being alone, just in tears in my room."
[From Vanity Fair]
This reminds me of something I thought about a lot while writing about the racist abuse the Duchess of Sussex suffered when she lived in the UK – it's not just the racist abuse itself, but the lack of conversation, identification and commentary about race and racism within Britain. There's the racism and abuse… and then there are few outlets to actually have the larger conversations of "why is this happening" and "what can we do to change it" and "how can we do better." The racism just… continues. Festers. Grows. It becomes a malignant cancer within society. Lewis is an exceptional talent and an exceptional person but he shouldn't have to be exceptional to "not be victimized constantly."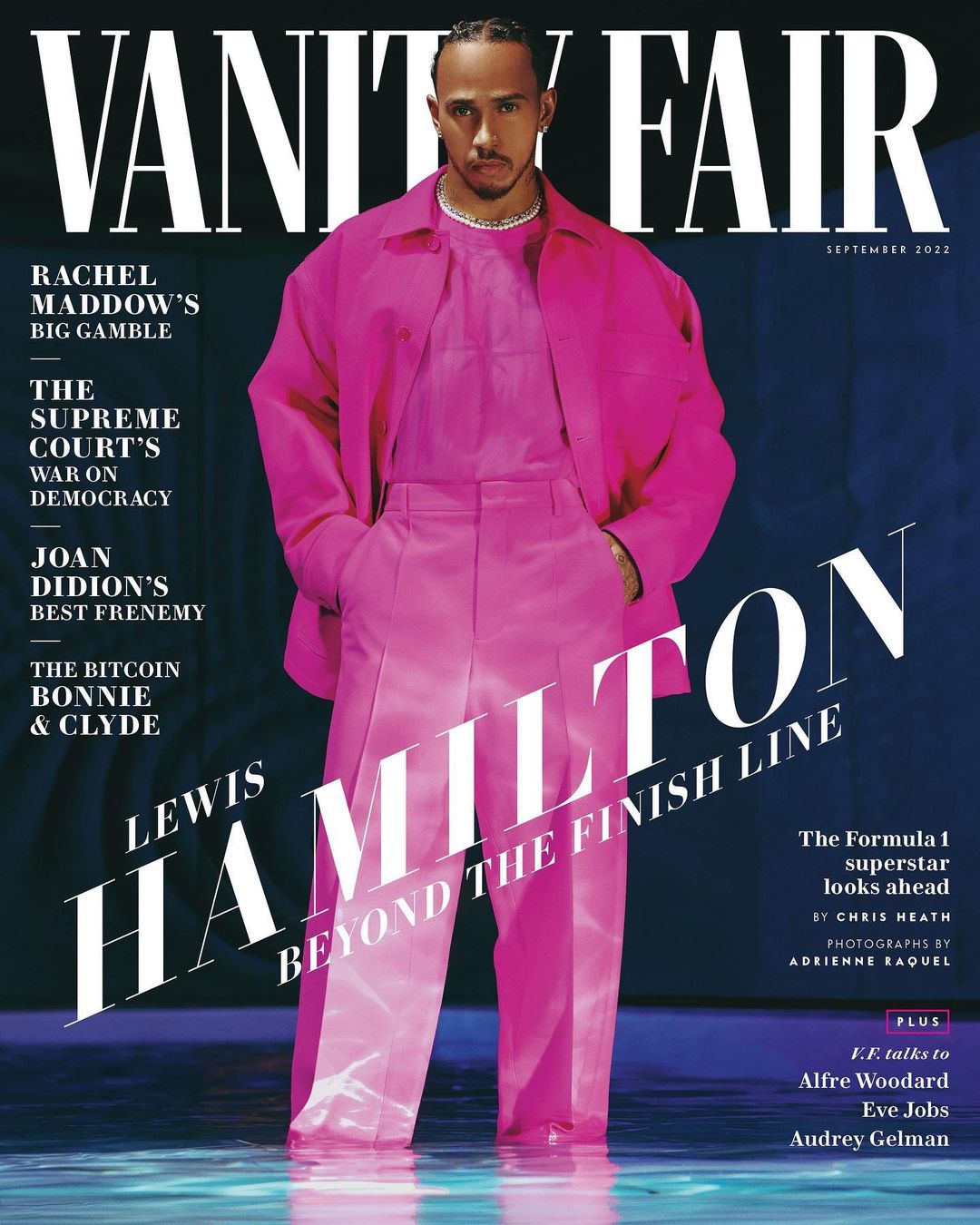 https://www.instagram.com/p/Cg_9O5ZODDH/
Covers & IG courtesy of Vanity Fair.
Source: Read Full Article