Although the news that Harry Styles is off the dating market has yet to fully sink in (yes, we know it's been a while, but still), the April engagement rumors (!!) made us feel the sting just a biiiiit more these days. That, coupled with *all* the drama surrounding his and Olivia Wilde's film Don't Worry Darling, breeds a whole host of questions about their quickly evolving romance, like, Exactly when did Harry and Olivia start dating? and, Was Harry part of Olivia and her ex-fiancé Jason Sudeikis's breakup? and Are Harry and Olivia engaged?? Lucky for you, the answers to some of your burning questions await you below.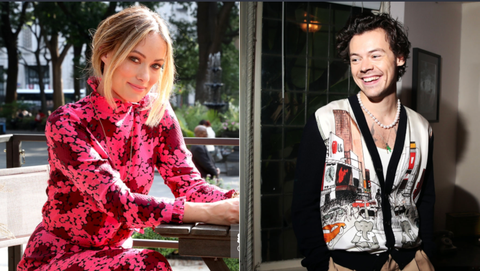 Early 2020
Olivia and her fiancé, Jason Sudeikis, split after seven years together. The news won't break for a few more months, but when it does, sources report the breakup is "amicable." Keep this in mind as everything else unfolds. 👀
September 11, 2020
Deadline reports that Harry is cast in Olivia's newest project, Don't Worry Darling, opposite Midsommar's Florence Pugh. Olivia serves as the director of the project and replaces Shia LeBeouf with Harry after a falling-out. Harry fans everywhere rejoice!
https://www.instagram.com/p/CFBNFA0n4-i/?utm_source=ig_embed&utm_campaign=loading
A post shared by Olivia Wilde (@oliviawilde)
November 13, 2020
Sounds like Olivia is juuust as excited as the fans about Harry's casting news. In Harry's cover interview with Vogue, Olivia reveals that she and the film's costume designer, Arianne Phillips, are extra happy to have Harry around because of his love for fashion.
"She [Arianne] and I did a little victory dance when we heard that we officially had Harry in the film, because we knew that he has a real appreciation for fashion and style," Olivia says. "This movie is incredibly stylistic. It's very heightened and opulent, and I'm really grateful that he is so enthusiastic about that element of the process—some actors just don't care."
https://www.instagram.com/p/CHiCayEH7eW/?utm_source=ig_embed&utm_campaign=loading
A post shared by @harrystyles
But Olivia doesn't stop there—she adds, "To me, he's very modern, and I hope that this brand of confidence as a male that Harry has—truly devoid of any traces of toxic masculinity—is indicative of his generation and therefore the future of the world. I think he is in many ways championing that, spearheading that. It's pretty powerful and kind of extraordinary to see someone in his position redefining what it can mean to be a man with confidence." Iiiiinteresting.
Also on November 13, 2020
Just a few short hours after Olivia praises Harry in print for being an amazing, talented, and fashionable human being, the breaking breakup news hits: Olivia and her fiancé, Jason Sudeikis, ended their engagement after seven years.
A source tells People "the split happened at the beginning of the year," with the good news being that their breakup has "been amicable and they've transitioned into a great co-parenting routine. The children [son Otis Alexander, 6, and daughter Daisy Josephine, 4] are the priority and the heart of the family's relationship."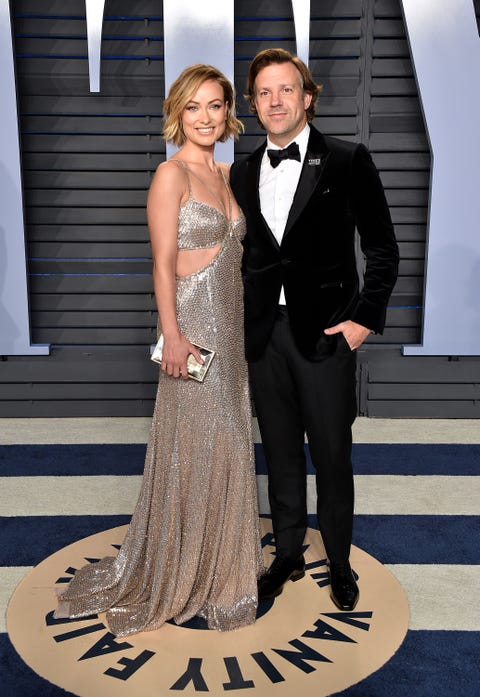 An Entertainment Tonight source backs up Olivia and Jason's "amicable" split and claims "they just fell out of love in a romantic way but still have love toward one another as people." Thankfully, Olivia and Jason "consider themselves friends and co-parents first and foremost."
A separate ET source made a point to add "there was absolutely no drama or scandal, they just didn't work as a couple anymore. If you're looking for a juicy story, there just isn't one." File that for later.
January 4, 2021
Harry and Olivia are seen holding hands at a wedding—aka one of the most couple-y events you can possibly attend with a significant other—and all hell breaks loose on the internet. Naturally.
"They were in Montecito, California, this weekend for a wedding," a source tells People. "They were affectionate around their friends, held hands, and looked very happy. They have dated for a few weeks." 😱
Entertainment Tonight also has a bunch of intel on Harry and Olivia's romance and a source basically says they developed a deeper connection while on-set. "Olivia and Harry are together for long days on-set and have gotten to know each other really well, so it's all very organic." Olivia's treading carefully with her and Harry's relationship because she "wouldn't let a romantic relationship get in the way of a professional one, so anything they're doing is being done thoughtfully."
And in case you're wondering about Jason's feelings about this, ET's source reminds everyone that he and Olivia actually split over a year ago, "so it's not like she's rushing into something.…Olivia and Jason talk all the time and are still close because of the kids. It's highly unlikely he was blindsided by this news." Again—file that for later!!!
January 8, 2021
Apparently, there might be more to Olivia and Harry's relationship than meets the eye—and it's stirring up some drama. Well, according to Page Six, at least.
"People have tried to make out that Harry and Olivia have only been dating for the past few weeks, but that's not right," their source says. "Jason found out about Harry and pushed the conversation. Olivia then asked for a separation and news of the split was made public."
Everyone right about now:
Friendly reminder that previous reports all agreed Olivia and Jason were broken up in early 2020, which makes this source's take even more 🤔.
January 9, 2021
Despite those wedding pics leaking to the internet, Olivia and Harry swear they "were able to keep their relationship under wraps for a bit before it became public knowledge," a source tells Us Weekly. "They were very careful about it and even sleuth-y at times, although the small group of people who were on-set with them every day eventually figured it out."
Oh! And to make things abundantly clear, the source adds, "Harry did not break up an engagement." Good to know.
Remember how that ET source said there was "no drama or scandal" in Jason and Olivia's split and that it was "highly unlikely" Jason could feel blindsided by the news? Welp, People reports Jason "is absolutely heartbroken about the split."
"There is still a lot of love there, and he would like to have hope that maybe there's a way for them to repair things," says the source. "But what happens next remains to be seen."
January 10, 2021
The people—i.e., Harry fans—want to know: Did Mr. Styles factor into Olivia and Jason's split? An Us Weekly source seems to think so, even though Olivia and Jason split long before Harry was cast in her movie.
"Olivia called off the engagement in early November but only after she already had gotten close to Harry," the insider claims, disputing the breakup timeline. "Whether Harry knows it or not, he was a reason for the split and it blindsided Jason—he totally adores Olivia and is devastated. Family is his biggest priority."
A second source immediately jumps in with a counter story, saying that "the engagement was called off early last year, as was previously reported. Harry was in no way the reason for their split."
January 13, 2021
Truly would love to know who has all the intel about Jason's feelings throughout *gestures hands* all of this, but an all-knowing source returns with another sad nugget from his side of the breakup.
"Jason's had no option but to step back and let Olivia do her thing, but he [has his fingers crossed] that this is just a phase and that Olivia will snap out of it or that Harry will get bored and move on before too long," a source tells Us Weekly. And if that wasn't already…a lot, Jason is apparently "desperate" to win Olivia back so they can "repair their family." Will Jason and Olivia ever get back together? We! Shall! See!!!
January 15, 2021
Jason pulls himself up by his bootstraps and finally returns to work following all the drama.
Time to start warming those biscuits. Production for @TedLasso Season 2 has officially begun! pic.twitter.com/EHZWbwiY58
January 23, 2021
One of the peeps on Olivia's production team for Don't Worry Darling tells Entertainment Tonight that Olivia's doing her absolute best to keep her 'ship with Harry low-key while filming. According to the source, Olivia makes sure "the vibe on her set is professional, collaborative, and fun." The source adds that Olivia "really creates a little community. She wasn't joking when she said she has zero tolerance for assholes."
February 7, 2021
New intel from People says Olivia and Harry are basically *thisclose* to being in love because they "seem very serious" and "spend all their time together."
The insider explains that despite the challenge of shooting her movie amid COVID-19, Olivia's leaning on Harry while filming Don't Worry Darling. "Olivia and Harry continue to film in L.A. Filming has been tricky because of COVID-19. They have shut down the set several times for testing and breaks," the insider adds. "Olivia is amazing to work with though. She stays calm and very focused despite all the breaks."
February 15, 2021
Olivia picks the day after Valentine's Day to write a tribute to Harry on Insta. She writes similar pleasantries about other cast and crew members on Don't Worry Darling, but obviously fans are reading this one differently since she's, you know, dating him.
https://www.instagram.com/p/CLUy-huHjLK/?utm_source=ig_embed&utm_campaign=loading
A post shared by Olivia Wilde (@oliviawilde)
February 18, 2021
Don't Worry Darling has officially wrapped, and a new report from ET says Olivia and Harry are "inseparable" despite the filming coming to a close.
"Harry and Olivia have been inseparable," the source spills. "Of course that's in part because they've been in a bubble for their film, but even in the days since it wrapped, they're still spending all their time together."
Meanwhile, Olivia's ex Jason Sudeikis seems to have moved on with a British model named Keeley Hazell, whom he reportedly "turned toward" while processing the fact that Olivia and Harry are dating. Glad that ended well!
March 7, 2021
Sooooo maybe things between Jason and Olivia aren't so bad after all? Jason scores a Critics Choice Award win for Best Actor in Comedy for Ted Lasso…and actually thanks Olivia in his speech.
"I want to thank their mom, Otis and Daisy's mom, Olivia, who had the initial idea to do this as a TV show," Jason says. "She was like, 'You and Bill [Lawrence] and Joe [Kelly] love doing that so much, you should do it as a TV show. I was like, 'No.' She was right."
And Olivia reciprocates the gesture, issuing Jason her own congratulations. "Congrats to Jason and the entire Ted Lasso family on your @CriticsChoice wins!" Olivia's Twitter post reads. "So happy for you guys. I hope this means we all keep wearing hoodies when the ceremonies are in person next year."
Congrats to Jason and the entire Ted Lasso family on your @CriticsChoice wins! @jasonsudeikis @hanwaddingham @brendanhunting @joekellyjk47 @VDOOZER! So happy for you guys. I hope this means we all keep wearing hoodies when the ceremonies are in person next year. 🙌
March 14, 2021
It's Grammys night, and Harry Styles is opening the whole show! But unfortunately for fans, Olivia is not joining him. Page Six reports Olivia is staying back in London with her and Jason's kids while Harry heads to Los Angeles.
But that doesn't mean she's not supporting him from afar! Harry walked away with his first Grammy after winning Best Pop Solo Performance for "Watermelon Sugar," and one eagle-eyed fan noticed a subtle congratulatory post from Olivia.
"If Paul McCartney eating a Watermelon was not enough if a hint? How would Mick Jagger in a leather jacket with no shirt and a scarf will do? This woman is on fire!" the fan tweeted along with two photos Olivia shared on her Instagram Stories.
If Paul McCartney eating a Watermelon was not enough if a hint? How would Mick Jagger in a leather jacket with no shirt and a scarf will do? This woman is on fire! ❤#HarryStyles #OliviaWilde pic.twitter.com/qZeK12zyWL
Mick Jagger's outfit in the shot looks v close to what Harry wore to perform at the awards show and the pic of Paul McCartney eating a watermelon slice? She might as well have just tagged Harry.
April 15, 2021
Harry and Olivia go out for a romantic date to a pub and are quite literally all smiles! A lucky person spots the couple together and tells The Mirror that "they looked very cozy on an intimate table for two away from other diners. They were grinning like Cheshire cats at each other all night."
Sounds like Harry and Olivia engage in light PDA during their date nights too, as the source adds that "she had her legs crossed and gently nudged against him…they looked completely smitten." Cute!
May 9, 2021
Harry has been filming his upcoming movie My Policeman with bestie Emma Corrin…which has resulted in them doing several make-out scenes on-set. The good news (for Harry)? Olivia's "not bothered by Harry's on-camera romance with Emma," a source tells Us Weekly. "This isn't the first time she has been in a relationship and had to deal with her partner kissing other actresses. If anything, she's excited about his role in the film and thinks he's doing an amazing job. Plus, she's confident in their relationship as they're going very strong!"
The insider continues, "Olivia is still in London, supporting Harry behind the scenes. She gets a chance to bond with the cast when they're not filming but is more so excited to spend alone time with Harry when he's off-set."
June 4, 2021
A source tells Entertainment Tonight that Harry and Olivia are continuing to spend time together in London lately and are reportedly "having an awesome time." And they aren't trying to keep super quiet about their relationship either, as they've "been going on walks outside in the park and not hiding their relationship." It's apparently made them "grow even closer as a couple!"
Harry and Olivia are also spotted on a date for the first time in what seems like 4ever. "They enjoyed lunch outside and looked incredibly cute together," the source adds. "They were both in a great mood and left the restaurant holding hands. Harry put his arm around Olivia as they walked back to her house."
July 2, 2021
Entertainment Tonight's source is back for another cute update, this time saying, "It's obvious that this was not a rebound or a short fling" and that Olivia and Harry "care so much about each other and have a deep connection."
July 6, 2021
It's the moment you've all been waiting for, folks: Harry and Olivia are spotted living it up on a yacht in Monte Argentario and Page Six gets some juicy pics of them (which you see here) kissing! I know you're jealous!
Olivia and Harry are spending time in Italy at the moment and have been for a little while now—just the week before, they hit up Porto Ercole, with a source saying that "Olivia has also been in London, spending time with her kids, who are there with Jason. Olivia stayed behind with her kids, then she flew into Porto Ercole to join Harry."
Even though these kissing pics are giving brief summer romance energy, sources at Entertainment Tonight say that "it's obvious that this was not a rebound or a short fling" and "they care so much about each other and have a deep connection."
August 2021
Speaking of a deep connection, a source close to Olivia tells E! News that Harry and Olivia will both be in Los Angeles together for the foreseeable future. "Olivia will be filming Babylon in the next few weeks. Harry will be with her in Los Angeles," says the source. "They are very supportive of each other's careers and want to be together wherever they can. They seem very happy and have a great relationship. They have a close circle of friends and a fun social life too."
The source goes on: "They like simple things like going out to eat or visiting friends' houses. They click and they just want to be together. They make each other a priority no matter what. It's not hard because they are crazy about each other."
The news of the pair being together in L.A. comes after the couple is spotted walking through the city after a cute little lunch date. Fans lose their minds seeing the subtle but incredibly sweet PDA that is Harry and Olivia draping their arms over the other's shoulders and linking hands while they walk. Awww.
September 4, 2021
Over Labor Day weekend, Harry kicks off his Love On Tour trek in Las Vegas, Nevada. According to E! News, Olivia showed up to support her man in a powder blue pantsuit—sans shirt underneath. A concertgoer tells the outlet that Olivia was having a blast at the show. "She was so happy and dancing all night!" says the source. "It was very cute. She was singing along to almost every song…and having a good time with the people she was with." It's the mutual support for us!
November 3, 2021
Olivia shares this seemingly-not-Harry-related Instagram post:
https://www.instagram.com/p/CVzpPY9rz1h/?utm_source=ig_embed&utm_campaign=loading
A post shared by Olivia Wilde (@oliviawilde)
But several fans get serious déjà vu when looking at Olivia's gold cross necklace, which they point out is eerily similar to the one Harry wore to the Grammys in March 2021: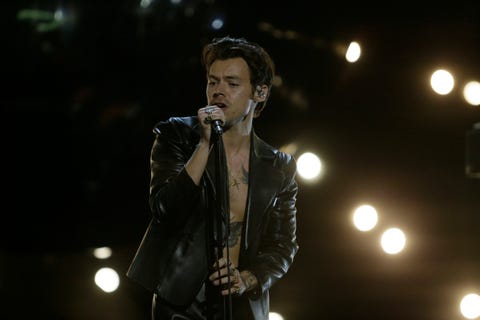 We think this fan's TikTok reaction captures the vibe of the realization best. Enjoy!:
i want to die #harrystyles #oliviawilde #hs
November 16, 2021
Only a few hours after Harry announces his first beauty industry project, a genderless nail polish line dubbed Pleasing, Olivia takes to her Instagram Story to show support. 👀
In a black-and-white repost from the brand's own Instagram, the actor writes on her Story, "I find this very pleasing." She's! Punny! Too!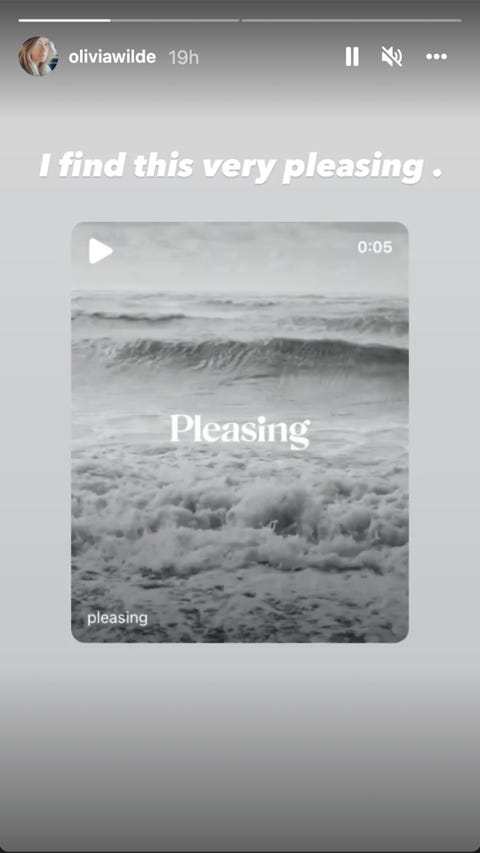 Of the exciting new brand, Harry has this to say: "When we decided Pleasing would make beauty products, I wanted to be sure they were something I would use. I didn't want to make products to mask people—I wanted to highlight them and make them feel beautiful."
December 2021
Around Christmas, reports surface that Olivia and Harry have met each other's families.
"Harry is slowly getting to know her kids. Olivia is also spending time with Harry's mom," a source tells People, adding that the lovebirds are still going strong while Harry is on tour. "[They try] to see each other as much as possible. Olivia has been flying nonstop between L.A., where her kids live, to join Harry on tour."
February 2, 2022
On February 2, Olivia posts pictures of herself looking stunning in a floral jumpsuit (which she actually described as the "jumpsuit of [her] dreams" in one post) on her Instagram Story. One of the pictures, which features Olivia standing by a table lit by several candles, is captioned, "Happy happy."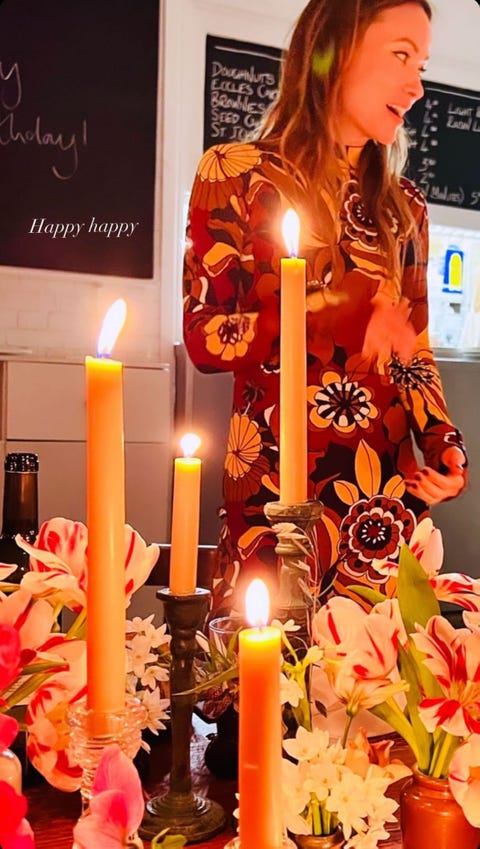 Since the pics are shared on the day after Harry's 28th birthday, we can only assume the "happy happy," dream-jumpsuit-worthy occasion is Harry's b-day celebration. *cue chorus of AWWWs from everyone ever*
February 4, 2022
Olivia and Harry are spotted out in London, continuing to enjoy the singer's b-day at the Francis Bacon: Man and Beast exhibition at the Royal Academy of Arts in London. Olivia also manages to share a pic of one of the paintings on her Story, with the caption, "Francis Bacon at Royal Academy if you're in London go, go, go." BRB, adding "cute museum trip" to my list of best date ideas.
March 23, 2022
Harry announces that he's set to drop his third solo album, Harry's House, soon thanks to a teaser video. The clip shows the singer walking in a white top and flared blue jeans onto a stage framed by a cutout of a house. We're already looking forward to seeing clips of Olivia dancing around on tour during Harry's shows.
Harry's House. May 20th. pic.twitter.com/gvNJsccEz5
April 15, 2022
Picture this: You're in sunny Indio, California, in the middle of spring, you're an über-famous actor with a medley of super-cool projects on your docket, oh, and your boyfriend is legit headlining the first night at Coachella. That's an actual reality for Ms. Olivia Wilde, who is spotted cheering on her beau in a silk floral Gucci dress, a Saint Laurent peacoat, and a bandanna from Harry's new Pleasing line. Literally obsessed!
Queen Olivia at her boyfriend live! (Coachella) ❤️❤️ #oliviawilde #actress #director #lover #lovers #queen #harrystyles #couplegoals #couples #love #family #hot #lovers #boyfriend #girlfriend #bf #gf #4u #foryou #foru #fyp #fy #fypシ #1d #onedirection #hshq #viral #gucci #style @hshq
April 19, 2022
After Harry's set at Coachella on Friday, a Deuxmoi fan flat out asks the account if the duo is engaged…to which the sleuth replies a simple (and gut-wrenching), "Yes." !!!!
The anonymous user later elaborates on the answer, saying they think "there is a high probability that they are! I've been saying for literal months that they are VERY serious and no one ever wants to believe me!!!!!"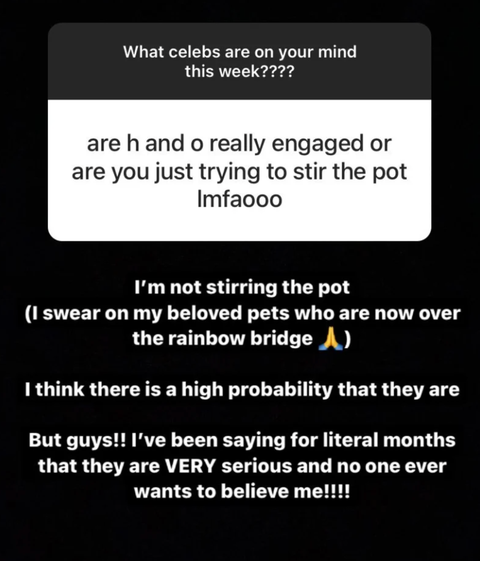 Neither Olivia nor Harry has said anything about an engagement, but who knows. 👀
April 28, 2022
Olivia is quite literally in the midst of minding her own business and, like, actually kinda working when she is served legal documents from ex Jason Sudeikis right in the middle of a CinemaCon presentation. When she's originally delivered the manila envelope, she actually thinks it's a script, so she opens it before saying, "Okay, got it. Thank you." She then just…kind of proceeds with business as usual. Come to find out, the documents are Actually! Custody! Papers!!!
A rep for Jason tells Deadline that the Ted Lasso actor had "no prior knowledge of the time or place that the envelope would have been delivered" because it was "up to the process service company." The rep also claims that Jason "would never condone her being served in such an inappropriate manner." Welp! Wonder how Harry feels about all that. 🤔
June 13, 2022
Harry offers some rare insight into his 'ship while on the Spout podcast that maaaaay or may not allude to him not feeling "cool" enough for Olivia when the two first met. While discussing the inspiration behind the song "Cinema" on his latest album, the One Direction alum says, "I think it's like, when you like someone, that initial phase. 'Am I doing things right?' Before you get comfortable with each other and it's kinda, like, all of that stuff happens at the start of something."
As! If! That! Isn't! Enough! When host Tamara Dhia suggests that no one is "too cool" for the singer, he replies, "We are all human." See? Celebs, they're just like us!
July 26, 2022
We officially know the approximate date that Harry and Olivia will be making their first appearance as a couple on the red carpet. Deadline reports that Don't Worry Darling is heading to the Venice Film Festival in August and that Olivia Wilde, Florence Pugh, Harry Styles, Gemma Chan, and Chris Pine will be there. Chances are, Olivia and Harry won't make this all about their 'ship, but still. Red carpet pics!
August 24, 2022
Olivia gets candid in an interview with Variety about collaborating with Harry on Don't Worry Darling but insists that she's "not going to say anything about" her relationship with the singer "because I've never seen a relationship benefit from being dragged into the public arena." Hm, fair! But just so we're clear, the two "both go out of [their] way to protect the relationship.…I think it's out of experience but also just out of deep love." Not-ed!
The actor also mentions that she thinks there's a double standard that labels her an absentee mother whenever she's spotted without her children: "When people see me not with my kids, it's always, 'How dare she.' I've never seen anyone say that about a guy. And if he is with his kid, he's a f*cking hero." *cue the snaps*
August 31, 2022
A source tells Us Weekly that Harry "hasn't reached out to" Jason "at any point" and "doesn't feel it's his place to" interfere. Meanwhile, "Harry is wildly happy and in love with Olivia. They're an amazing team together."
September 5, 2022
The couple finally (!!) attends the Venice Film Festival premiere of Don't Worry Darling, although a video that surfaces in the wake of Spitgate™️ clearly shows that the two did not wind up sitting together at the screening.
#HarryStyles appears to spit on Chris Pine i won't sleep until i know the truth pic.twitter.com/wLXjIHTYgU
And the pair also choose not to appear alongside each other while photographed with cast members Chris Pine, Florence Pugh, Gemma Chan, Sydney Chandler, and Nick Kroll.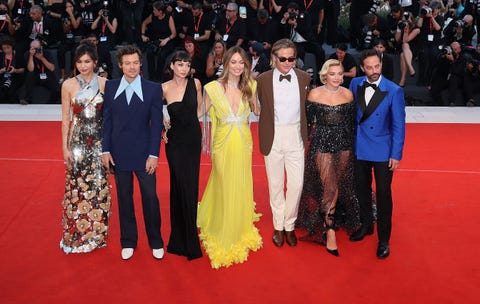 Innnnteresting.
September 19, 2022
Another Don't Worry Darling cast event, another photo where Harry and Olivia stand as far away from each other as humanly possible!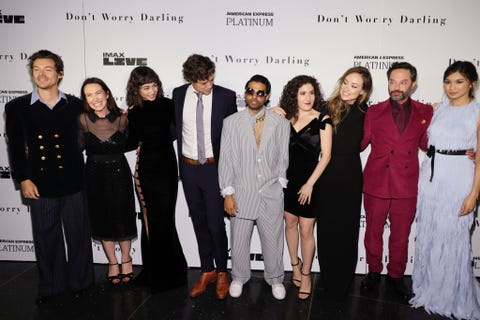 But they are spotted talking as they leave the red carpet, so: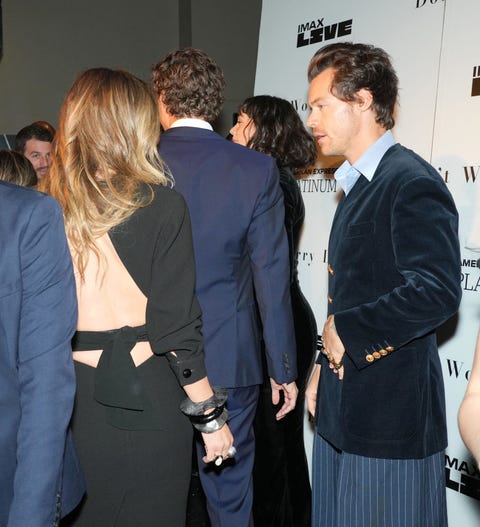 September 22, 2022
Thanks to the vibes at Don't Worry Darling's premiere being all kinds of awkward, everyone assumes Harry and Olivia have broken up. But nope! In fact, Olivia is spotted by TMZ chilling at Harry's Madison Square Garden show.
September 24, 2022
In case Olivia showing up at Harry's concert doesn't set the record straight, the couple are then photographed passionately kissing in photos obtained by Page Six (this way to see them…).
October 13, 2022
Olivia makes a sartorial show of support for Harry by stepping out in a sweatshirt from his nail polish brand, Pleasing: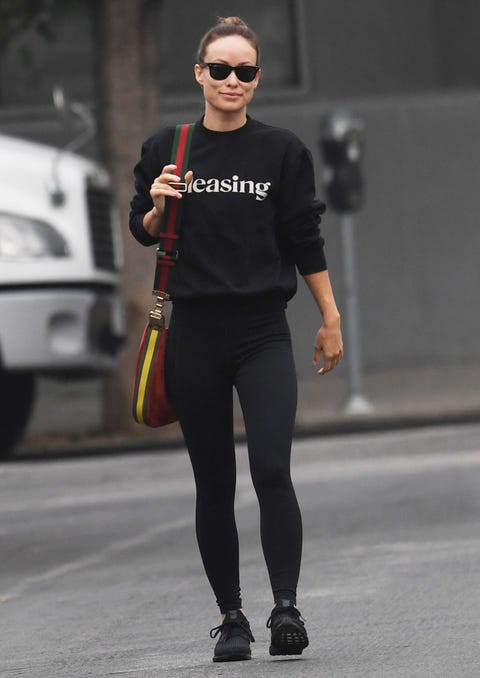 October 17, 2022
Unclear where these two stand today considering the M-E-S-S that is Olivia and Jason's ex-nanny giving an explosive, two-part (!!) interview and claiming that 1. Olivia actually fudged her 'ship timeline with Harry and 2. wasn't totally done with Jason when they had started dating. There was apparently also a "special" salad dressing incident that resulted in Jason laying under Olivia's car to stop her from delivering it to Harry *and* the fact that the Ted Lasso star allegedly discovered that Olivia had been cheating via an Apple Watch she'd left behind.
I'm no relationship expert, but one would think that these, erm, revelations, will probs end up affecting these two, js. But who knows! It could ultimately bring them closer ¯\_(ツ)_/¯.
Aaaaaaand that's all for now, but stay tuned for any and all future developments between this couple of le moment (and the drama that seems to be following them to no end 😭).
Source: Read Full Article