Matiss Kivlenieks, who is best known for his NHL career with the Columbus Blue Jackets, has died. He was just 24 years old at the time of his death. 
The tragic accident happened on the Fourth of July, which is supposed to be a joyous holiday spent with family and friends. According to ESPN, outlets first reported that Kivlenieks died from a head injury after running from a firework and falling on the concrete. However, a medical examiner later confirmed that the cause of death was chest trauma from a stray firework. "There was some minor injury to his exterior, which would lead us to believe that some portion of the firework made contact with him, but we're not really sure if it was a direct hit or whether the percussion from the explosion caused his injuries," Lt. Jason Meier told the press of the impact that caused significant heart and lung damage.
Kivlenieks and a few others were at a private residence in Novi, Michigan, in a hot tub when a firework appeared to have been shot off by someone at the same party. It does not seem like the explosive launch was on purpose, and Meier said that it appears to have just been a tragic accident. According to his NHL bio, the Latvian-born goalie played two seasons with the Columbus Blue Jackets and has logged eight games during his NHL career. Since the accident, tributes for Kivlenieks have been pouring in. Keep scrolling to find out more. 
NHL fans and colleagues remember Matiss Kivlenieks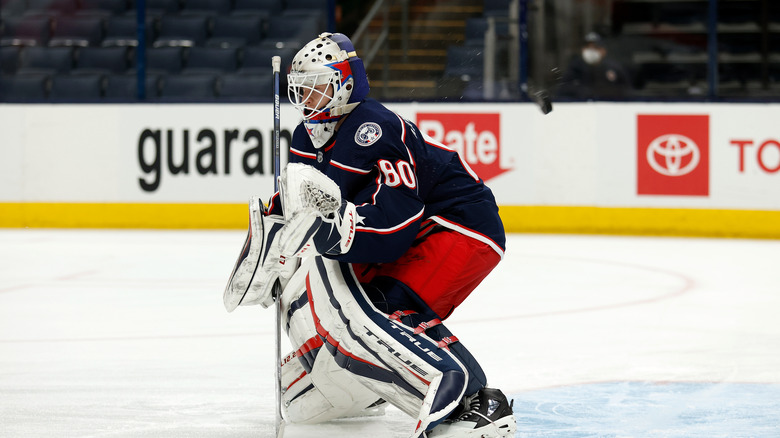 The death of Matiss Kivlenieks has had a profound effect on several people. John Davidson, who is the Blue Jacket's President of Operations, spoke on behalf of the organization, issuing a heartfelt statement on Kivlenieks' death, via the NHL. "We are shocked and saddened by the loss of Matiss Kivlenieks, and we extend our deepest sympathies to his mother, Astrida, his family, and friends during this devastating time," he shared. "Kivi was an outstanding young man who greeted every day and everyone with a smile, and the impact he had during his four years with our organization will not be forgotten."
Several other fans have also taken to social media to remember the late hockey star. "I just can't stop thinking about the tragic passing of Matiss Kivlenieks. A freak accident. Here one day, gone the next," one person tweeted. "Just like that. Life is so short, and there are no guarantees. We would all do well to enjoy the little things today. In the end, they are the big things."
Elvis Merzlikins, another hockey star for the Blue Jackets, wrote a gut-wrenching tribute to his friend on Instagram accompanied by a photo of the pair. "Thank you for being such amazing person, always with the smile, and educate, always cleaning after yourself and helping me and my wife in the house!" he wrote after thanking fans for their love and support. Merzlikins also called Kivlenieks his "guardian angel."
Source: Read Full Article