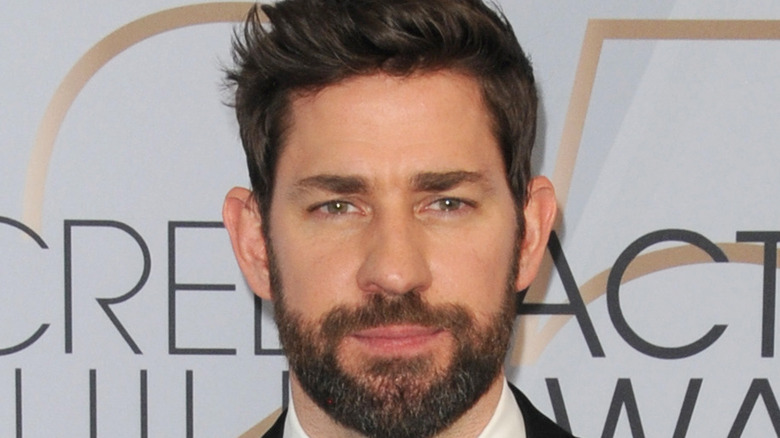 Ever since his iconic role as Jim Halpert on "The Office," John Krasinki joined the rank of actors whom people have a tough time separating from the characters they play. Think Elijah Wood as Frodo Baggins, David Schwimmer as Ross Geller, or Daniel Radcliffe as Harry Potter. While each of these men are extremely talented and versatile actors in their own right, many fans think they're signature onscreen personas and real selves are one in the same, and they refuse to believe otherwise. Let's be real: No matter what roles Elijah Wood played prior to and following the Lord of the Rings films, he's probably always going to be synonymous with that meek yet brave little Hobbit who inherited the One Ring.
John Krasinki, however, has seemingly done everything in his power to untangle himself from the charming and crush-worthy paper salesman of his past. In fact, he's spent the better part of a decade reinventing himself in new and surprising ways, including adding director to his resume. Here's a look at his burgeoning (and quite successful) directing career.
John Krasinki directed and produced several episodes of The Office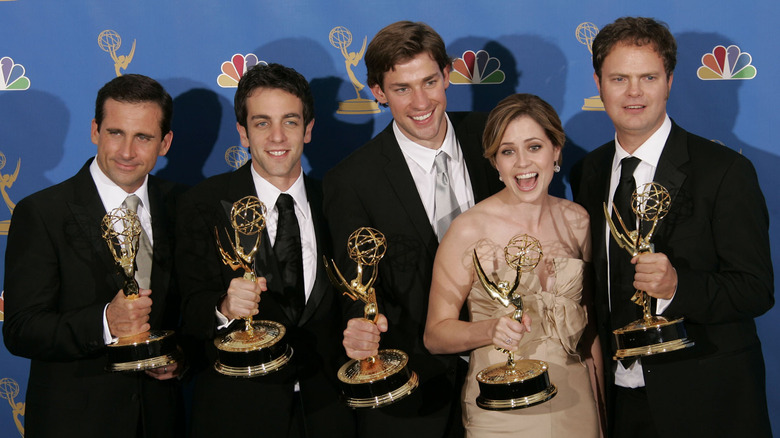 According to E!, Krasinski began breaking out of the Jim Halpert box he put himself in well before "The Office" came to a close. As his IMDb page notes, Krasinki's directorial debut came in 2009 when he wrote, produced, and directed the comedy "Brief Interviews With Hideous Men," which is based on a collection of short stories by David Foster Wallace (not to be confused with David Wallace, the CEO of the Dunder Mifflin Paper Company). After proving his chops behind the camera, the NBC team let Krasinski take over and direct three episodes of "The Office" — including the one when the warehouse staff wins the lotto and makes a mass exodus (via Episode Ninja).
After "The Office" ended in 2012, Krasinski launched his production company, called Sunday Night, and quickly got to work developing material. First, there was the film "Promised Land," which he and pal Matt Damon produced, wrote, and starred in. The pair later joined forces again to dream up the movie "Manchester by the Sea." Although Krasinski envisioned the lead role as his own, it ended up going to Casey Affleck, who brought home an Oscar win for his stunning performance. Krasinski also severed as the executive producer of several hit TV shows, including "Lip Sync Battle."
Getting ripped for Jack Ryan made John Krasinski a better director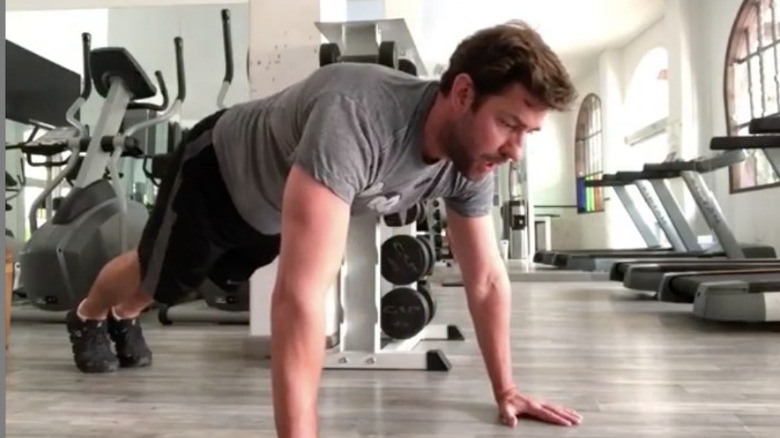 Even though John Krasinki turned his attention toward directing and producing after he hung up his Jim Halpert hat, he didn't bid farewell to acting altogether. After he was turned down for the part of Steve Rogers in Marvel's 2011 "Captain America: The First Avenger" in favor of Chris Evans, Krasinki landed the role of more realistic hero in Michael Bay's "13 Hours: The Secret Soldiers of Benghazi." According to E!, the role required the actor to gain 25 pounds of pure muscle, and he had to keep up the physique for his subsequent role as the muscular main character in Tom Clancy's "Jack Ryan" series.
The intense training affected his career and psyche in surprising ways. "I think mentally, it's cleared my head for things like directing and producing," Krasinki told Men's Health. "Staying really busy. If I didn't work out a few times a week, I would start to overanalyze. It definitely takes me out of myself for a minute. And it gives me my best ideas. Your brain definitely works better when it's all lubed up with endorphins and sweat and blood."
The birth of John Krasinski's daughter Violet inspired his first horror film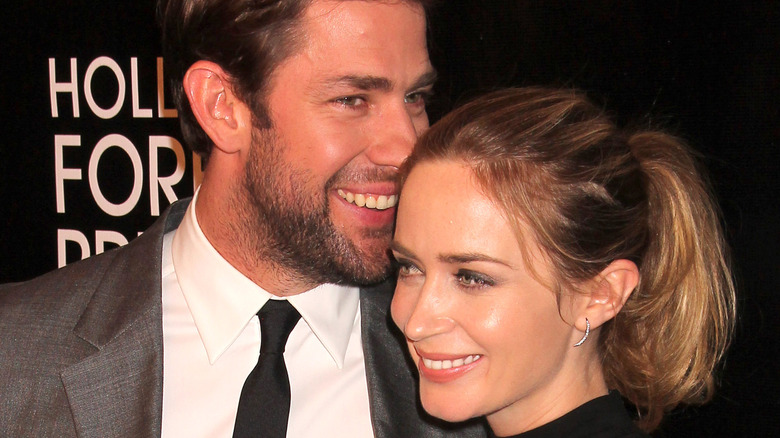 John Krasinki entered the world of feature film directing with a bang with his 2018 movie "A Quiet Place," which he also produced and wrote. According to E!, the critically-acclaimed horror film was based on a spec script he wrote about parenting following the birth of his youngest daughter, Violet, whom he shares with his wife, Emily Blunt. 
Suffice it to say, a post-apocalyptic horror film is not something you'd think the birth of a sweet baby girl would inspire, but considering it went on to gross a whopping $341 million worldwide and cemented Krasinski as a directorial powerhouse, we have Violet to thank. His wife also happens to be the leading lady, although Krasinski was initially nervous to ask her. "It without a doubt made our marriage stronger," he told The Independent in 2018. "I think we were both surprised by that. Not that I thought it would get worse but we were much more in love after the movie. We leaned on each other in a way we never had. I also certainly wouldn't have felt as comfortable watching someone else pretend to give birth in a bathtub."
The sequel to A Quiet Place is already smashing records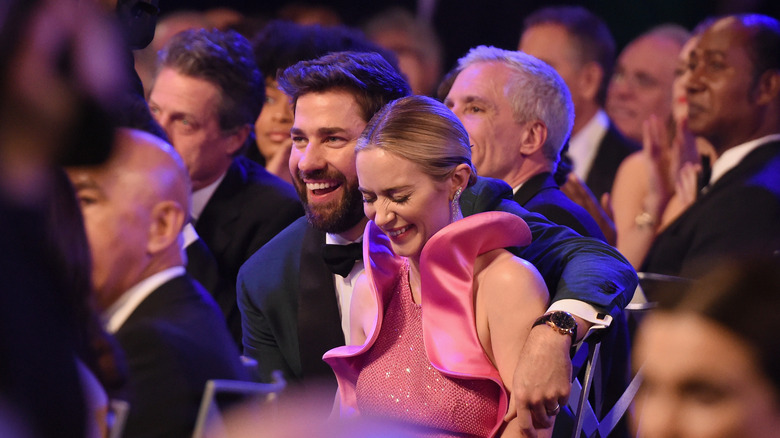 The Hollywood couple teamed up once again for "A Quiet Place Part II," which was released in May of 2021 after getting postponed due to COVID-19. In a matter of days, the sequel smashed records to become the highest-earning film in the pandemic-era U.S. box office (via BBC). Its massive popularity is giving those in the industry renewed hope. "This bodes well for the future of the theatrical exhibition and is thus a huge relief for the movie industry at large," said Paul Dergarabedian, a senior analyst at Comscore (via BBC). So as it turns out, Krasinski is a bona fide hero in real life, too.
John Krasinski has come a long way since he played the character that thrust him into the spotlight. He's done the sitcom thing, the buff hero thing, and the horror film thing. He's acted, written, produced, and directed, and received glowing reviews for each and every role. What will he do next? If past is prologue, likely big things.
Source: Read Full Article