As the countdown to former Theranos CEO Elizabeth Holmes' trial on August 31 approaches its inevitable end, it seems that Holmes is once again receiving a renewed interest in her case. Holmes, who was charged in 2018 on multiple counts of wire fraud and conspiracy to commit wire fraud, spent the nearly 15 years prior drumming up millions upon millions of dollars in cash from investors in order to produce a printer-sized machine named the Edison, which she claimed could run hundreds of diagnostic tests for patients with only a simple extraction amounting to one drop of blood. (As her indictment in 2018 would suggest, no such technology actually existed to make her potentially game-changing device come to fruition.) 
Considering Holmes was, prior to the charges, considered a Silicon Valley icon in her own right — and even becoming the first-ever woman to grace the front cover of Fortune magazine — the coverage of her swift toppling, along with her Theranos empire, was vast. Spawning a book by John Carreyrou, the Wall Street Journal reporter who was largely responsible for unearthing her alleged, extensive grift, a popular podcast, an HBO documentary and more all seemed to, in their own way, attempt to answer a similar question: What drove Holmes to commit her purported long con? And could her family upbringing, and perhaps her relationship with her parents then and now, provide any answers?
Elizabeth Holmes' parents seemed to push her to her limit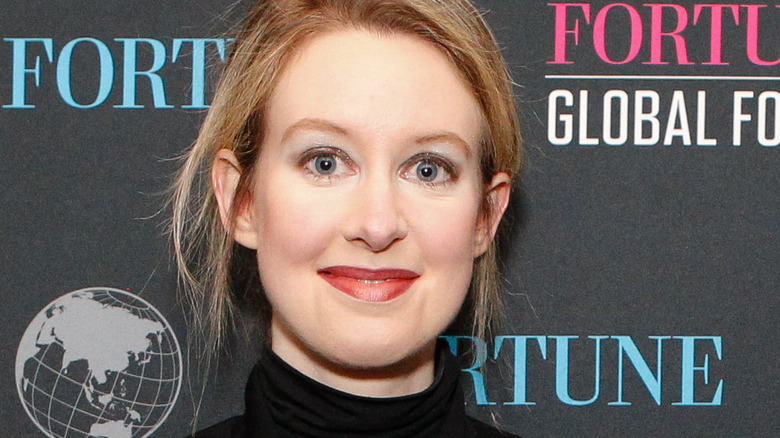 According to an article published by Forbes in 2019, a neighbor of the Holmes' family — one who also happens to be a psychiatrist — provided some insight into not only Elizabeth Holmes' upbringing, but her relationship with her parents as well. George Fuisz, who had known Holmes since she was a child growing up in a Virginia suburb of Washington, D.C., told the magazine that Holmes' father, Christian, and her mother, Noel, were people who "aspired to use their Washington connections to get money." Though Fuisz claimed both Noel and Christian were "jealous" of the Fuisz family over their career success, and particularly Fuisz's other career as an inventor and his many approved patents, he also said that the Holmes' pushed Elizabeth towards Fuisz in order for him to unofficially mentor her. 
"Noel programmed Elizabeth to be like me, invent and learn a language," recalled Fuisz, before criticizing what he deemed as unhealthy behavior in the way they parented their child. "I am a psychiatrist and family practitioner and would tell a father and mother not to treat their child that way. She'll be what she'll be. Don't drive her into something she doesn't want to do," he noted. "In the pictures I have with our family she is withdrawn. She is always pulled to the side and was not naturally emotive as a child."
Elizabeth Holmes' parents had a hold over her well into adulthood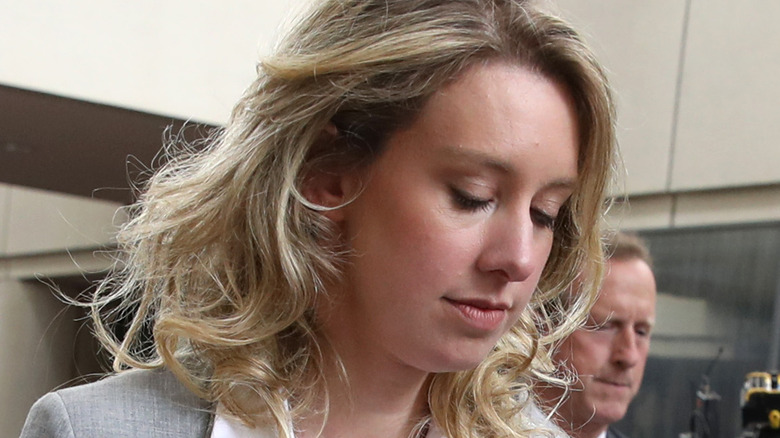 As George Fuisz also recalled in his 2019 interview with Forbes, her parents were the ones who attempted to push her into attending Stanford University — the same school were she would eventually develop her idea for Theranos and the Edison, and infamously drop out of in order to pursue her dream and her company in 2003 at the age of 19. 
However, according to Fuisz, Holmes' grades were not exactly up to snuff, so in order to get their daughter into Stanford, both Christian and Noel Holmes insisted she enroll in a Stanford pre-college program to study Mandarin, an opportunity which Holmes went along with, albeit unwillingly. "Elizabeth would call the house from China crying," Fuisz said. "Noel would take the calls from Elizabeth and ask my ex-wife to pick up. Elizabeth said, 'The people are dirty, the hotel is filthy, and I want to come home.' But Noel would tell her to stop complaining and get with the program.'" 
As an adult, Holmes' mother told Fortune in 2014 (per Heavy) that she had been instrumental in overseeing Holmes' first patent application. "I saw her sit down at the computer, and for five to six days she barely got up." Noel continued, "I would bring her food occasionally, and she slept maybe one or two hours a night for five nights." According to Fuisz, Noel was also responsible for helping her daughter secure investors during Theranos' first years.
Elizabeth Holmes' parents defended their daughter's controversial speaking voice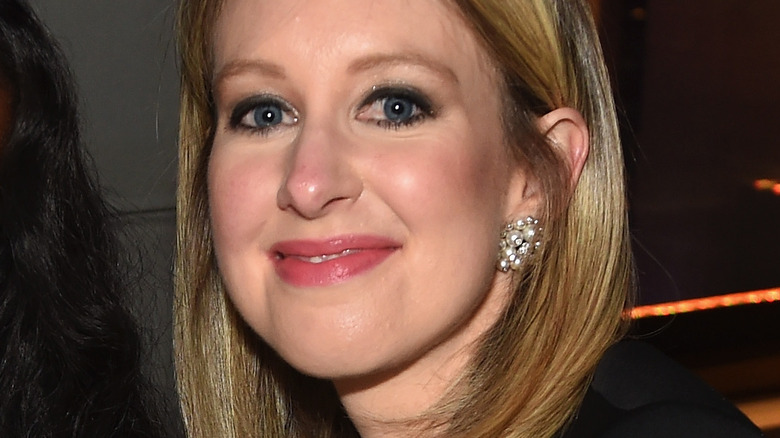 While the relationship between Elizabeth Holmes and her parents during her formative years can be easily researched through the testimonies of those who knew the family, it's less easy to discern where their relationship stands today. Though Noel and Christian Holmes have not spoken publicly about their daughter or her upcoming trial for wire fraud scheduled for late August, it seems the last time they commented to the press about their daughter was in 2019, but instead of speaking about her trial, both took the time to defend her over comments concerning her speaking voice.
As many might recall, one of the intriguing factors about the former Theranos CEO was the ways in which she presented herself, including her penchant for wearing black turtlenecks in the vein of Apple's Steve Jobs, whom she seemingly idolized, as well as the unusually deep quality of her voice. As was later discovered and discussed in documentaries like "The Inventor," the baritone was apparently contrived, while her natural speaking voice registers much higher. However, according to TMZ (via The Cut), they insisted the voice was real, and that Holmes' grandmother had actually shared the same trait. They also stated that they stood by their daughter despite the charges against her at the time. But will they be by her side when the trial begins? Only time will tell…
Source: Read Full Article