Halsey has just announced that they've welcomed their first child with longtime boyfriend Alev Aydin. The "Without Me" singer revealed to Rolling Stone that they've had a long journey to this birth. They first tried to get pregnant back in 2016, but unfortunately suffered a miscarriage. "What happens? Do I lose my record deal? Do I lose everything? Or do I keep [the pregnancy]? What are the fans going to think? What are the moms going to think? What is the Midwest going to think? What's f***ing everyone going to think?" they recalled thinking when they first got pregnant. And, when they suffered a miscarriage, they still went on stage that night. Halsey went on to say that they gave "the angriest performance of my career." 
Around the time Halsey announced they were expecting a baby, they revealed that they were changing their gender pronouns to she/they. "I've been thinking lots about my body. it's strange to watch yourself change so quickly. I thought pregnancy would give me very strong, binary feelings about 'womanhood' but truly it has leveled my perception of gender entirely," they wrote on Instagram in February.
With such a long journey to this moment, we're happy to hear they've welcomed a happy and healthy baby. Read on to find out more details about the truth of the baby's name — which is quite beautiful!
Halsey's baby has a "rare" name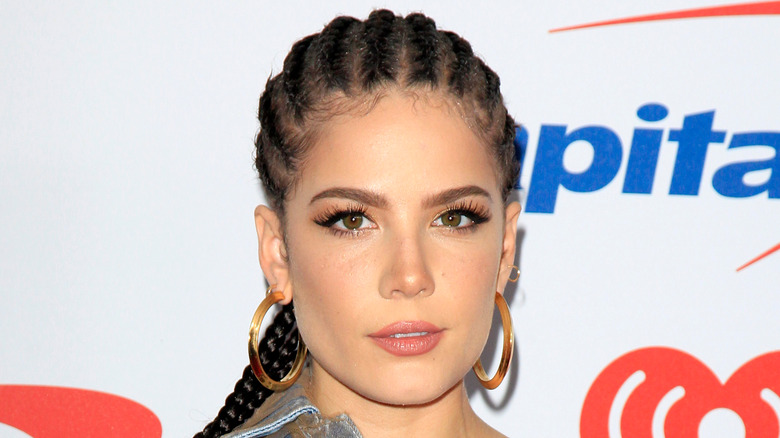 On July 19, Halsey welcomed their first child, Ender Ridley Aydin, on Instagram, writing, "Gratitude. For the most 'rare' and euphoric birth. Powered by love." There's a reason "rare" is in quotes; according to Baby Name DNA, the name "Ender" means "very rare" in Turkish. Sci-fi fans may also recognize the name from Orson Scott Card's classic book, "Ender's Game." As for "Ridley," Baby Name DNA says that it means "cleared wood" in Old English, and can be either a boy's name or a girl's name. Director Ridley Scott, known for science-fiction films like "Alien" and "Blade Runner," is perhaps the most famous person with the name.
And though they didn't reveal the gender of the baby, Halsey revealed in the liner notes of their latest album that they fully planned the pregnancy, and were excited to become a mother. "I'm not going to go tour myself to death because I have nothing else to do and I'm overcompensating for not being able to have this other thing that I really want," they wrote (via People). "Now, I have a choice. I've never had a choice before." 
Source: Read Full Article