In 2018,
Xintian/Hypebeast
What got you into sneakers?
I watched a lot of NBA games growing up and naturally, I eventually started paying attention to what players were rocking.
Can you recall the first pair you ever copped?
My first pair of shoes was Kobe's Nike Zoom 81 Team, a simplified version of the Kobe 3. The pair I bought had a Lakers-style white and purple colorway — I picked them up from an outlet.
What silhouettes were you into growing up?
The Nike Kobe 2, Kobe 3, Kobe 4 and Kobe 6, Converse's WADE 1.0, and the Air Jordan 23. The Air Jordan 23 was the first truly elegant pair of basketball shoes that I'd ever seen. I loved how it was full of details and gems around the midsole. Another silhouette that I remember being drawn to was the Nike ZVEZDOCHKA "Space Dog."
How have your industrial design studies translated into footwear design?
As far as I know, many footwear designers are or were majors in industrial design. Studying industrial design allowed me to observe and analyze, and gave me the ability to deal with problems more systematically. That ability to problem solve and see things from different functional and visual perspectives is key in footwear design.
How did the opportunity to participate in the Nike: ON AIR design competition in 2018 come about?
At that time, I was preparing a portfolio for postgraduate study in the UK and one of my teachers forwarded me a registration link for the Nike: ON AIR competition. After my design, the Nike Air Max 97 "Shanghai Kaleidoscope," won, I remember being in disbelief at seeing my name printed on a Nike box. Additionally, seeing LeBron James rocking the kicks was a moment that I'll never forget.1 of 5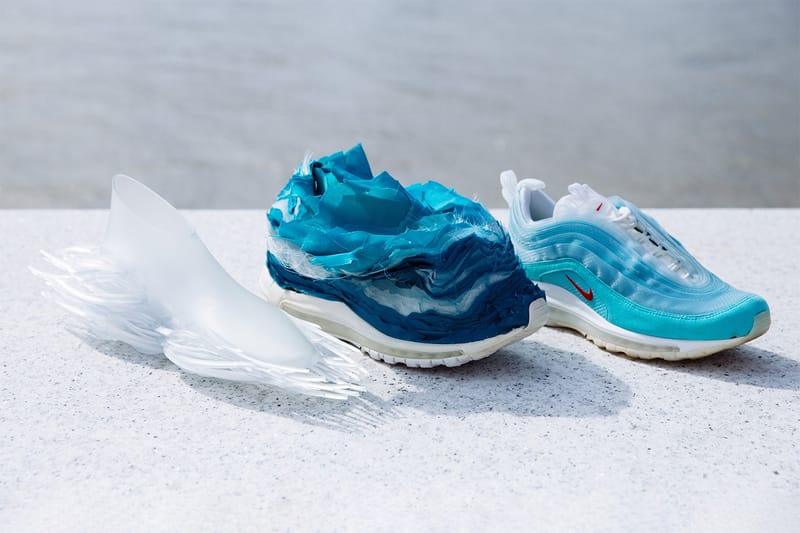 Xintian/Hypebeast2 of 5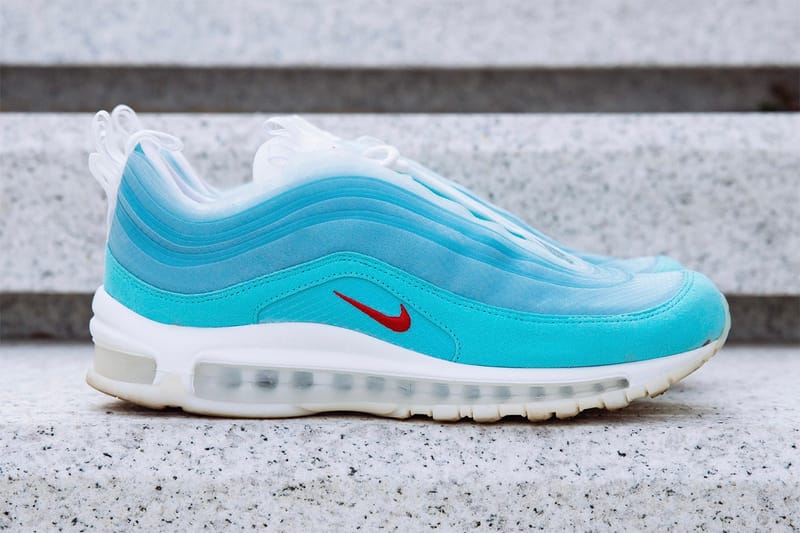 Xintian/Hypebeast3 of 5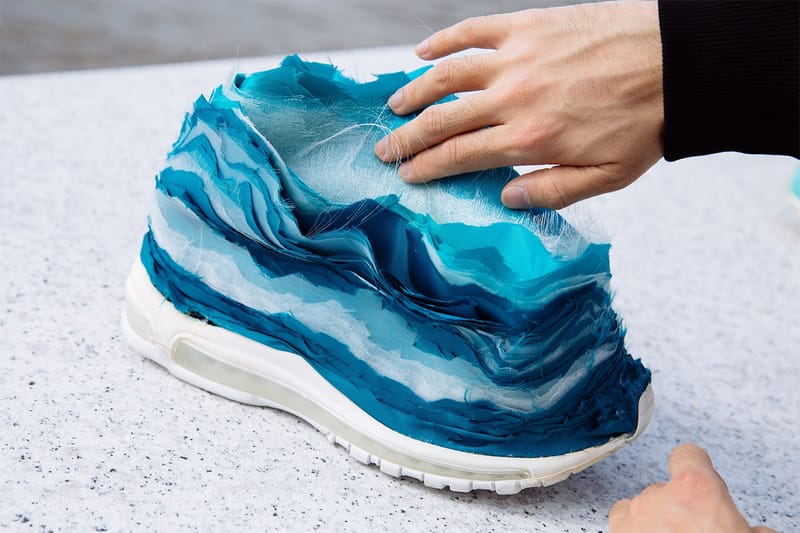 Xintian/Hypebeast4 of 5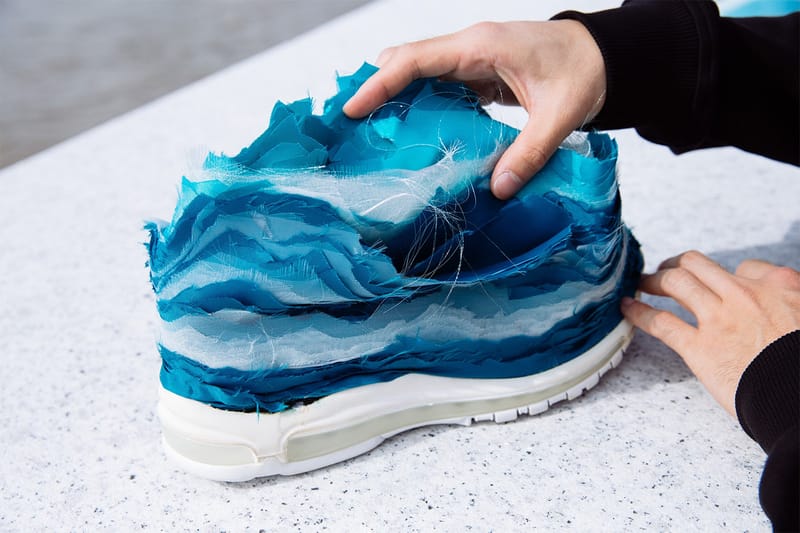 Xintian/Hypebeast5 of 5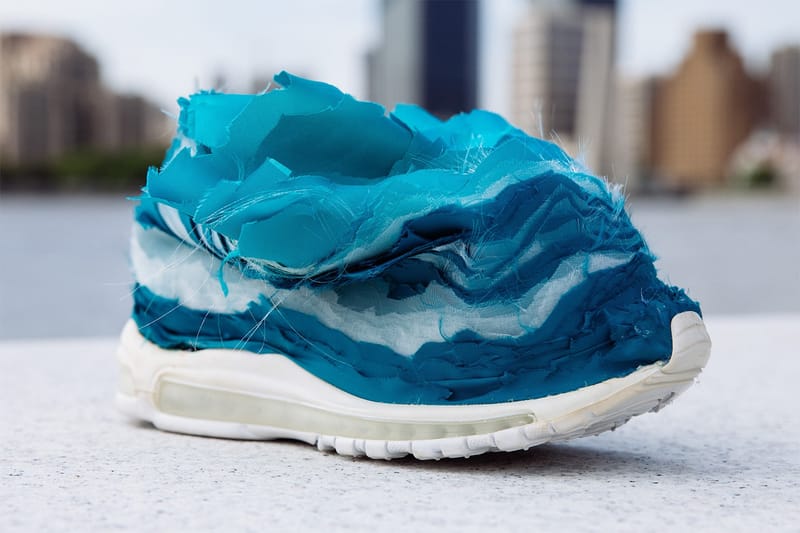 Xintian/Hypebeast
How far were the kicks from your original design?
My original design concept was architectural, with jagged edges and layered cloud structures combining with the characteristics of a gauze material that could be torn apart. The shape of the vamp was inspired by boots with binding shoelaces. Compromises had to be made when it came to mass producing them, though: the height of the vamp was reduced and the structure was simplified.
The most difficult part to get right was the upper. The first sample was far off from my original idea, so I re-adjusted the upper structure and increased all the fabrics to three layers. The material is superimposed with different types of gauze, and the gradient changes from deep to light and from bottom to top to expand its depth. The tongue was improved into a thin, hot-pressed material to avoid excessive bloating on the shoe body. The material of the outsole was also changed to translucent rubber. I appreciated the support from the Air Max design team in letting me produce a complex shoe. I also designed matching clothes and socks for the shoes, but unfortunately Nike couldn't approve them due to various reasons out of my control, Nike couldn't approve them.
"I hope that everyone can re-examine their relationship with consumer goods, excessive design and excessive resource consumption."1 of 3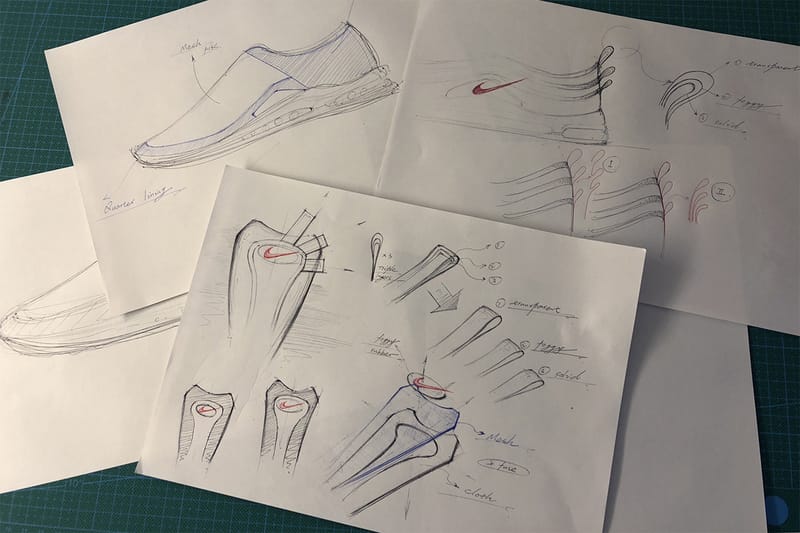 Xintian/Hypebeast2 of 3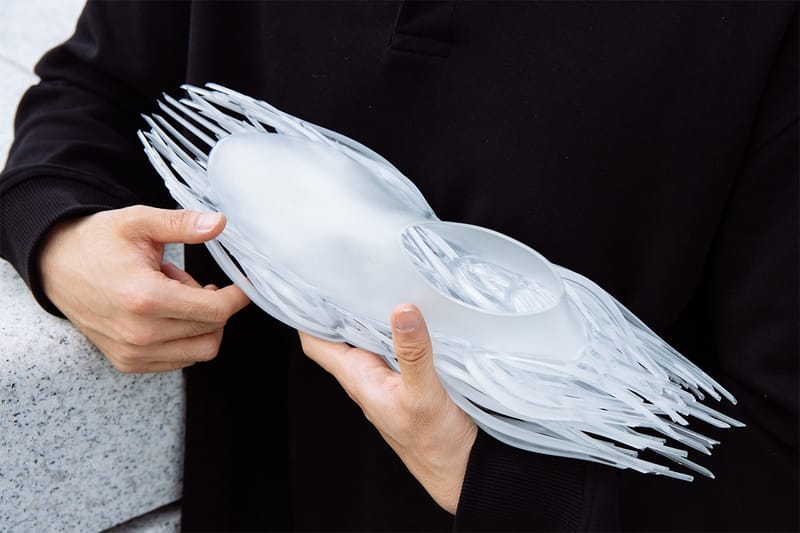 Xintian/Hypebeast3 of 3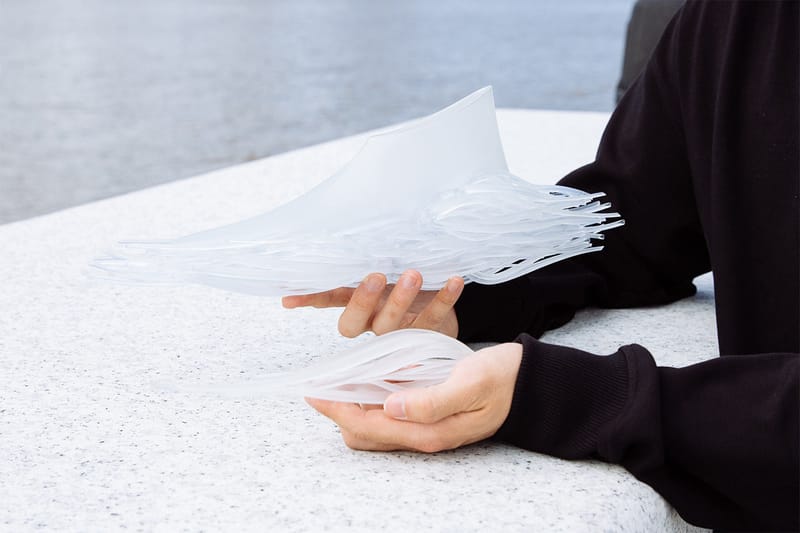 Xintian/Hypebeast
You actually made the original 3D reference for this Nike collaboration. What was the inspiration behind the design?
That pair was the original entry for the ON AIR competition and the inspiration comes from the unpredictable weather and clouds in Lujiazui [Shanghai neighborhood]. I split the pair up into inner boot modules and functional modules, and designed a structure system that could switch between different modes. The inner bootie consists of Flyknit fabric, a cord that extends from the sole to the upper and a thin rubber outsole. The loop structure is used to connect with the shoelace and the outsole module. The inner booties could be worn alone, or they could be combined with different functional modules to switch up their appearance and performance. The functional modules are formed by the stacked 3D-printed laminated structural units, which could achieve different levels of shock absorption.
3D printing and other technologies are now being applied more frequently in sneakers. How do you see this being implemented in sneaker design down the road?
The biggest problem with 3D printing of footwear right now is efficiency and cost. I'm hoping we can get to a place where we combine different production processes with 3D printing in a way that improves production efficiency and reduces energy consumption and costs.
What do you think the future of sneaker design should look like?
I've noticed that consumers have gradually returned to objectivity and rationality, and their attention has returned to the product itself. I hope that everyone can re-examine their relationship with consumer goods, excessive design and excessive resource consumption.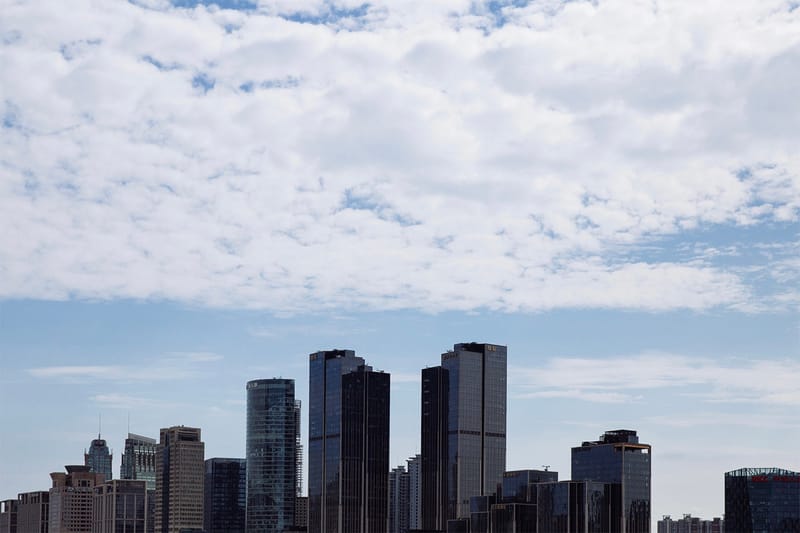 Xintian/Hypebeast
What's next for Cash Ru in terms of projects?
My original intention has not changed: it's still to create new things, whether they're products, technologies or concepts. I'm also looking forward to continuing to do more collaborative projects with brands and companies that I align with.
This issue of Sole Mates was originally posted on HYPEBEAST CN and has been adapted accordingly.
Source: Read Full Article