Master Chief is back. Paramount+'s Halo Episode 7 shifted the focus from the Spartan super-soldier to Kwan Ha and her revolution on the planet Madrigal. However, episode 8, season 1's penultimate chapter, will return to Reach as Master Chief and Makee further explore the Covenant's prophecy. Here's what to know about Halo Episode 8, including the release date, time, and plot details.
[Spoiler alert: The following story contains spoilers for Halo Season 1 Episode 7, "Inheritance."]
'Halo' Episode 7 Recap: Kwan takes back Madrigal
When fans last saw Kwan Ha (Yerin Ha) in episode 5, she was handcuffed to Soren's (Bokeem Woodbine) bike while he went to search for a ship. However, she escaped in just enough time to prepare herself for a battle against Vinsher Grath (Burn Gorman), a UNSC diplomat who was assigned to rule Madrigal after the Covenant's invasion.
In episode 7, Soren abandoned Kwan on Madrigal, leaving her to fend for herself against bounty hunters. He returned to The Rubble and tried to move on, but his fellow Insurrectionists insisted that he should have collected the bounty on Kwan's head. He flew back to Madrigal, where he found Kwan and formulated a plan with her to take down Vinsher and his men.
Meanwhile, Kwan sought refuge with a group of mystics in the desert. They had her drink a substance that would give her visions of a reunion with Master Chief (Pablo Schreiber). The mystics forced Kwan to fight Chief in a vicious cycle that always ended with Kwan losing. Eventually, she broke the cycle, and Chief led her to a vision of her father, Jin. He revealed that Madrigal had hidden a portal to another world, and Kwan must protect it.
Later, Soren and Kwan engaged in a bloody and final battle with Vinsher. Using underground tunnels, Kwan activated a gas line and sent a fiery explosion across the town, wiping out Vinsher's remaining army. She paid Soren for his help and began her reign as the new leader of the revolution.
When does 'Halo' Episode 8 come out? Release date and time
Halo Episode 8 has a release date of May 12 on Paramount+, in accordance with the streaming service's Thursday weekly schedule. As always, the episode will arrive at 12 a.m. PT, which translates to 3 a.m. for fans on the east coast. After this coming episode, Halo Season 1 has just one week left, with the final episode dropping on May 19.
Those who still need to catch up on previous episodes can do so with a Paramout+ free trial, which Microsoft is still offering to Xbox Game Pass Ultimate subscribers. The trial runs for 30 days, which gives plenty of time to watch all of season 1.
'Halo' Episode 8 preview: New allegiances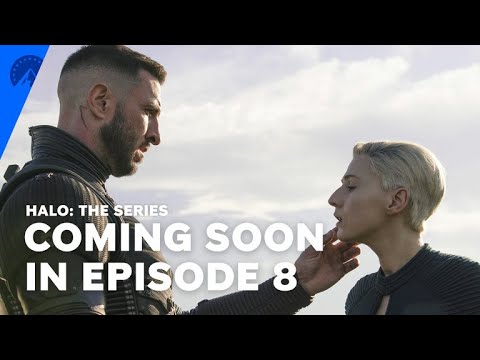 The newest episode of Halo will pick up at the end of episode 6, which saw projections of Master Chief and Makee (Charlie Murphy) surrounded by the Halo rings. As seen in the preview above, Halo Episode 8 will see Chief attempt to convince the UNSC that Makee could become an ally. They will work together to explore the Covenant's prophecy for the Blessed Ones. Meanwhile, it seems Dr. Halsey (Natascha McElhone) will attempt to find a way back into the UNSC's good graces after her banishment.
New episodes of Halo drop every Thursday on Paramount+. Stay tuned to Showbiz Cheat Sheet for more updates.
Source: Read Full Article