Yes, hi, hello. Has the past month or so found you increasingly aroused by the fire-breathing dragons on the Game of Thrones spin-off House of the Dragon? Are the scaly giants on The Lord of the Rings: The Rings of Power really doing it for you these days? If so, I'm here to inform you that you, my friend, are not alone. (And if you're totally confused right about now, wait. Juuuust wait.)
According to Bedbible, Google Search trends for the phrase "dragon sex" were up by almost 50 percent at the end of August—when both shows premiered on HBO and Amazon Prime, respectively. Since then, searches for "dragon sex" have continued to rise every Monday. (Ahem, new HOTD episodes air every Sunday night. I see you!)
I, for one, am, uh, shocked? surprised? genuinely curious? at how many of you are intrigued by dragon copulation, not just because I understand wanting to know every single detail about fantasy shows like these, but because searches for "fantasy sex toys" is higher now than it's been all year long—up 1320 percent just from July, per Bedbible. Think: dragon dildos, penis sleeves that look like, er, not necessarily human vaginas (use your imagination!), etc. That means not only are you curious about how, exactly, fantasy reptile boning goes down, but you're also trying to replicate it yourselves. Love this for you!
Now, before you go and cancel your HBO Max/Prime subscriptions, know this: Dragon sex is actually totally normal (a sentence I did not think I'd write in the Year of Our [Dragon] Lord 2022). It can actually be considered a type (or different types, depending on how you, personally, define dragon sex) of fantasy kink, which Good Vibrations staff sexologist Carol Queen, PhD, author of The Sex & Pleasure Book: Good Vibrations Guide to Great Sex for Everyone, describes as varying kinds of role-play inspired by fantasy realms or characters. "Anyone wanting to act a role from a specific fantasy work or world during sex would qualify," Queen says. "This could also involve wanting to act out specific kinds of sex play that you'd attribute to those realms."
In the case of HOTD, searches for "dragon sex" could mean consensual age-play ("all adults playing characters of varying ages," Queen says), incest fantasies ("not your actual brother, but your pretend brother in character on another world"), rough sex, and consensual non-consent. "These are kink interests that can connect to other kinds of play too, and the BDSM and kink worlds in particular have built boundaries around negotiating these and doing them safely," Queen says.
Or it could just mean people are turned on by the idea of dragons having sex with each other, or having sex with dragon-like creatures themselves. That's also okay! It's normal to be majorly turned on by the idea of sex that feels out-of-body, mystical, fantastical—just entirely out of the realm of human possibility. That's what costumes and dragon peen dildos (🚨 link 100 percent NSFW, FYI) are for, bestie.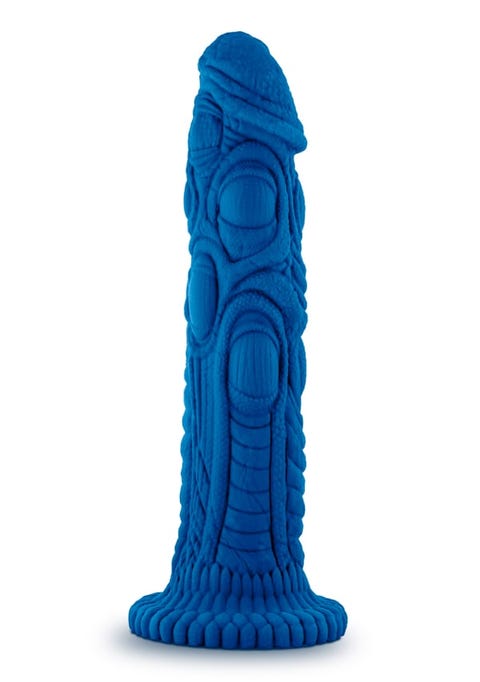 "It's not for everyone," Queen says of costumes and role-play, "but Halloween lovers, RenFaire and cosplay fans, you know who you are! Often the role-play mated with the sex is the whole point, because you can access a kind of sexual energy that you attribute to the character you're portraying. It's like theater, with sex!"
TLDR: Fantastical fantasies are totally okay and doable with a consenting partner if you want to try them out IRL—just make sure you're doing the necessary research to prepare. The actors you see on screen usually have intimacy coordinators to help them navigate safety concerns on set, Queen points out, so what happens in your boudoir is entirely up to you and your partner. Or! If you just wanna gush in private over what you see on shows and movies (perhaps with a buzzing friend?), that's okay too. Options, people!
So next time you feel a tingle in your pants during an episode of fantasy TV, don't freak. It's all that spicy, fiery dragon sex. 😉
Source: Read Full Article