When Adam Smith wrote of the "invisible hand" of the market in 1759, could he have foreseen that such a hand might one day belong to Kylie Jenner, who has built a billion-dollar empire that continues to drive trends?
Earlier today, Jenner joined a chorus of angry users, reposting a call to "Make Instagram Instagram again" to her stories. "Stop trying to be TikTok I just want to see cute pics of my friends," the post continued.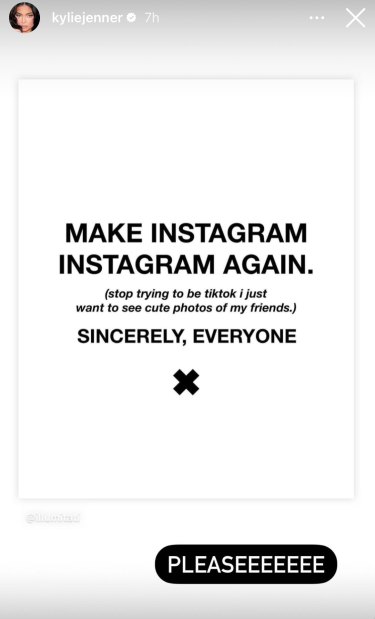 Credit:@kyliejenner/Instagram
Her post comes in the wake of a new Instagram update that users have widely trashed. The updated includes Instagram's Reels on the main news feed, more advertisements and more suggested content from users that people don't follow. The change suggests that Instagram (whose parent company is Meta, formerly Facebook), sees TikTok as stiff competition.
This is not the first time the influencer and reality TV star has publicly expressed her dislike for a social media update. In February 2018, Jenner posted a tweet to her then 24.5 million followers suggesting that Snapchat was sooo over. A day later, its shares had plummeted by 6 per cent. Within a week, it had lost about US$1.3 billion.
Of course, Jenner's tweet alone wasn't responsible for this sudden downfall. Months before her tweet, Snapchat had rolled out a few updates unpopular with users of the app. Facebook, the parent company of Instagram, had also been targeting users, largely through its introduction of Instagram stories that mirrored Snapchat's key feature. A change.org petition had amassed millions of signatures from those disgruntled with some of the changes made to the app. But Jenner's 2018 tweet was certainly a mark of cultural attitudes of the time.
Snapchat did eventually respond to these complaints by reinstating some of its previous features. It does seem to have hung on to many of its users, too – a 2019 study found that 65 per cent of 18-29-year-old Americans still use Snapchat.
So how does this all bode for Instagram and its future? Only time will tell, but when a market leader and taste-maker like Kylie Jenner announces her anger with a product, Silicon Valley and investors would be wise to pay attention.
Make the most of your health, relationships, fitness and nutrition with our Live Well newsletter. Get it in your inbox every Monday.
Most Viewed in Culture
Source: Read Full Article