Meanwhile, Coi Leray and BIA respond to critics after the leaks show the 'Big Energy' hitmaker delivering reference tracks for songs released by Coi and BIA.
AceShowbiz -Latto (Mulatto) has once again responded to allegations that she has a ghostwriter. The "Big Energy" raptress turned to her social media platform to react to the old rumors that emerged again after her 130 unreleased songs were leaked online.
On Tuesday, November 22, the 23-year-old femcee turned to her Twitter to retweet a post she made on October 13 during an online beef with Nicki Minaj. The tweet read, "I'll post em my got damn self. They'll all tell u I WRITE TOO!"
"I heard a few of ur refs before they came out too boo. U forgot WE ALL collab w the same writers?? Difference is I don't deny it," the post continued. "The world seen me writing since 16 on national TV tho."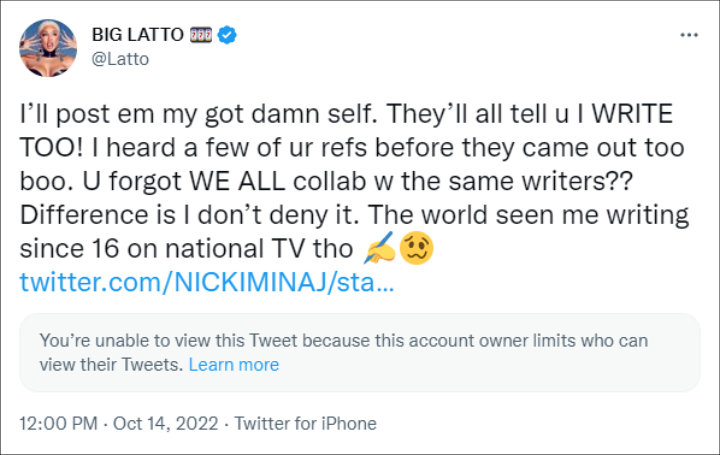 Latto retweeted an old tweet after ghostwriter allegations emerged following her songs being leaked online.
More than 100 songs were allegedly leaked on Twitter, including collaborations with other rappers and producers. Many noted that one of the songs was a demo of the song "Blick Blick", a song already released by Coi Leray and Nicki. The leaked song features Latto rapping the song's hook and rapping verses that appeared in both Coi and Nicki's bars.
Responding to the issue, Coi shared her two cents during an Instagram Live on Tuesday. She gave a lengthy explanation of how the industry works and was steadfast that she is the only person responsible for her bars. She also emphasized that songs are created with teams and rarely materialize from only one person's contributions.
"What happened to Latto? I would not wish that on my worse enemy. It's f**ked up.. it's foolish. People put a lot of hard work into the music," she began. "Not only the artists but the producers, and for people to go and leak something precious to someone, it's just corny."
Coi continued, "But I'm here to speak to myself and want to give a little education real quick…," stressing that "Every single feature written by me." The "TWINNEM" spitter added, "So, I know my pen game is super amazing. [So,] thank you to all my supporters. "
Another leaked song that has people talking is a version of 2020 hit song "Whole Lotta Money", featuring BIA and Nicki. As BIA found her name being mentioned in conversations, she posted receipts to show her pen game is intact.
BIA uploaded screenshots highlighting "Written By," but she still faced off with the public. People tried convincing her that she could not write hooks but she quickly put critics in their places. "But Ntm on this bc I really don't care who writes and who doesn't," she tweeted. "I only care about making the best song I can make."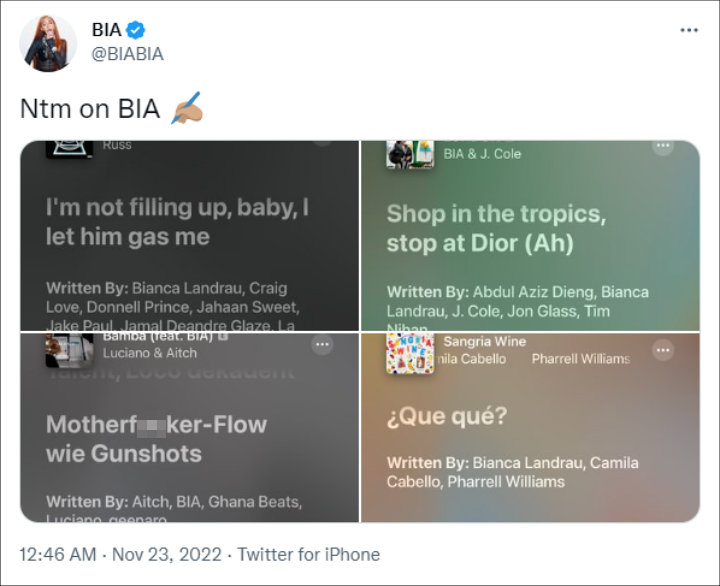 BIA set record straight on ghostwriting claim.
Shortly after Latto's songs were leaked by a Twitter user Pinkleaks, some Latto fans believe that Nicki was the one behind this after Nicki was snubbed by Grammys following her feud with Latto, who received two nominations.
"i feel like nicki is behind this leaking latto s**t and i'm being fr bc how is it getting leaked THAT easily?? only someone that can get access to the would be able to," one person tweeted. Another alleged, "SOO…latto shut down Nicki ONE good time & barbs so damn hurt by it, they leak all her Unreleased songs, & Nicki APPROVES OF that behavior? Somebody gotta give its getting old."
Source: Read Full Article