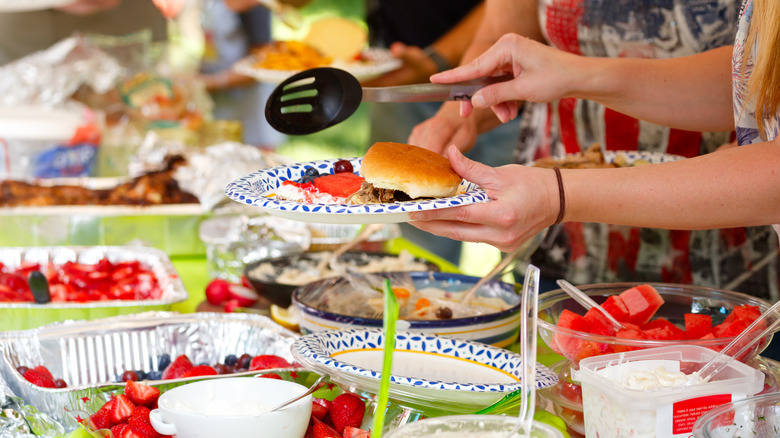 With summer comes potlucks, and you'll want to provide something that's a big hit with everyone who's coming. You don't want to bring the side dish you brought last time, and your friend's making another one of your favorites — so what do you do? What food do you make this time?
If you're looking for a tasty side dish that won't break the bank to make and won't take you all day either, you're in luck. Here, we've brought together the side dishes you should be bringing to your summer potlucks, including some healthy options. Some take little more than just a few minutes to prepare, while others take a little longer. Some are incredibly simple to make, while others are a little more complex, but still easy. Just get cooking, and see the compliments roll in — by the time the holiday season rolls around, you'll be a pro too!
Salad — with a twist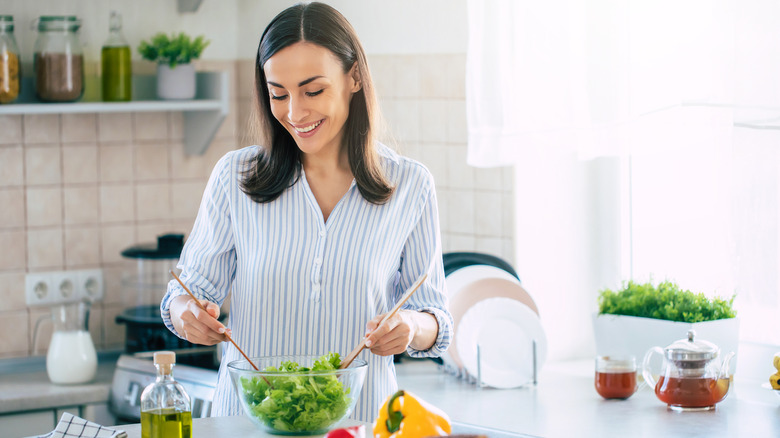 Okay, so salad on its own doesn't sound like the most exciting, show-stopping side dish in the world, but why stick to boring salads when you can bring something a little different to the party?
If you've got some time the day before the potluck to prepare the food, a broccoli salad could be just the right dish to make (via AllRecipes). Broccoli might be a vegetable that divides opinion, but even some the most picky eaters are sure to love this dish. Simply make it the day before so that the ingredients can meld together, and serve at a potluck or party the next day. It takes just half an hour to make, and contains just a handful of ingredients. Of course, there's plenty of broccoli, as well as red onion, raisins, bacon, and some mayo too.
For something meat-free, but just as easy and quick to make, this lentil salad is a great alternative (via AllRecipes). Made with lentils, cucumber, onion, and tomato, it's a fresh salad that can even be spruced up by adding some chopped mint. Full of vegetables, but with the lentils adding more substance, it's a surefire potluck success.
Turn to potatoes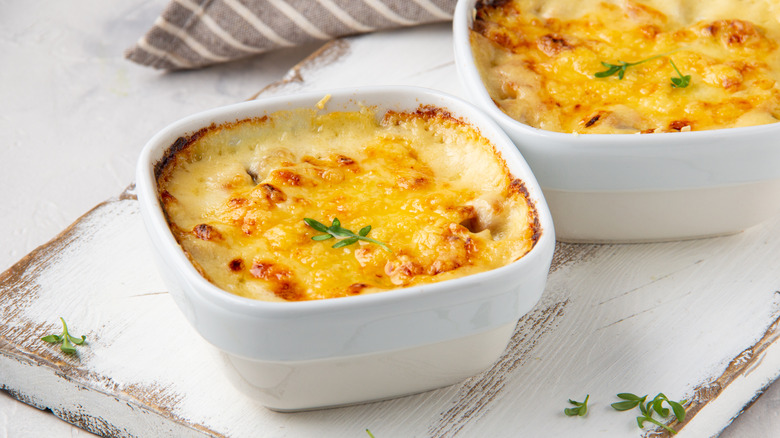 Potatoes are a firm staple of our diets, and it makes sense that they'd feature in our potluck dishes. So, why not shake up your potluck sides instead of turning up with the same ones each time?
Maybe you've brought potato casserole with you to potlucks before, and sure, most people like it, but it's safe to say that it's not the most exciting dish out there. That is, until you try the loaded baked potato casserole out for size! Turning up to a potluck with lots of individual baked potatoes isn't too practical, but what about a casserole that acts as one huge loaded baked potato? Taking a couple of hours to make, it's not the easiest dish of those we've included here, but could be one of the most popular. Loaded with bacon, cheese, sour cream, and butter, it's sure to be a hit (via Tablespoon).
Another cheese and potato side dish is Tex-Mex Ranch Potatoes (via Tablespoon). They take half the time of the casserole to prepare and cook, but are surprisingly easy to make, thanks to a couple of special ingredients: Old El Paso Taco Seasoning Mix and ranch dressing! If you're a little more pushed for time, pan-roasted red potatoes are another brilliant dish, and take just a little over ten minutes (via AllRecipes). They're great for breakfast too, so you could start off your morning with them, and bring the rest to the potluck later on!
Taco dip and other Tex-Mex dishes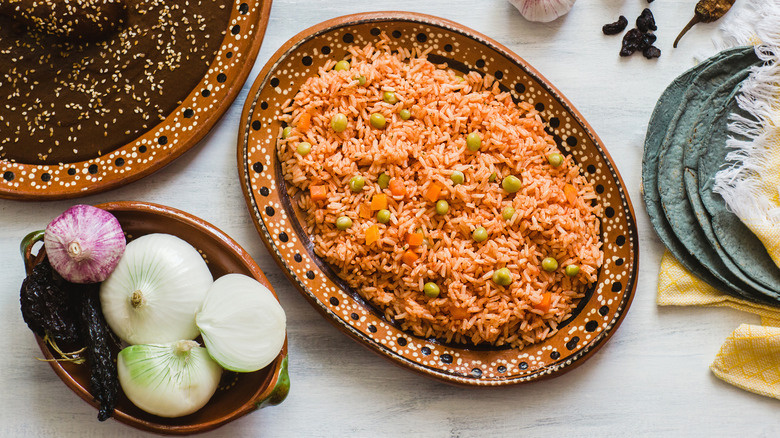 Another delicious option is this Seven Layer Taco Dip (via AllRecipes). It takes just 30 minutes to make and isn't too complicated. It's easy to make a big portion too, which is just as well considering how quickly it's almost guaranteed to reach everyone's plates! You'll need an ounce of taco seasoning mix, as well as a can of refried beans, some salsa, sour cream, cheese, and some vegetables — which you'll top everything with. It's something that requires no baking, and can be eaten on its own or with tacos or tortilla chips.
Keeping with the Tex-Mex theme, another dish you may want to consider bringing to a potluck is Mexican rice (via BBC Good Food). Again, it doesn't take too long to prepare, but it's sure to be popular, and you can easily multiply the ingredients to cater to more people. You'll need basmati rice, onions, peppers, and some spices — along with a couple of additional ingredients — and you may decide to put a little chopped bacon in with the onions too. 
Source: Read Full Article