What makes for a Hall of Fame guitar riff? Most Led Zeppelin fans just know it when they hear it. And they probably get the same expression on their face that Jack White had when Jimmy Page played the "Whole Lotta Love" riff for him in person.
Page might know the power of a brilliant riff better than any other guitarist. In the case of "Whole Lotta Love," he knew what he had as soon as he played it for his bandmates. "We felt the riff was addictive, like a forbidden thing," he told the Wall Street Journal in 2014.
But Page and his bandmates had many more heavyweight riffs to come. The "Black Dog" riff, penned by John Paul Jones, also has to rank in the upper echelon of the Zep canon.
When Rolling Stone asked Page what he considered the greatest Zep riff of all, he didn't choose one of the grinding blue riffs the band is famous for. Instead, Page picked the definitive riff of Physical Graffiti — one that reflected Zep's fascination with the East.
Jimmy Page said the 'Kashmir' riff 'has to be the one'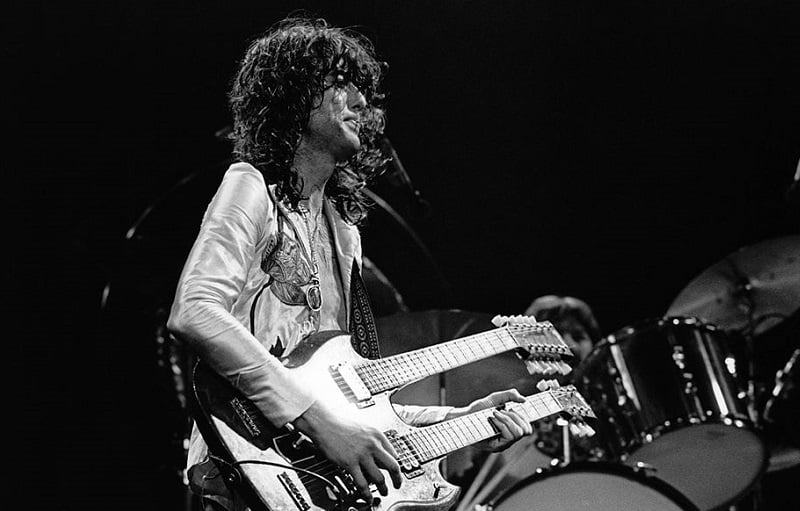 When he sat with David Fricke for his lengthy 2012 Rolling Stone interview, Page didn't shy away from opening up about Led Zeppelin, the band he formed in 1968. At one point, Fricke tried to pin Page down on "the greatest Zeppelin riff of all."
"It's difficult to be asked, 'What's your favorite Zeppelin track?' They all were," Page told Fricke. "They were all intended to be on those albums." But he decided to narrow it down soon after. "I suppose 'Kashmir' has to be the one," he said.
When speaking about the "Kashmir" riff — notice Page said "track" in that quote — he made it clear that he saw the song's power as much bigger than what came from hi owns instrument.
"All of the guitar parts would be on there," he said. "But the orchestra needed to sit there, reflecting those other parts, doing what the guitars were but with the colors of a symphony." While Jones scored the orchestral part, Page worked with him closely on it. But Zep's legendary drummer had a bigger impact.
Page built up the 'Kashmir' riff in sessions with John Bonham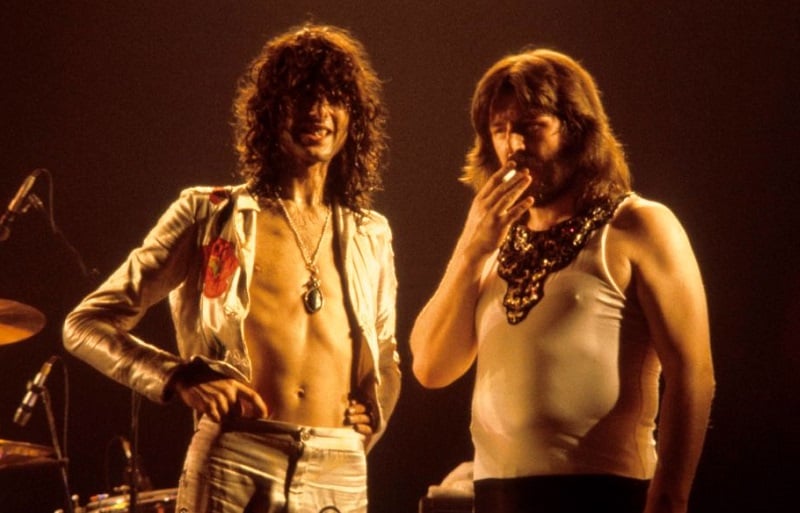 With a riff like "Kashmir," everyone wants to know where it came from. In his Rolling Stone interview, Page spoke a little bit about writing riffs. "Riffs come out of the ether, out of nowhere," he said. "Will you tell me where that is? Because no one knows."
But in "Kashmir's" case we can trace it back to before the sessions for Physical Graffiti. In Led Zeppelin: All the Songs, the authors quote Page saying its origins were in "Swan Song," a track he was working on around the Houses of the Holy era (circa 1973).
And in October '73 sessions at Headley Grange, he and John Bonham worked out the opening riff and the hypnotic, cascading section that divides it. "It's the first thing I ran through with Bonzo," Page said. (Jones wasn't coming to the studio during those days.)
"I just know that [Bonham] is gonna love it, and he loves it, and we just play the riff over and over and over, because it's like a child's riff," Page recalled. In that sense, it sounds a lot like the reaction Zep's fans had when Physical Graffiti came out a few years later. Come to think of it, Zep fans still listen to "Kashmir" over and over.
Also see: The Classic 'Led Zeppelin I' Track That Was Inspired by Joan Baez
Source: Read Full Article