Country singer-songwriter Garth Brooks broke his fans' hearts back in 2000 when he made the decision to retire from producing and performing music after more than a decade of explosive fame. But he retired for a very admirable reason: Brooks had three daughters to raise, as reported by People. Taylor, Brooks' oldest, was only 8 at the time of her father's announcement, while August was 6, and Allie was just 4 years old. 
The "Friends in Low Places" artist spoke with People about his decision to leave the music industry in 2015. "People said, 'How could you walk away from music?'" Brooks explained. "But being a dad — there's nothing that can touch that." Unfortunately, with the demands that his career entailed, Brooks didn't get to spend much time with his daughters before retiring. "I knew their sweet faces and their dispositions," he said. "But I didn't know who they were."
At the time, Brooks was suffering losses on two fronts. In the span of a couple of years, the country singer divorced his first wife, Sandy Mahl, the mother of his girls, and also lost his own mother to cancer. Despite the pain and grief, Brooks saw an opportunity to reconnect with his priorities in life, and he hasn't regretted the decision to walk away from music. And now that his daughters are grown, Brooks is making his way back into the spotlight. But how did the "If Tomorrow Never Comes" singer meet his daughters' mother in the first place? Keep scrolling to find out!
Garth Brooks' first wife was apparently prone to bar fights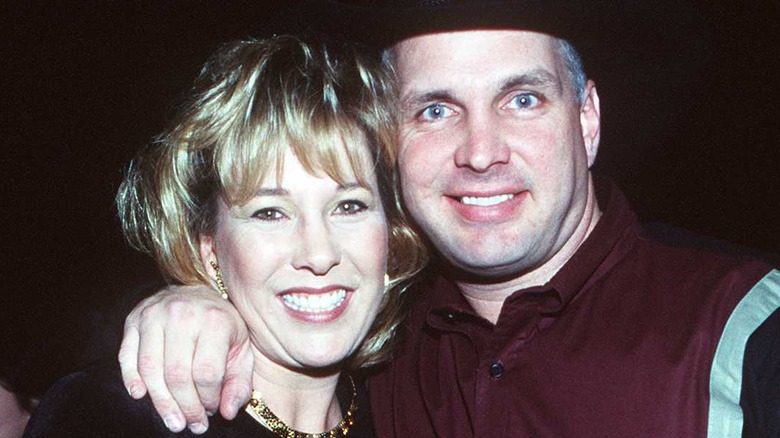 Back in the mid-'80s, Garth Brooks attended Oklahoma State where he studied advertising and worked part time after classes at a bar near campus, as noted by The Sun. His first wife, Sandy Mahl, was also a fellow student at OSU, but they didn't meet on campus. One night while Brooks was working at the bar, Mahl showed up with some friends. As the story goes, at one point, the now-businesswoman found herself in a full-fledged fight with a friend in the woman's bathroom. Brooks happened to be the bouncer that stepped in to break up the fight and the two instantly connected, and went on to wed a couple years later in 1986.
Unfortunately, the union was not meant to be. Three daughters later, the couple found their relationship taking a downhill turn. Nonetheless, Brooks was willing to make things work no matter what it took. "Being married, it's gotta be right. This is who you went to college with and you were married in front of God and your family and everybody," he said on "The Ellen DeGeneres Show" in 2013. But simply making a commitment wasn't enough for the "Much Too Young" artist and he was forced to take a deeper look at his relationship. "There comes that time where you're looking at the rest of your life and going, 'How do you want to live it?'" Brooks said. He and Mahl officially divorced in 2001.
Garth Brooks got remarried to Trisha Yearwood in 2005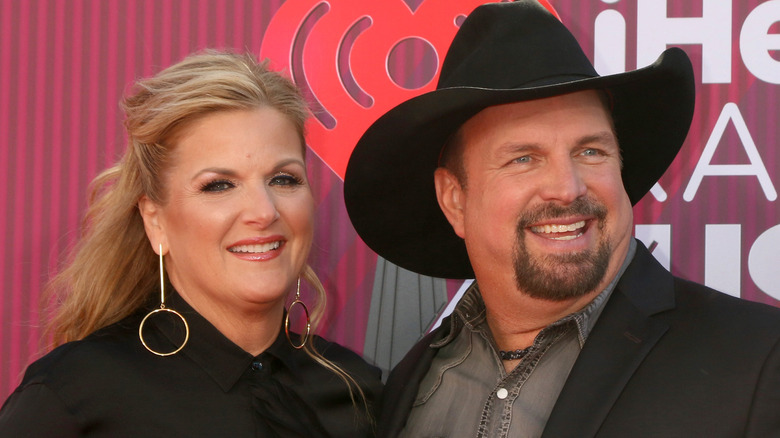 Garth Brooks wasn't destined to stay a bachelor following his divorce from Sandy Mahl. In fact, the country singer met his second wife, Trisha Yearwood, while he was still married to Mahl, although they only started dating after his divorce was finalized. Brooks described the feeling of meeting his second wife during his appearance on "The Ellen DeGeneres Show." He admitted, "It's strange, because I felt that feeling like when you just meet your wife, but I'd been married for 13 months." While he tried to work things out with Mahl, Brooks kept in touch with Yearwood. 
The "Trisha's Southern Kitchen" star spoke to Closer Weekly about her relationship with Brooks in 2019, stating, "I'm madly in love with him. We were such good friends for such a long time, so I think at the end of the day, it's the friendship and the respect that sustains you." She added, "I'm proud of where we are [now] and I can't wait to see where we'll be in [the future]."
It seems that Brooks found his soulmate in Yearwood. During another appearance on "The Ellen DeGeneres Show" alongside his wife of 15 years, the "Ask Me How I Know" artist revealed the key to his long-lasting second marriage. "I think you gotta treat it like a duet," he told the audience, drawing an apt comparison between his marriage and music. "You gotta harmonize. You gotta make your partner feel like they're a star."
Source: Read Full Article