Charles Oliveira (left) takes on Justin Gaethje
UFC 274 takes place in Phoenix, Arizona this evening, with two title fights topping a card that also features a highly-anticipated clash between fan favourites. However, one of those title fights comes with an unexpected twist.
In the main event, Charles Oliveira was set to defend the lightweight belt against former interim champion Justin Gaethje, but the Brazilian missed weight by half-a-pound on Friday and was stripped of the title. Oliveira is now also ineligible to win back the belt tonight, though Gaethje can still claim the gold. In the co-main event, Rose Namajunas is out for revenge against Carla Esparza. Namajunas is in her second reign as strawweight champion, while Esparza – who submitted her fellow American in their first meeting – was the division's first ever title holder and is out to emulate Namajunas by winning the belt for a second time.
Those fights follow a match-up that pits Chandler against Tony Ferguson as both lightweights look to get back in the win column. Chandler has lost his last two bouts, while former interim champion Ferguson is on a three-fight losing streak. A win for either American could propel them back into the title picture, however, given each man's name value.
Follow live updates from the UFC 274 main card and prelims, below.
Recommended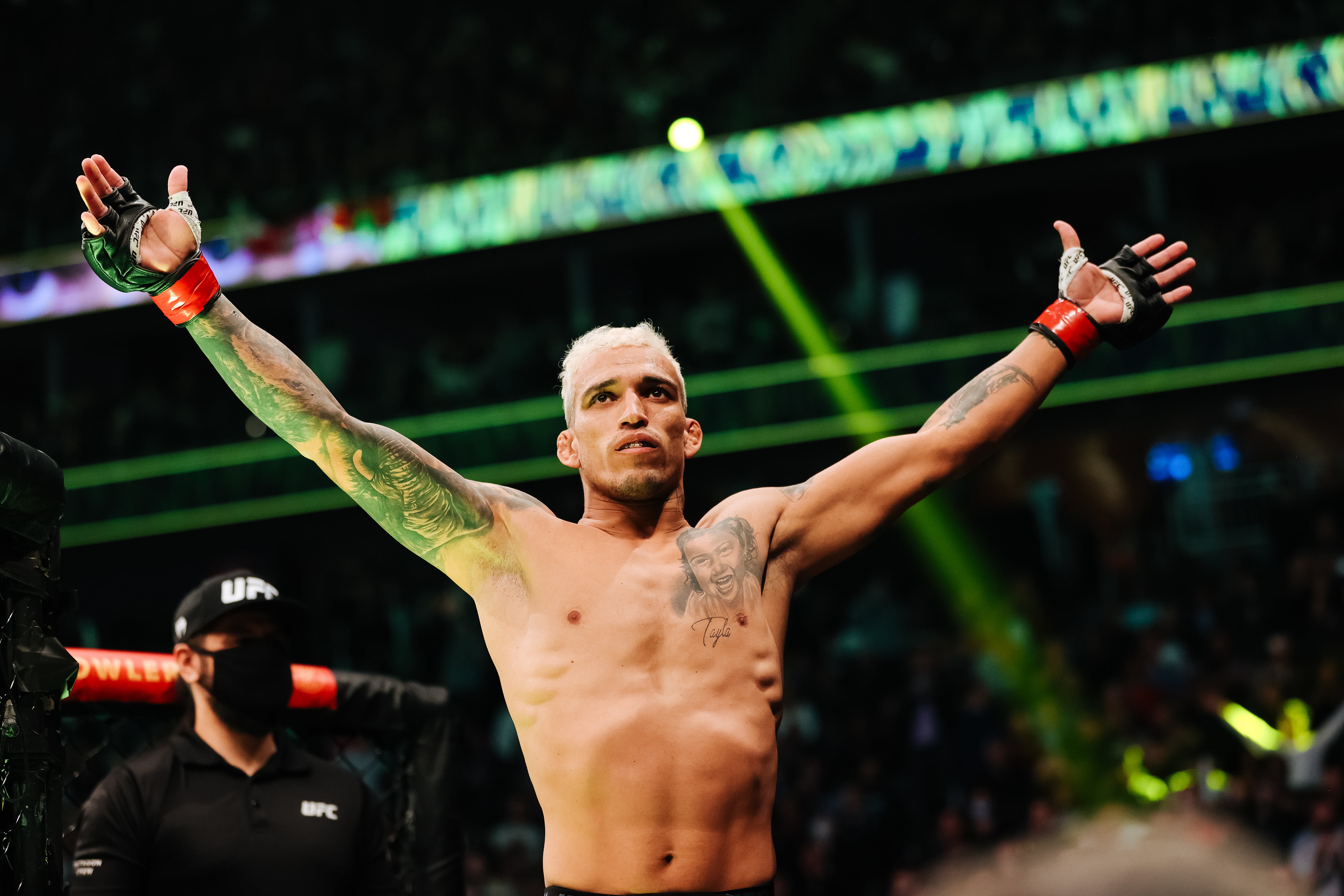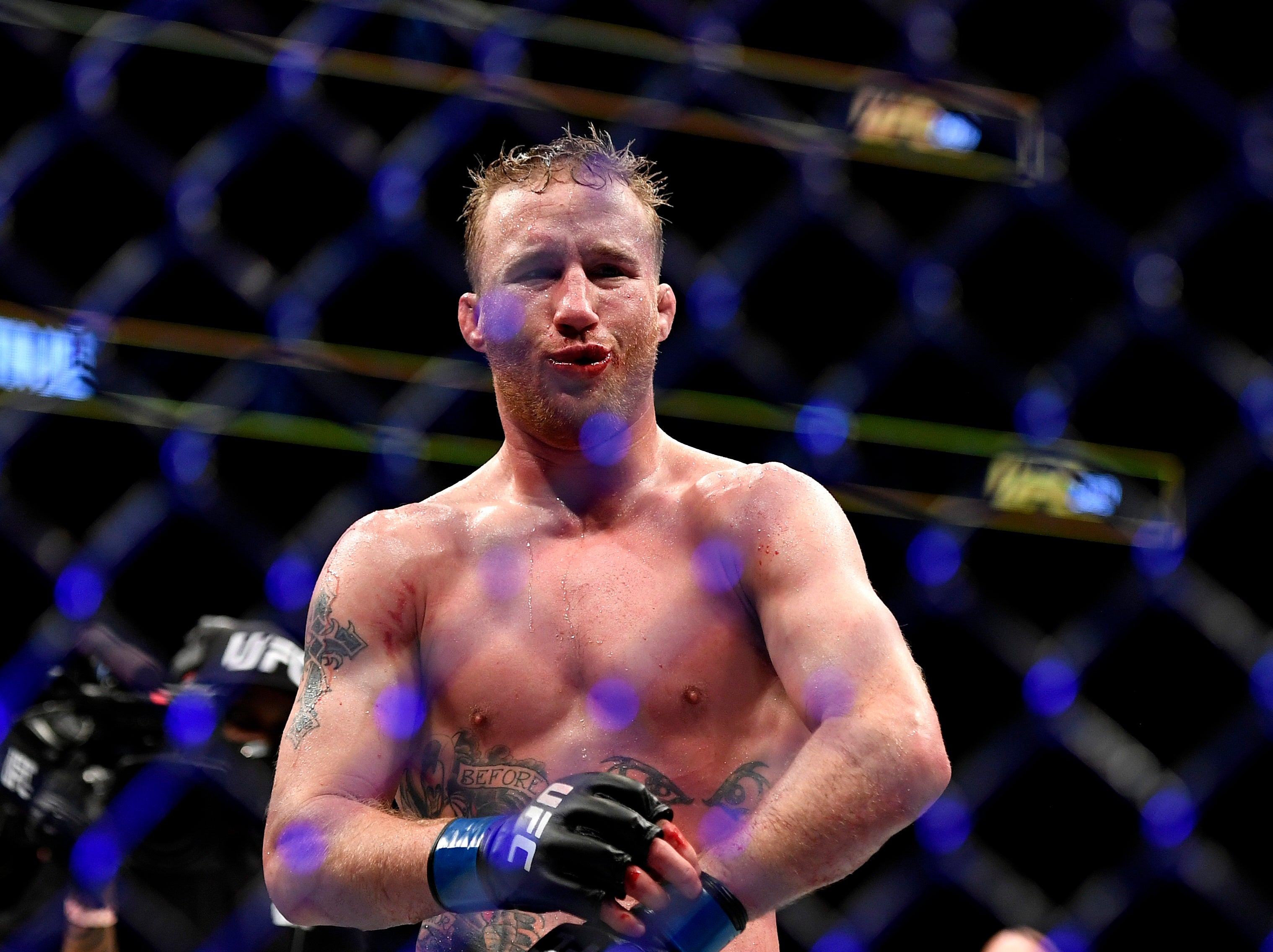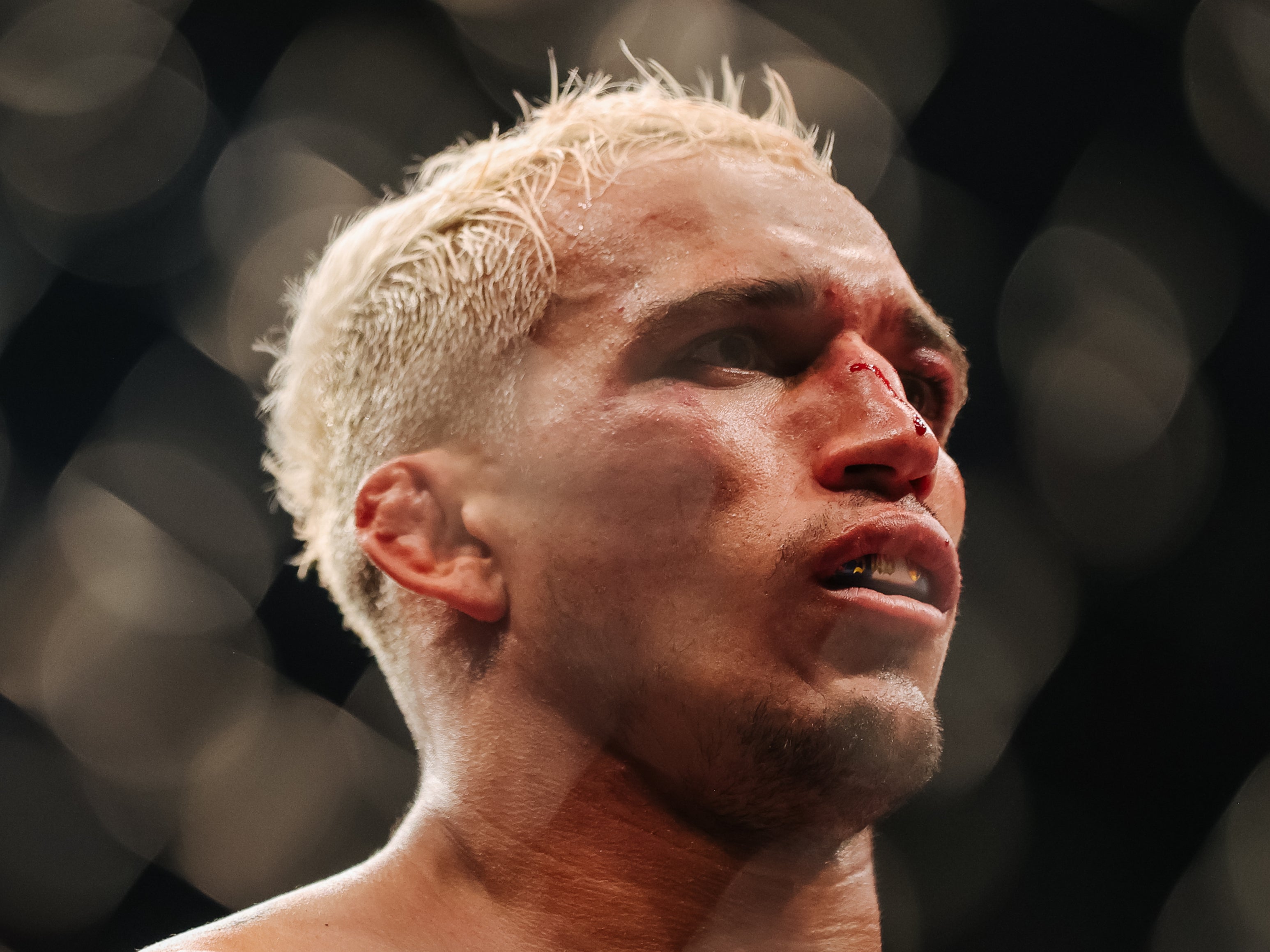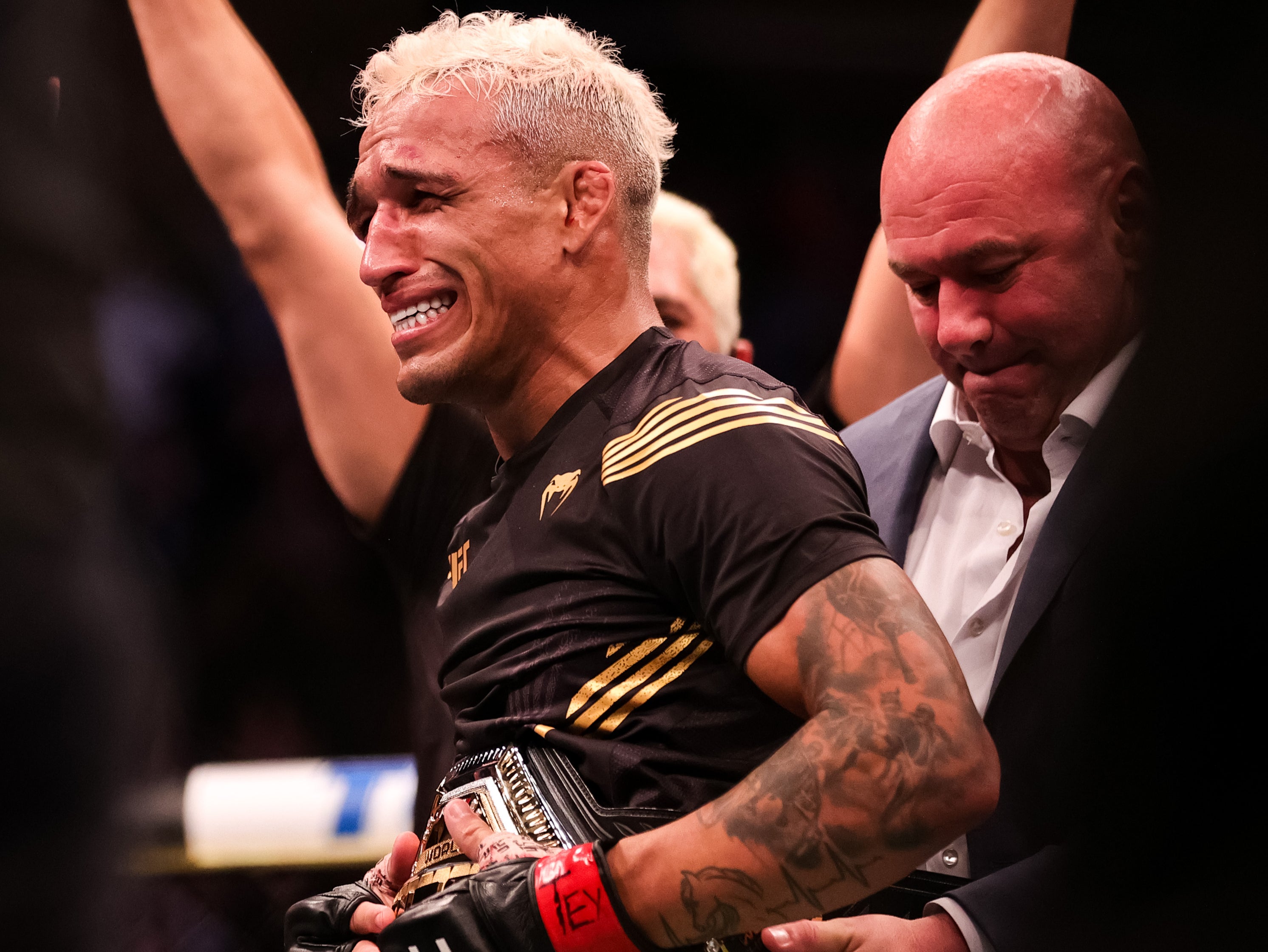 UFC 274
Chiasson vs Dumont – Round 1
Both women just staying out of one another's reach in the opening minute.
Now Chiasson flicks and swings some leg kicks. Dumont looks for punches over the top.
Good combination upstairs from Dumont! She then blocks a high kick from her taller opponent.
Chiasson connects with a right overhand, though! She does well to find a home for a left hand in close, too, then secures a drive takedown with a second left in the round.
UFC 274
Macy Chiasson and Norma Dumont now go head to head in a women's featherweight bout to close out the prelims!
UFC 274
What a wild scrap for as long as it lasted. Credit to both men.
Schnell looked to be on the verge of victory, but Royval kept composed somehow and turned it around quickly.
UFC 274
Brandon Royval def. Matt Schnell via first-round submission (guillotine choke, 2:14).
UFC 274
Royval vs Schnell – Round 1
The flyweights get right at it! Schnell is looking for lead left hooks – both proactively and on the counter.
Royval stands southpaw. He flicks out a series of jabs and lands a left hook of his own.
He keeps getting tagged with straight shots, though, and is clearly getting his balance all wrong; each strike is tipping him backwards.
And Royval is put down! A clean punch from Schnell, who now looks for a leg lock briefly on his downed opponent…
Now he tries for a guillotine choke… but Royval scrambles and reverses the position… AND GETS HIS OWN GUILLOTINE! SCHNELL TAPS!
UFC 274
Next up: Brandon Royval vs Matt Schnell in a clash of top-10 flyweights!
Royval enters this one ranked sixth, while Schnell is No 9 in the division.
UFC 274
Blagoy Ivanov def. Marcos Rogerio de Lima via unanimous decision (29-28, 29-28, 29-28).
UFC 274
Ivanov vs De Lima – Round 3
Ivanov comes forward. De Lima swings yet another wild left hook to try to deter the Bulgarian. It doesn't land or have the desired effect!
This time it's De Lima who opts to grapple! He forces Ivanov back to the cage wall but is unable to progress very far in the position.
Referee Marc Goddard separates the heavyweights, but they're soon back against the fence – this time with Ivanov in the offensive position.
Once more the pair are back in the open and trading strikes. It's a means for Ivanov to grab hold of his opponent, though. One last time, the heavyweights grapple against the fence. De Lima lifts up Ivanov and dumps him to the mat with seconds left in the fight!
UFC 274
Ivanov vs De Lima – Round 2
Ivanov with a better start to this round, grappling De Lima against the fence.
Again De Lima is able to create space to get away. Now Ivanov is starting to find timing and range with his punches, though!
He backs up De Lima against the fence and picks his shots… De Lima fends off another single-leg takedown attempt, but his mouth is open and he is breathing heavily as Ivanov goes back to a striking approach.
Snapping jab from De Lima and a decent counter left as Ivanov enters. The Bulgarian is able to grab hold of the Brazilian anyway, though, late in the round.
UFC 274
Ivanov vs De Lima – Round 1
Lots of low kicks from De Lima early on. He soon catches Ivanov with a low blow, however, and we have a brief pause in the action as Ivanov recovers.
Back under way, and De Lima is pressing forward again. A wild flurry of punches from the Brazilian, who doesn't quite land anything of note. Ivanov similarly misses with his counter attempts.
Now De Lima catches Ivanov with a hook! It certainly gets Ivanov's attention. He just about avoids the next one – that was very close…
Again De Lima goes to the well with a left hook; again he just misses. Ivanov attempts a single-leg takedown but fails to complete it.
De Lima keeps just missing with wide left hooks, and in other instances landing them but not cleanly enough. Ivanov again gooes for a single-leg, this time driving De Lima back to the fence. The Brazilian creates space before the end of the round.
Registration is a free and easy way to support our truly independent journalism
By registering, you will also enjoy limited access to Premium articles, exclusive newsletters, commenting, and virtual events with our leading journalists
{{#verifyErrors}} {{message}} {{/verifyErrors}} {{^verifyErrors}} {{message}} {{/verifyErrors}}
By clicking 'Create my account' you confirm that your data has been entered correctly and you have read and agree to our Terms of use, Cookie policy and Privacy notice.
This site is protected by reCAPTCHA and the Google Privacy policy and Terms of service apply.
Already have an account? sign in
By clicking 'Register' you confirm that your data has been entered correctly and you have read and agree to our Terms of use, Cookie policy and Privacy notice.
This site is protected by reCAPTCHA and the Google Privacy policy and Terms of service apply.
Source: Read Full Article