Meanwhile, 'The Fresh Prince of Bel-Air' alum Janet Hubert fuels a conspiracy theory that Donald Trump supporters could be behind the accidental shooting to 'get back' at the actor.
AceShowbiz –Alec Baldwin seems to let his social media activities speak for him as he continues to cope with the death of Halyna Hutchins. The actor, who broke his silence on the shooting on the set of "Rust" with a statement released on Twitter last week, has been updating his account with several tweets that appear to deny his responsibility in the case.
After posting his statement expressing his condolences to the victim's family, Alec followed it up with a tweet of an article about an affidavit which reveals that he was told the prop gun was safe before the accidental shooting on October 21.
Later on Thursday, October 27, the 63-year-old retweeted The New York Times' post which states, "Before he handed a revolver that he had declared 'cold' to Alec Baldwin on the set of the film 'Rust,' Dave Halls, an assistant director, told a detective he should have inspected each round in each chamber, according to an affidavit. But he did not."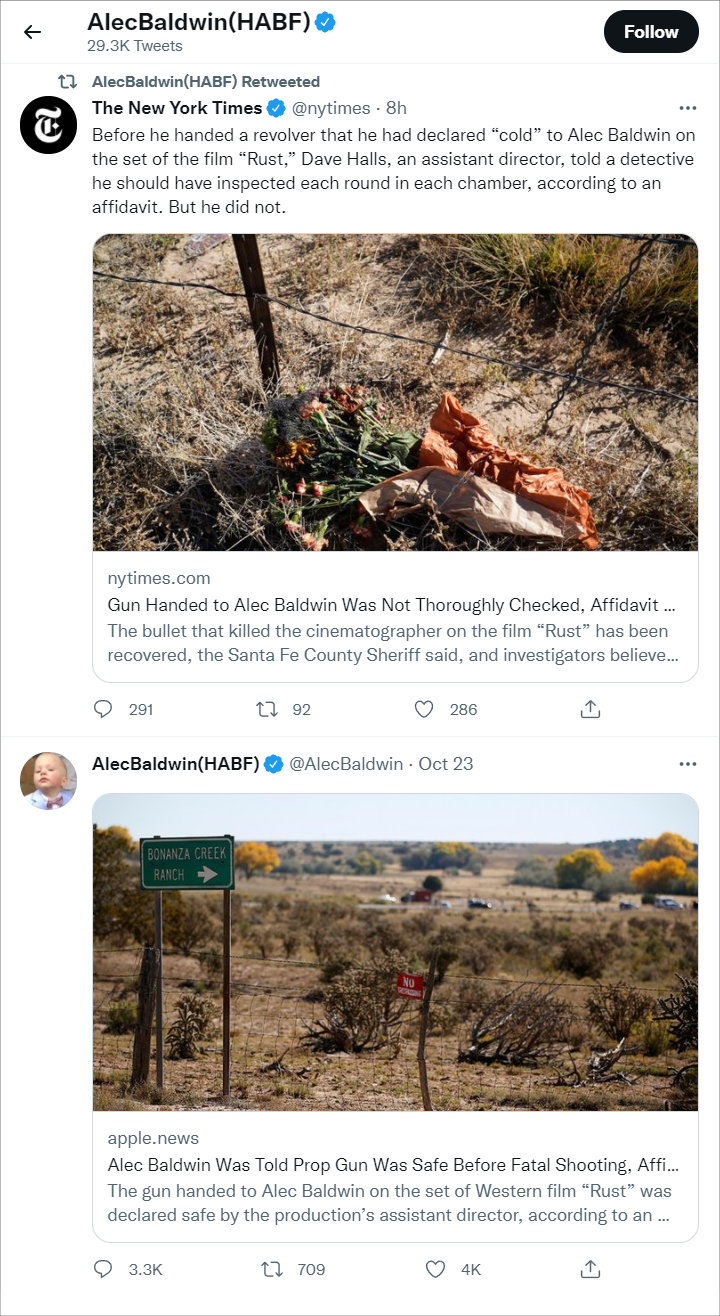 Alec Baldwin tweeted these amid ongoing investigation into the 'Rust' shooting.
While people have been debating about who was responsible for the shooting, there has been a conspiracy theory suggesting that Donald Trump supporters could be the mastermind of the shooting in retaliation against Alec for impersonating the former president on "Saturday Night Live".
Actress Janet Hubert was one of those who are supporting this floating theory. Taking to her own Twitter page, she shared her two cents on the matter, "Am I crazy, but my first thought was Baldwin was given this gun on purpose from someone to get back at him for his Trump impersonations? I have never seen prop guns sitting out on set EVER," she argued, before pointing out, "Then to photograph this pain and give it to the press! Hmmmm, so very heartless, TRUMPERS?"
Alec discharged the gun which killed cinematographer Halyna and injured director Joel Souza on the set in Santa Fe, New Mexico. It has been confirmed that the projectile that struck Halyna and Joel was a real lead bullet. He has been questioned by police, but no charges have been filed.
Meanwhile, reports have emerged portraying assistant director Dave Halls in a bad light. He was fired from the film "Freedom's Path" in 2019 over a similar incident. A "Freedom's Path" producer told Deadline, "I can confirm that Dave Halls was fired from the set of 'Freedom's Path' in 2019 after a crew member incurred a minor and temporary injury when a gun was unexpectedly discharged. Halls was removed from set immediately after the prop gun discharged. Production did not resume filming until Dave was off-site. An incident report was taken and filed at that time."
Source: Read Full Article