Netflix's I Am Not Okay with This premiered on Feb. 26, 2020. The coming-of-age series centers around Sydney Novak (Sophia Lillis), a high school student who begins to realize she has telekinetic powers. As Sydney navigates her newfound powers, I Am Not Okay with This also shows her dealing with the normal struggles of being a high school student going through puberty. In a refreshing and honest take, I Am Not Okay with This flips the script on what viewers might expect from a female protagonist.
"It was really satisfying," said I Am Not Okay with This writer, executive producer, and co-creator Christy Hall on being able to write a protagonist like Sydney.
[Spoiler Alert: This article contains spoilers for the first season of I Am Not Okay with This.]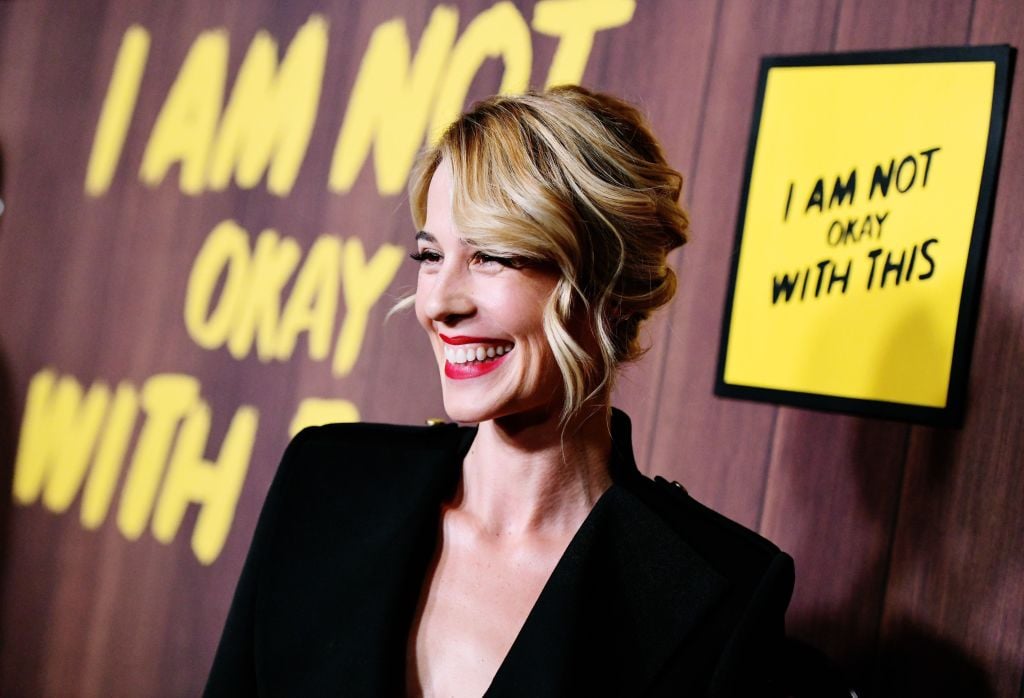 How Christy Hall got involved with 'I Am Not Okay with This'
Hall got her start as a playwright, and in 2017 her script for a two-person play titled Daddio started getting passed around. She turned it into a screenplay, and it ended up on the Black List, a list of the best screenplays in Hollywood that have not been produced yet. While I Am Not Okay with This is Hall's first official screen credit, she found that theater prepared her for working in television.
"Because I come from theater, I was locked and loaded and ready to go like this is what I do, I live for it," Hall said. "And especially in the television space, I would say, you know, being a creator, being an executive producer, it feels a lot like theater in that it's like being there for auditions, being there for every little thing. It's like it's theater, it's just in a slightly different format."
Hall co-created the show with Jonathan Entwistle, known for his work on The End of the F***ing World. The Netflix show is an adaptation of a graphic novel by Charles Forsman.
"I love the challenges of adaptation, in that it's such an incredible invitation to be extremely reverent to your fellow artists," Hall said.
'I Am Not Okay with This' lets Sydney be human
Sydney in I Am Not Okay with This differs from past coming-of-age leads. As Sydney goes through puberty, she has pimples on her thighs that make her feel disgusting. She's actually portrayed as flawed, which is a stark contrast to the pressure typically put on female leads.
"I think it's exciting because I do think the demands that we've put on women of all ages to embody a certain level of perfection, I think is kind of a big part of what we're trying to break free of," Hall said. "Especially a narrative of even if it's just on a subconscious level, like young women watching this, just letting them know like it's really OK to be human."
Throughout the first season, Sydney grapples with the changes her body is going through and deals with her complex feelings for her best friend Dina. Her explosive teenage outbursts from the trials of growing up are accentuated by her powers which grow stronger every episode.
"Well the powers themselves, you know, are we've always seen it as metaphorical, just what it's like to grow up, right? So it's like in a lot of ways, it's supposed to be an elevated reflection of, I think, the power of particularly young teenage female energy," Hall told Showbiz Cheat Sheet.
According to Hall, Sydney's powers were purposely left undefined in the first season. She does not see herself as a superhero yet, and the focus is more on the normalcy of her life she is trying to maintain.
"What excites me about that is really leaving season one is making her feel super relatable. Her trajectory is feeling very universal, like she could be any one of us, right?" Hall said.
What's next for Christy Hall
For Hall, being able to write I Am Not Okay with This in addition to being an executive producer has been an important experience.
"The power of writing stories about women for women and also by women is extremely powerful. And I'm excited that the industry is starting to understand that and recognize that," she said.
When it comes to up-and-comers, Hall has the same advice for playwrights and screenwriters.
"Just keep doing the work. Keep writing. Try to write every single day. There's no secret magic trick beyond the work…," she said. "Ultimately, I do think like excellent work rises to the top. And don't worry about how that happens, necessarily, worry about what is on the page."
Hall recently penned the screenplay for Hold Back the Stars, an adaptation of Katie Khan's novel of the same name. Justin Baldoni is set to direct the film for Lionsgate.
Source: Read Full Article