Jennifer Love Hewitt fans are only just now discovering that her real-life husband Brian Hallisay played her abusive ex in Fox's procedural drama, 9-1-1.
While the 44-year-old actress still stars in the show, playing Maddie Buckley, Brian only featured in five episodes during the drama's second series, appearing as Maddie's estranged ex-husband, Doug Kendall.
Brian's final episode, titled Fight or Flight, aired in 2019 and saw the couple's toxic relationship come to a head after Doug kidnapped his ex-wife from her apartment to a cabin in the mountains. After a tense physical brawl that left Maddie with several stab wounds, she was able to gain control of Doug's knife and kill him.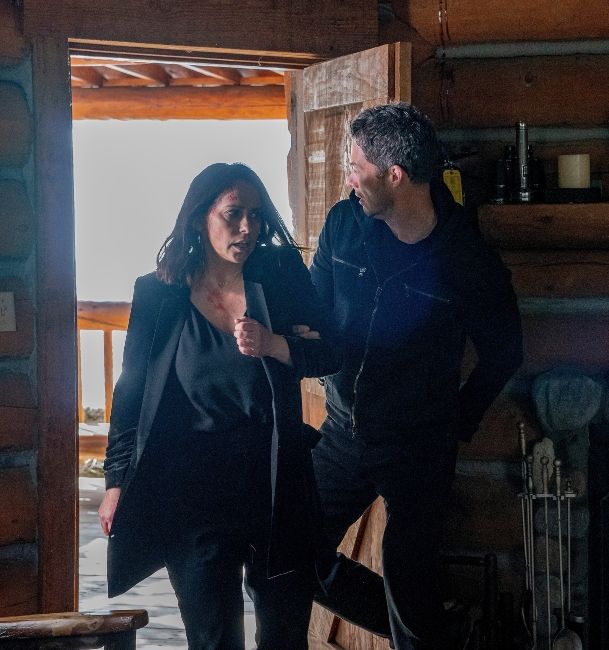 Brian appeared in five episodes in season two
Jennifer spoke about killing her on-screen husband in the show while appearing on The Drew Barrymore Show in 2021. See what she had to say in the video below…
WATCH: Jennifer Love Hewitt talks starring opposite her husband in 9-1-1
It seems some viewers have only just realized the connection between the two stars, prompted by Jennifer's latest Instagram post of the pair. Sharing a snap of the couple looking loved-up in a sweet selfie, she wrote in the caption: "My [heart emoji] now and always."
Fans were quick to express their shock in the comments section, with one person writing: "Are they together in real life??" while another added: "I'm so confused. The guy who played your abusive husband on TV is your real-life husband?"
MORE: Exclusive: 9-1-1 boss praises Ryan Guzman, says Buck's 'death' was plan all along
Exclusive: 9-1-1 star Oliver Stark answers fan questions on TikTok, reality shows and photography
A third person commented: "I can't believe I'm just now realizing that your real-life husband played Maddie's husband?! Fighting him off was, hands down, one of the most powerful episodes of television!"
https://www.instagram.com/p/Cop8PE1OU2c/
A post shared by Jennifer Love Hewitt (@jenniferlovehewitt)
Jennifer and Brian tied the knot in 2013
Jennifer – who returned to the series last year following her maternity leave – spoke about working with Brian on the show back in 2019. "It was just lovely to go to work together," she told Entertainment Tonight Canada.
She later continued, "We both had never been able to play characters like this in our careers, these characters with dark, twisted things to them. And, so, that's been really fun for us."
Jennifer and Brian tied the knot back in 2013 and share three children: one-year-old son Aiden, son Atticus, seven, and nine-year-old daughter Autumn.
Source: Read Full Article