In the last few years, networks old and new have been battling it out in the ongoing streaming wars. Those of us who were trying to keep a Tamagotchi alive probably remember when HBO, Cinemax, and Showtime were the paid premium channels of the early aughts; only a chosen few had these on their home TV. If you didn't have them, you know all too well that literally nothing topped the crushing disappointment of scrolling through the channel guide (oof), spotting a new movie, and gleefully clicking it only to be met with a glaring sign that read along the lines of, "This channel is not included in your cable service."
But in today's age of the endless scroll, no film nor television series is out of reach. The elite premium channels of yesteryear have changed face, launched smart TV apps, and have partnered with larger streamers to air content. One of those networks is Showtime, which offers its service as an add on to Amazon Prime Video, Hulu, and Paramount+ accounts.
From Dexter to Yellowjackets to Ziwe, Showtime is home to some pretty legendary series that have both stood the test of time and disrupted the oversaturated world of streaming. If you're on the hunt for your next series to binge, Showtime is the place to look. Text your mom for the Hulu password (again) and get ready to have a very unproductive weekend!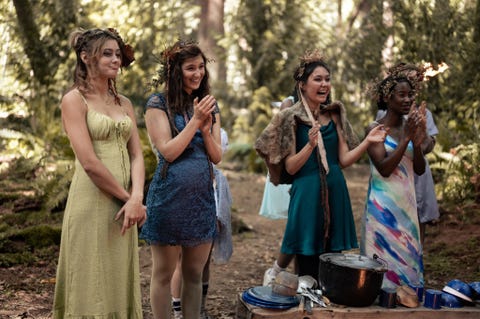 Yellowjackets
The network's latest smash hit Yellowjackets toggles between two time periods—the 90s, when a team of high school soccer stars survive a plane crash and set up camp in the remote wilderness, and 25 years later as they reflect on and unpack what actually happened in the wild. The series is described as "part survival epic, part psychological horror, and part coming-of-age drama."
Desus & Mero
This hilarious late night show hosted by Desus Nice and The Kid Mero has been streaming on Showtime since 2019. The show has gained critical acclaim and features top-tier guests like Representative Alexandria Ocasio-Cortez, the Wu-Tang Clan, Bill Burr, John Mulaney, Malcolm Gladwell, Phoebe Bridgers, Mark Cuban, and President Joe Biden.
Homeland
This Emmy award-winning series stars Claire Danes, Damian Lewis, and Mandy Patinkin. The story follows a bipolar CIA operative (Danes) and a Marine Corps Scout Sniper (Lewis) who have been held captive by al-Qaeda. There is a whopping eight seasons of this show (it ran on the network from 2011 to 2020) so if you need something brand spanking new to lose all hours of time and sleep to, this is it.
Ray Donovan
The pilot episode of this series was record-breaking for Showtime, marking the biggest premiere in the network's history. The show ran from 2013 to 2020, and in January of this year, Showtime released Ray Donovan: The Movie. Liev Shreiber plays a celebrity fixer who protects his clients from their crises, controversies, and crimes, all while balancing life with his wife, children, and father (who was recently released from prison).
The Affair
Shows around scandalous cheating have been gracing our screens damn near since the dawn of cinema, and The Affair is truly a gem of the genre. The series stars Dominic West, Ruth Wilson, Maura Tierney, and Joshua Jackson, and explores the complex world of extramarital affairs. Each episode is broken into two parts and tackles the affair from both points of view.
Billions
If you like Succession, you absolutely must try Billions. Inspired by real-life financial crimes and investigations, the series follows a hedge fund manager as he navigates the high finance world. Eventually, he wanders into corruption and ultimately finds himself standing in opposition of a federal attorney who is attempting to prosecute him. If the storyline itself didn't reel ya in, a large ensemble cast is featured so you definitely should tune in.
The Comedy Store
This five-part documentary series traces the history of The Comedy Store, a historic Los Angeles comedy club that has launched the careers of some of the most famous comedians in the game. With help from comedians like Jim Carrey, Whitney Cummings, and Joe Rogan, creator Mike Binder shares the story of the store, from its early days to its lasting legacy.
Ziwe
A late night show for the girls, gays, and theys, Ziwe stars comedian Ziwe Fumudoh, who is known for her political satire. She previously wrote for Showtime's Desus & Mero and went viral on social media during the pandemic for her Instagram Live series, "Baited." The second season of Ziwe recently wrapped, with episodes unpacking critical race theory and celebrity rights (featuring guests Chet Hanks and DeuxMoi), among other pressing issues.
Dexter
Dexter follows a forensic technician for the Miami Metro Police Department who moonlights as a serial killer (yes, it is the most epic of double lives). Protected by his expertise in bloodstain pattern analysis, Dexter Morgan hunts down unpunished killers. The series ran for eight seasons, and its series finale marked the largest audience in Showtime's history with a whopping 2.8 million viewers.
The L Word
When The L Word originally released in 2004, Showtime made history. The series featured the first ever ensemble cast of lesbian and bisexual female characters on television, and was the first show to ever depict lesbian sex outside of the male gaze. The L Word follows a group of women in West Hollywood as they explore relationships, sexuality, and the adult world.
Outcry
This five-part documentary series follows the story of Greg Kelley, a high school football star who was accused and convicted of a vicious crime: the sexual assault of a four-year-old boy. The series explores this case, his claims of innocence, and the system that was working against him. When it released in 2020, Outcry was dubbed "the most surprising docu-series of the summer."
Twin Peaks
In 1990, the mystery drama Twin Peaks premiered on ABC and followed a fictional FBI investigation into the murder of a homecoming queen from Twin Peaks, Washington. The show only ran for two seasons, but despite its cancellation, the series gained a cult following and is widely considered one of greatest series of all time. In 2017, creators David Lynch and Mark Frost returned with a reboot. Set 25 years after the original, the new 18-part series features the original star, Kyle MacLachlan, and an unconventional narrative structure. Twin Peaks was named the best show of 2017 by multiple publications when it returned to the screen.
The Chi
Created by Lena Waithe, this beloved show has been on Showtime since 2018 and is about the characters' everyday lives on the South Side of Chicago. Expect lots of Black love, and relatable navigations and challenges of careers, parenting, friendships and relationships. Season 5 premieres on the streamer on June 24, so you have a bit of time to catch up!

Vice
Vice is an Emmy-winning documentary series that reports on global conflicts and cultural issues from the frontlines. The series explores issues like political assassinations, child-suicide bombers, synthetic drugs, euthanasia, the Flint water crisis, student debt, and more. The series originally aired on HBO, but was picked up by Showtime in 2020 after its sixth season.
United States of Tara
United States of Tara ran from 2009 to 2011, following the story of a suburban family led by a matriarch coping with dissociative identity disorder. Toni Collette won an Emmy and a Golden Globe for her portrayal of Tara Gregson, the struggling wife and mother who transitions between personalities when stressed. The conversations we have today about mental health and trauma are not the conversations that were had in the late 2000s and early 2010s, and United States of Tara was widely considered to be ahead of its time for the way it humanized and normalized the struggles of many.
Gossip
This four-part documentary series follows the history of Cindy Adams, a famous gossip columnist for the New York Post. Gossip traces the history of the tabloid, celebrity and political culture in America, Page Six, and the early days of Donald Trump as a New York City socialite. In the era of DeuxMoi, Gossip reminds us that we haven't reinvented the wheel.
Source: Read Full Article