The fandom of Grey's Anatomy is reeling from the newest episode, which was a tribute to Alex Karev (Justin Chambers.) Ellen Pompeo shared a message to them saying to not be sad about the original character leaving.
Alex Karev will no longer be on 'Grey's Anatomy'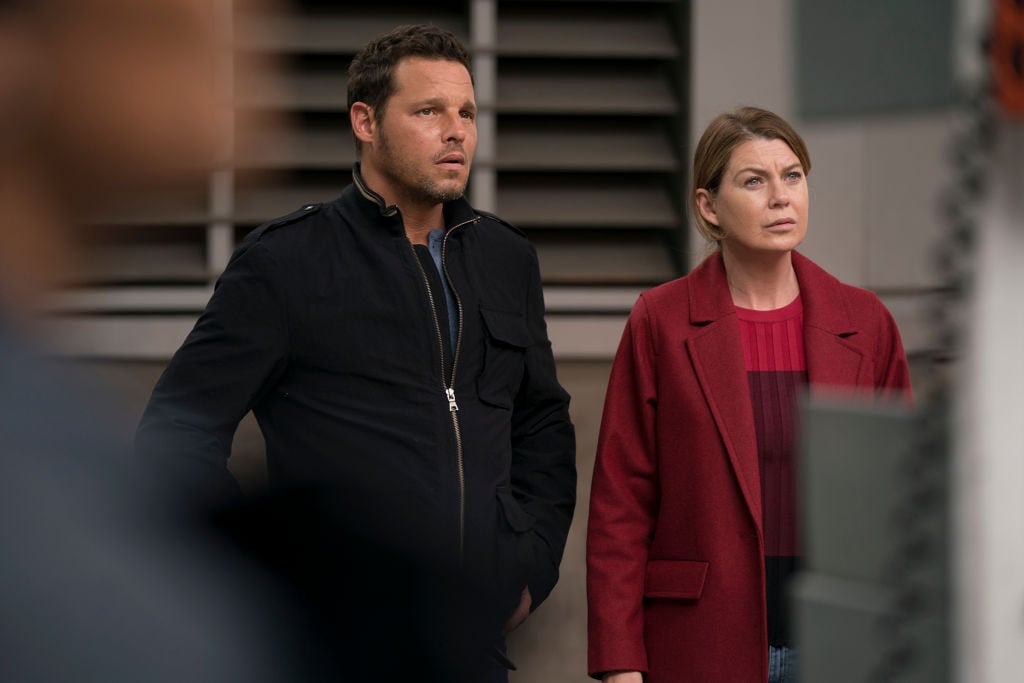 Chambers announced that he is leaving Grey's Anatomy in a statement. "There's no good time to say goodbye to a show and character that's defined so much of my life for the past 15 years," he said in a statement given to Deadline. "For some time now, however, I have hoped to diversify my acting roles and career choices. And, as I turn 50 and am blessed with my remarkable, supportive wife and five wonderful children, now is that time."
Fans found what how Alex makes his big exit in the episode, "Leave a Light On." He wrote letters to Jo (Camilla Luddington), Meredith Grey (Pompeo), and Miranda Bailey (Chandra Wilson) to drop the news that he left Seattle.
He revealed that he reached out to Izzie (Katherine Heigl) to help with Meredith's case. She then revealed that she used the embryos that were created with his help to have twins. Alex said he realized he's still in love with her and wants to be part of their lives so he left to be with them in Kansas.
Fans had strong reactions to the ending
Seeing Karev leave would be emotional for many fans. But this shocking ending is getting strong reactions for multiple reasons.
One reason is that many fans don't believe Alex would just leave Jo after everything they've been through. Many note how much he has changed from being the selfish person he was in the beginning of the show.
Many of them seem to be angry about the writing. Pompeo has now shared her message to fans.
She told fans to not be sad
The star posted a video on Instagram showing clips of Meredith and Alex. She wrote in the caption her thoughts about the important episode.
The caption reads, "Hi here I go again … Thank YOU! You are truly the best most passionate most loyal fans anyone could ever ask for. Because of you we got to make great tv… because of you we got to make television history! I say often life is hard and thank God it is because like I tell my kids… it shows us what we are made …of how strong we really are and let's face it… without the lows there would be no dancing it out or celebrating this incredible experience we call life."
She then later wrote about the character. Later in the caption she wrote, "For me personally for Karev to go back to the beginning…. was the best possible storyline. It pays homage to those incredible first years and the incredible cast …that created a foundation so strong that the show is still standing. So let's not be sad. As our fearless leader DA always says let's PULL UP and celebrate the actors the writers and the fantastic crew who make this show come to life every week."
Some fans still reacted with sadness with one writing "ok i'm crying." Others are sharing their anger.
One fan wrote, "I've watched every episode since the beginning and this is the worst episode and the worst way to send off a character as developed as Alex Karev! He would've of never left Mer or Jo like that! His character and The fans deserved better!"
It looks like the episode will be one to remember. Fans will have to keep watching to see how Jo will deal with him leaving her.
Source: Read Full Article