PeteDavidson premiered on SaturdayNight Live in 2014as one of the youngest cast members ever. On the show, he brings characterslike "Chad" to life in hilarious sketches. Beyond SNL, Davidsonhas more irons in the fire. The comedian stopped by the YouTube-based show, HotOnes, to chat with host Sean Evans about topics includinghis upcoming projects, why he's annoyed by paparazzi and his reason for givingup the Internet.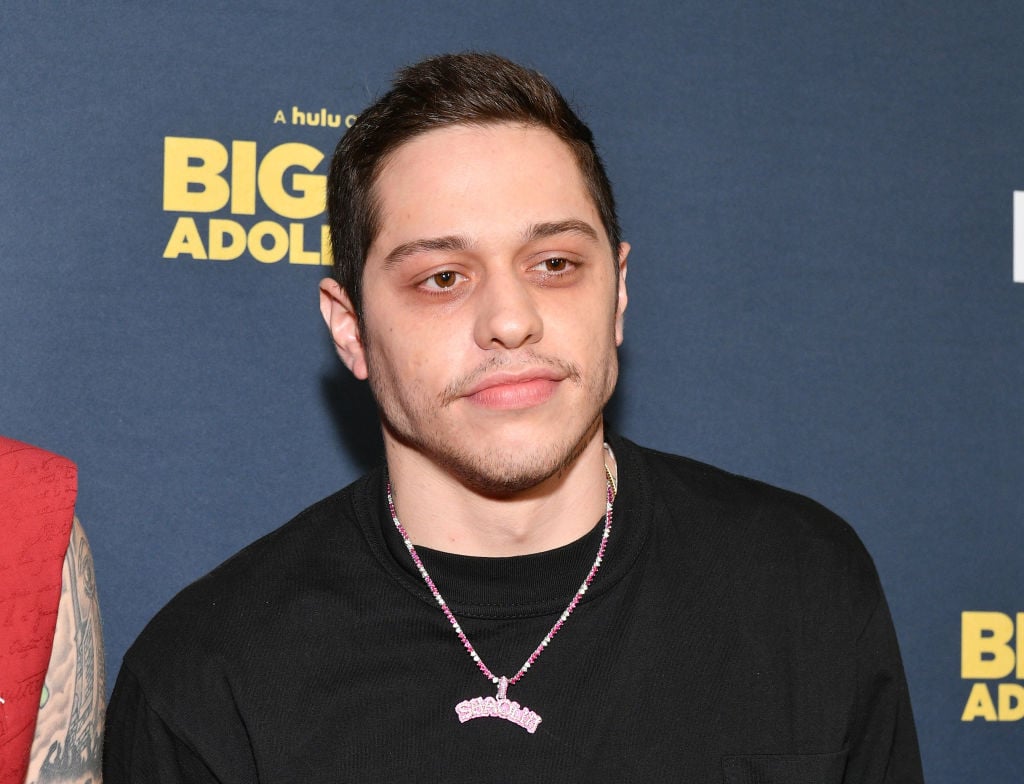 Pete Davidson visits 'Hot Ones'
During his interview on Hot Ones (seen below), Davidson was moved to tears, but not from emotion. On the show, Evans interviews celebrities as they complete the Hot Ones Gauntlet, the show's eating challenge that features chicken wings dressed in a series of ten fiery hot sauces. The sauces range from 1,800 to 2,000,000+ on the Scoville scale, which measures pungency and heat.
Within the 24-minute video, Davidson attempted tomaintain his composure while eating the wings and answering questions. As theinterview progressed, it became increasingly difficult.
"I don't know, man, I'm getting a little shaky overhere," Davidson admitted as he reached wing number three.
At the start of the interview, Davidson aimed to clean each bone, but by the end, the extreme heat made that task impossible. Still, the comedy star completed all ten sauce levels of the Gauntlet by sampling each flavor while answering some burning questions.
Why Davidson gave up the Internet
At the halfway mark in the Hot Ones challenge, Evans typically highlights unique photos from his guests' Instagram profiles. However, the host noted that Davidson gave up the Internet. Davidson offered an insightful explanation, followed up by a punchy quip.
"It's definitely helped my mental health, I think. It'sjust, I don't think it's good for anybody but especially anybody that has likea job around this stuff. Cause you just you see every comment. Also, like, noone gives a f**k about your f**king shoes, or your watch, or your truck or anyof that s**t, so you're all corny. We're all laughing."
Fashion, paparazzi, and the ex
Even though Davidson did not have social media picturesto use in the Hot Ones bit, Evans dug up photos from other sources.Notably, Davidson recently modeled in an Alexander Wang fashion show. Hedescribed the experience as "an honor."
Despite his modeling experience, Davidson has aninteresting take on his own wardrobe. "It's a really great feeling once youfinally just give up," the comic joked.
Regardless of his attire, the paparazzi still target him,and he doesn't like it. "It's really annoying. Cause, like, I live in StatenIsland, and they come there now. Because, like, Arianna Grande made me allfamous and stuff," he says of his ex, "it's all her fault."
"She made me and created me or whatever they say," hejested. Of the paparazzi's presence, he said, "It's embarrassing, and it sucks."
Davidson sheds tears
The actor may have given up on the Internet, but he didnot give up on the challenge. As Davidson moved through the second half of theinterview, he became increasingly uncomfortable.
When he tasted Stargazer sauce at a Scoville level of 118,000, he declared, "Oh no. This is a rough one. This is really hard now." He guzzled oat milk in an effort to beat the heat, but confessed, "I'm gonna start crying."
After that, he still had three sauces to go, with the challenge topping out as 2,000,000+ on the Scoville scale. "I don't even remember what you asked," he admitted after eating the Widow Maker sauce. As the tears streamed down his face, he was able to finish the challenge, but not without a price. "I might pass out," he cried.
Although Davidson began to lose concentration and hisvoice began to crack, he concluded the interview with a halfhearted plug for hisNetflix special and afew shout-outs. "Please go see BigTime Adolescence. Jason Orley's agenius."
The movie-fan boasts multiple Harry Potter tattoos,a few of which he showed off on HotOnes. As much as he likes Harry Potter, Davidsoncalled the Adam Sandler film, UncutGems, the "best f**king movieever I've ever seen in my life."
Readmore: MCU Co-Stars Samuel L. Jackson and Anthony MackieAre Teaming Up Again
Source: Read Full Article