Prepare yourselves. The This Is Us Season 4 finale is just around the corner, which means the NBC drama is about to drop a few shocking revelations on unsuspecting fans. At the premiere, titled "Strangers," the NBC drama introduced a few additional characters, including Cassidy (Jennifer Morrison). The U.S. Marine played an important role for Kevin (Justin Hartley) and Nicky (Griffin Dunne). That said, she hasn't been seen in some time. But recently, the This Is Us Season 4 finale title was unveiled, and now, fans believe Cassidy will return.
How Cassidy knows the Pearson family in 'This Is Us' Season 4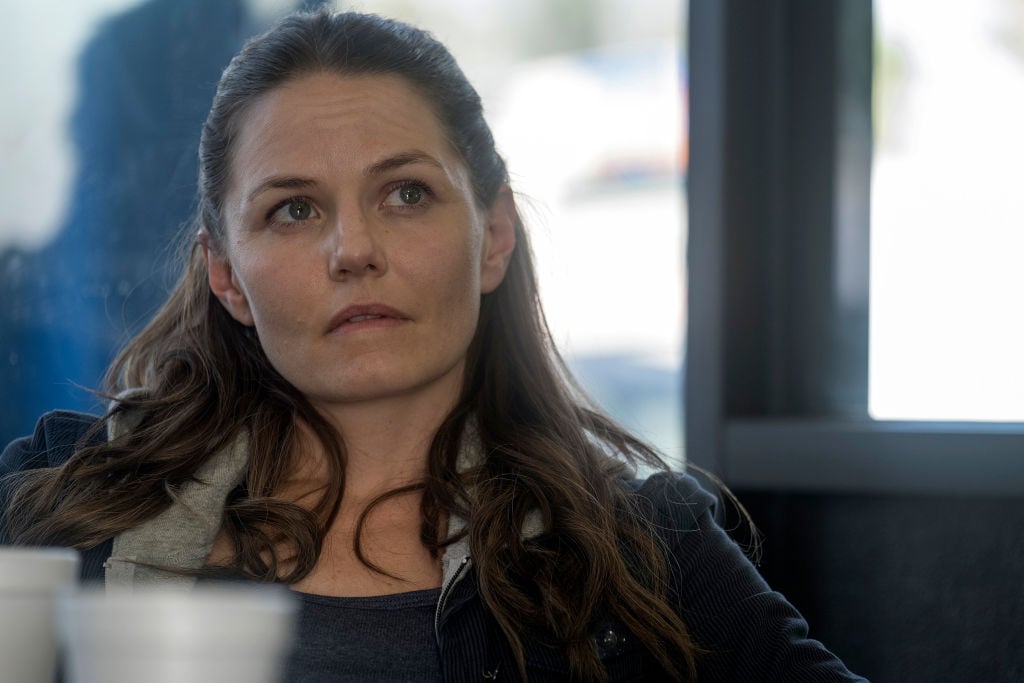 As mentioned, Cassidy is first introduced in "Strangers," the This Is Us Season 4 premiere. At first, she has no connection to the Pearson family. Cassidy is a U.S. Marine who returns home to her husband and family. She is also struggling with PTSD and alcoholism. Then at the end of the episode, Cassidy is at a support group. Suddenly, someone throws a chair through a window. It's Nicky.
Throughout the first half of the fourth season, Cassidy bonds with Nicky and Kevin over their shared struggles. Meanwhile, Cassidy is also going through a divorce and wants to make her marriage work. But after getting into a fight with her husband and getting to know Kevin on a deeper level, Cassidy sleeps with Kevin. Both parties feel regret.
After the incident, This Is Us fans are made to believe Cassidy and Kevin will spiral. Kevin is seen at a bar and Cassidy is about to sign her divorce papers. But then Nicky rounds up the troops for his court hearing — you know, for vandalizing Cassidy's meeting at the start of the season. Then Cassidy reassures Kevin he isn't the reason for her divorce.
At the hearing, Nicky gives a speech about finding the courage to forgive himself and learning how to accept help. This clearly strikes a chord with Kevin and Cassidy, realizing redemption is possible. Kevin acknowledges it's time to return to Los Angeles. Then Cassidy decides to make things work with her husband. She reunites with her family and hasn't been seen since.
The 'This Is Us' Season 4 finale title is revealed
Following Cassidy's exit in the Nov. 12 episode, titled "Sorry," fans wondered whether the character will ever return. Then on Feb. 27, TVLine's Michael Ausiello revealed the This Is Us Season 4 finale title will be called "Strangers: Part Two."
As Ausiello mentioned, it's likely the 18th episode will "serve as something of a bookend" to the premiere. But does necessarily that mean the strangers we met — like Cassidy, Malik (Asante Blackk), and Jack Damon (Blake Stadnik) — will come back for the finale? Fans think it's possible.
Prior to the This Is Us Season 4 finale title reveal, many viewers thought Cassidy would become Kevin's pregnant fiancée after their one night stand. Once the character left, the speculation died down a bit — particularly for Sophie (Alexandra Breckenridge) and Madison (Caitlin Thompson). But with the "Strangers: Part Two" discovery, some fans began reviving the idea.
"Since Cassidy played very prominently in Strangers, I am assuming she will be back for this episode," a fan wrote on Reddit. "And that makes me cringe because of the idea that she could be the one who is pregnant with Kevin's baby."
Recently, Hartley confirmed the mystery surrounding Kevin's engagement will come out soon. "We're almost there," the actor told Us Weekly on Feb. 29. "We're a couple of weeks away. You'll find out."
Now, with three episodes left in This Is Us Season 4, it's likely viewers will find out the identity of Kevin's pregnant fiancée by the finale. So if Cassidy does, indeed, come back for "Strangers: Part Two," the theory is plausible.
That said, other fans noted Cassidy could still return without being Kevin's fiancée. On Reddit, one fan wrote:
If we revisit Cassidy and let say she works it out with her husband than I can see the parallel that Cassidy helps him find his happy ever after like Kevin did with her or if she doesn't work it out it could trigger something.
I think the important thing to remember is that for every female character that he's been paired with Kevin there has been an important development in him that would ultimately lead him to the mystery fiancé.
Will Cassidy come back in 'This Is Us' Season 4?
For now, This Is Us fans will just have to wait and see what happens in the season 4 finale. But what are the chances Cassidy will come back in the episode? It depends on who you ask.
In an interview with Deadline, creator Dan Fogelman touched on the possibility of Cassidy's return. However, he remained pretty vague — but for good reason.
"Honestly, I can't talk about it a lot without giving too much away," Fogelman said. "I think it's fair to say she's played a gigantic part in Kevin's story. This chapter has been one of the formative chapters in his life. Whether it's the end of her journey on this show has yet to be determined, but no one really ever goes away forever on our show."
The creator then touched on the likelihood of Cassidy becoming the mother of Kevin's child. But once again, his answer did not confirm or deny anything. "There have been many people who have been in and out of his life romantically and friendship-wise that are all possible mother to his baby," Fogelman said.
But when speaking with Us Weekly, Susan Kelechi Watson was asked whether fans have seen the last of Cassidy and the actress gave a simple answer.
"I think so," Watson said.
So what happens next? Tune in to This Is Us Season 4 every Tuesday night on NBC.
Read more: 'This Is Us' Fans Have a Kevin and Randall Theory That Will Make You Rethink the Cabin Episode
Source: Read Full Article