The Pete 'Maverick' Mitchell depicter makes a grand entrance at the USS Midway in San Diego as he arrives in the helicopter that he pilots himself before joining his co-stars at the event.
AceShowbiz –Tom Cruise has once again shown off his aviation skills. The actor made a grand entrance at the premiere of his new movie "Top Gun: Maverick" as he flew a helicopter himself to the event.
On Wednesday, May 4, the 59-year-old, who famously does his own stunts in his action-packed flicks, arrived at the USS Midway, the iconic Navy aircraft carrier docked in San Diego, in a helicopter that he piloted himself. He landed the aircraft smoothly on the flight deck before he made his way to the red carpet.
Looking dapper in a black tuxedo on top of a white shirt and gray tie, he waved to a sea of his fans that recorded him expertly landing the black helicopter, which read, "Tom Cruise Top Gun: Maverick." He also sported a pair of black Ray-Ban Aviator sunglasses with silver frames before joining his co-stars on the red carpet.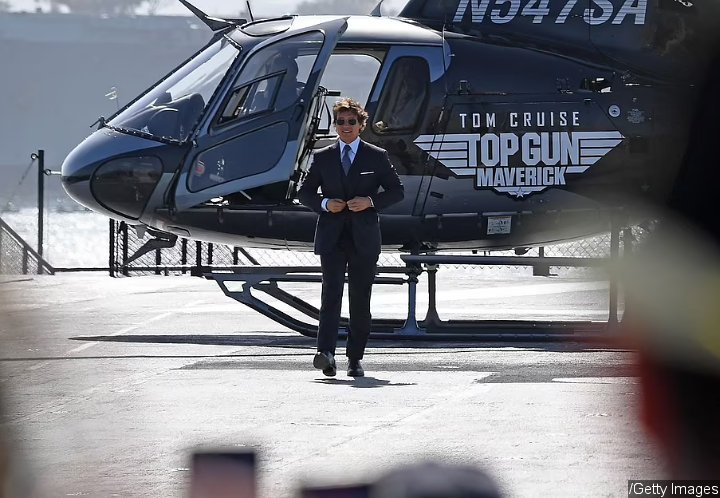 Tom Cruise flew a helicopter himself to 'Top Gun: Maverick' premiere.
Jennifer Connelly, Miles Teller, Glen Powell, Jon Hamm and Monica Barbaro were among other cast members at the event. Musician Kenny Loggins, whose song "Danger Zone" was used in the first film and will be featured in the sequel, also attended the star-studded event, which Connelly called "extraordinary."
Producer Jerry Bruckheimer came to the premiere with his family, including wife Linda Bruckheimer and stepdaughter Alexandra Bruckheimer. Teller shared a smooch with his wife Keleigh Sperry, while Powell tagged along his girlfriend Gigi Paris and Hamm was joined by his girlfriend Anna Osceola.
"Top Gun: Maverick" follows Cruise's Pete "Maverick" Mitchell who, after having purposely dodged an advancement in rank after thirty years of service, is called to be put in charge of training a group of Top Gun graduates for a specialized mission under the orders of his fellow naval aviator friend and former rival, Admiral Tom "Iceman" Kazansky, who is the commander of the U.S. Pacific Fleet. Among them is Lieutenant Bradley "Rooster" Bradshaw, the son of Maverick's late best friend Nick "Goose" Bradshaw.
The long-awaited sequel to 1986's "Top Gun" is directed by Joseph Kosinski with the script written by Ehren Kruger, Eric Warren Singer and Christopher McQuarrie based on a story by Peter Craig and Justin Marks. The film will premiere at the Cannes Film Festival on May 18, before hitting theaters across the nation on May 27.
Source: Read Full Article