Raquel Leviss and James Kennedy are continuing their relationship. But this season of Vanderpump Rules has shown Kennedy getting angry at her multiple times.
The newest episode had Leviss open up about multiple texts he sent her while she was out. Find out what happened when she confronted him and the advice Ariana Madix gave her.
Raquel Leviss and James Kennedy are still dating
Some fans questioned whether the couple was still together. That's because Leviss posted a selfie with the caption, "On the prowl (for sorbet.)" It seems like they're very much still together because Kennedy also tweeted about sorbet, according to Bravo.
But the couple has been seen having issues on this new season of Vanderpump Rules. Leviss missed his DJ set during Gay Pride because she didn't know where it was. He angrily yelled at her but they later made up.
A new episode showed Kennedy getting angry at his girlfriend again. This time she had more people to talk to about the situation.
Leviss revealed offensive texts he sent her on 'Vanderpump Rules'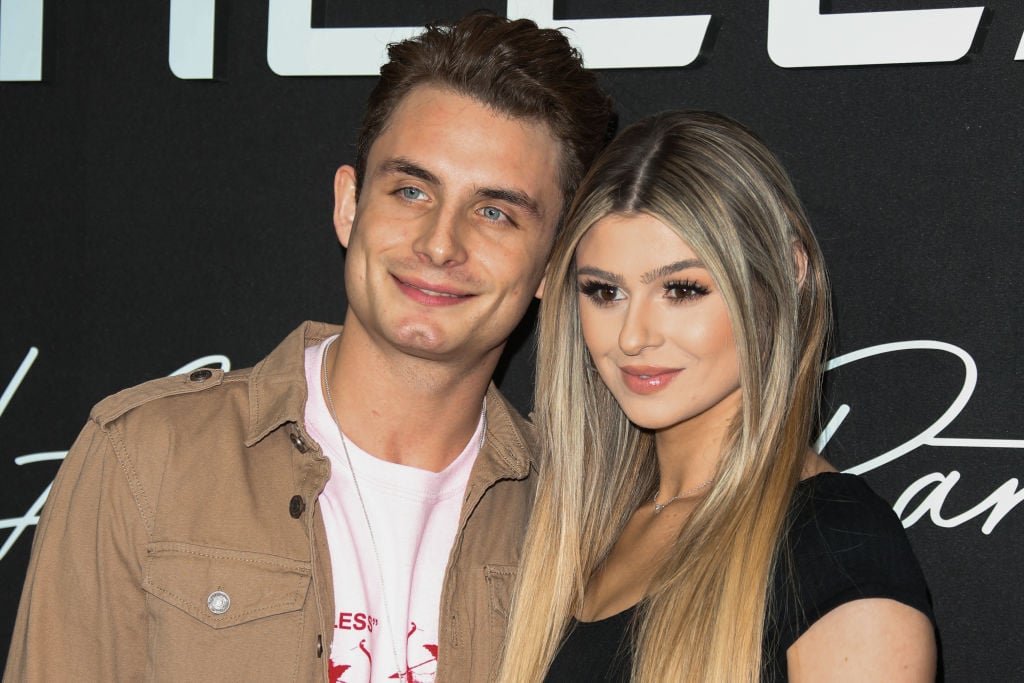 Leviss went over her night out with the girls drinking with Danica Dow and Dayna Kathan in the episode "If You're Going to Drink, I Can't Stop You." That's when she revealed Kennedy sent her offensive texts.
"I left my phone in my purse in the kitchen, passed out in bed, then woke up to a million texts from James like, 'wh*re, slut,'" she said. Leviss later read the texts messages.
"F*ck you. Where are you? I'm breaking up with you, wh*re. Slut, wh*re. F*ck you," she read before adding, "It makes me literally want to throw up."
Leviss later confronted Kennedy at Madix's birthday party . "The way that you texted me was completely inappropriate," she said.
Kennedy turned things around on her. "Had you just answered your phone, I wouldn't have been so triggered," he said. "When Raquel doesn't answer, I feel like she's out there doing things I used to do. You're in Hollywood, guys are talking to you. Like, those kinds of girls don't get left alone at parties."
"When you're drunk, you behave a different way than I do when I'm drunk," Leviss said. Madix later had a serious talk with Leviss.
She later talked about verbal abuse
"It's only a matter of time before words like that start to become part of what you think and believe. … I just don't want to see you sacrifice your own self-worth to try to help him if he's not helping himself," Madix told her. This seemed to have a strong affect on Leviss.
"No girl goes into a relationship thinking they're going to be verbally abused," said Leviss in her interview. "It's scary to me. I don't ever want to go through this again."
The couple later had an argument before Kennedy said he will go to al-anon meetings by himself and stop drinking for good. Leviss posted a picture on Instagram and wrote a caption addressing the episode.
"Tonight's episode is an emotional one for me. I teared up watching it back, seeing the exact moment our relationship took a turn for the better. I am not tolerating this behavior any longer and James' decision to take his sobriety seriously means the absolute world to me. So proud of you @itsjameskennedy #pumprules," it reads.
Kennedy commented on it with, "I teared up just reading this and seeing this photo , I love you so much Raqs can't wait to see you tomorrow !!!!"
Source: Read Full Article