The credibility of a witness at the disciplinary hearing into neurosurgeon Charlie Teo has been challenged after a tribunal heard he provided a fresh statement with "a whole series of new recollections" after consulting the controversial doctor's lawyers.
Dr Amit Goyal, who was Teo's surgical fellow for six months from July 2018, gave evidence via video from the United States where he practises on the second day of a Health Care Complaints Commission's Professional Standards Committee inquiry into allegations of unsatisfactory conduct by Teo.
Charlie Teo arrives for the Health Care Complaints Commission disciplinary hearing.Credit:Kate Geraghty
Kate Richardson SC, acting for HCCC, said Goyal provided a statement to a senior investigator at the commission in February 2020.
The inquiry has heard the outcome of an October 2018 operation performed by Teo was disastrous and that after the surgery the Perth woman didn't wake up.
The inquiry heard Goyal knew there was a complaint about Teo alleging he had not properly explained the risks of surgery to the Perth couple.
Dr Amit Goyal worked with Charlie Teo.
The woman had a brain tumour other neurosurgeons had told her was inoperable.
In his first statement dated February 2020, Goyal wrote: "Charlie didn't go into a lot of detail with Mr and Mrs [name suppressed]. However, I do specifically remember his emphasising how risky the surgery was and him telling them that the operation could leave [the woman] in a vegetative state."
He also said in his statement that he was only in the room for two to three minutes.
But Richardson then challenged Goyal after he identified a "whole plethora of risks" that his mentor raised with the patient, despite not including them in his original statement.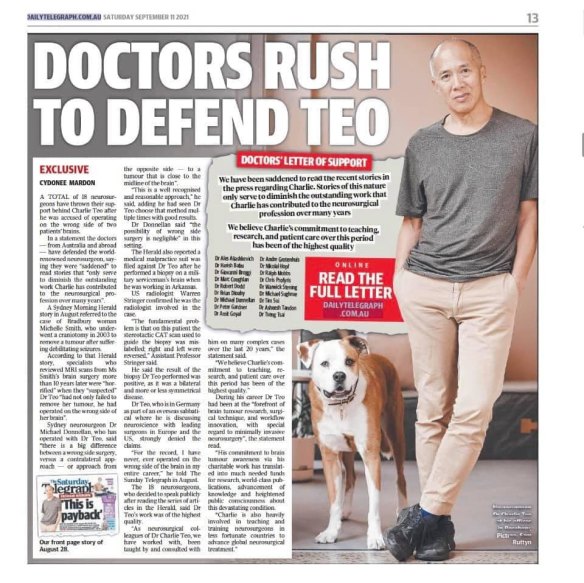 Dr Amit Goyal signed a public letter of support for Charlie Teo in the Daily Telegraph.
Richardson told the inquiry that Goyal had made a second statement in August last year, after consultation with Teo's lawyers, who have claimed legal professional privilege over their dealings with Goyal.
Goyal said he could not remember who the conference call was with but that it did not include Teo.
He said in evidence that he had been sent the new draft of his statement to sign but he had not thought to let the HCCC know he had recalled a whole range of new things not mentioned in his original statement.
In his new statement, Goyal had, the inquiry heard, a "whole series of new recollections" including Teo discussing with the Perth couple academic literature, the complexity of the case, and a whole range of risks including that the operation was extremely risky and that there was limited case history showing that a resection of this kind of tumour had a good outcome.
The husband, who took notes during Teo's consultations, has denied these things were discussed.
Goyal admitted in evidence that it was impossible for all of these things to have been discussed in the two to three minutes he was present during Teo's consultation.
Goyal also agreed he could no longer distinguish between what he heard and what Teo later told him he had said to the couple.
Goyal also admitted that he had signed an open letter of support for Teo knowing it was going to be published in the media.
The hearing continues.
The Morning Edition newsletter is our guide to the day's most important and interesting stories, analysis and insights. Sign up here.
Most Viewed in National
From our partners
Source: Read Full Article